We all heard the quote "pray hardest when it is hardest to pray." This quote means when things get tough that is when you should be seeking the Lord the most. It is so easy to get discouraged when trials occur. When trials occur many people give up, get discouraged, and think to themselves, "It doesn't work."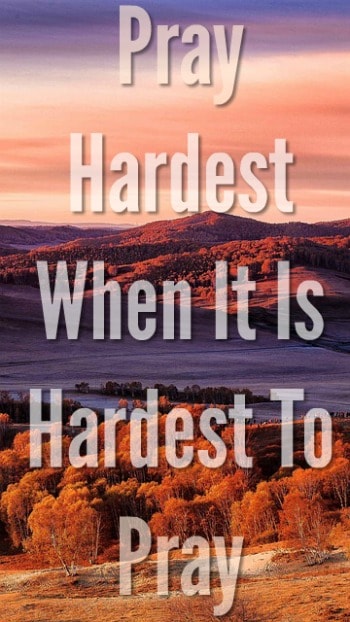 However, this is the time when we should be calling out to God. Jesus didn't quit on prayer when the pain got worse, but instead He prayed fervently.
In this article, I'm going to go a little deeper. How about when you know praying will help, but the discouragement has stopped you from praying?
In my own life sometimes the pain hurts too much to pray.
Sometimes I'm just so exhausted by my troubles it's hard for me to get alone with the Lord to pray. Some of my most painful hurts are my internal tears. Those tears that God sees that never come out of your eyes. Some things are easier said than done and I believe praying hardest when it is hardest to pray is one of those things.
What happens when we are too weak to pray? My heart knows that I need to pray. I know how beneficial it is to have fellowship with the Father in my painful moments, but I feel like I have to be dragged into the prayer closet. This is one of the dangers of discouragement.
Discouragement makes you weak and you feel like giving up. I know praying helps but can I muster up enough strength to pray? Why do I seem to forget that the Spirit helps me in my weakness Romans 8:26? If you are struggling to pray because of a dark hour in your life, know that you are not alone. I struggle as well and below I will tell you what helps me.
Sometimes I just let my heart speak.
Some of my greatest prayers are in silence. Some of my greatest prayers are when words never come out because the pain is too strong. The heart can speak and God hears the prayers of a broken heart. Stop trying to numb the pain with temporary things. If it hurts to pray, then be still for a moment. Turn off the volume! Be silent before the Lord and allow the heart to speak. Concentrate on Him and allow the Spirit to help you.
Sometimes all I can say is "God you know, help!" It's not about the length of the prayer it's about the heart. God understands and He weeps with you John 11:35. Jesus identifies with your situation. Allow your heart to speak powerful words to God and allow Him to pour out His love. God is not punishing you, nor is He mad at you. When we are going through trials, our first thought is that God is mad at us. That type of thinking is from the enemy.
Allow God to speak truth and life into you. Remember His faithful words in your moment of darkness. Psalm 34:17 "The righteous cry out, and the LORD hears them; he delivers them from all their troubles. The LORD is close to the brokenhearted and saves those who are crushed in spirit."
Joy comes in the morning. 
Psalm 30:5 "For his anger lasts only a moment, but his favor lasts a lifetime! Weeping may last through the night, but joy comes with the morning."

Have you ever had a horrible night where you were struggling with pain, hurt, and anxiety? Have you ever had a night where your situation made it almost impossible for you to pray? I've had nights like this. I would sit in God's presence with my wounded soul and God would comfort me.
I remember one night I went to sleep while discouraged and full of anxiety. However, there was an unexplainable joy that overcame me when I woke up. All I wanted to do was just worship Jesus. I always think to myself, why do I forget the power of God when He does this time and time again?
As we rest God pours out love and comfort and in Isaiah 40:1 He says "Comfort, comfort my people." If you are going through troubles, I want you to rest in His presence. Allow Him to remove that anxiety. Don't be surprised when joy comes in the morning.
We think about the issue too much.
Instead of giving it to the Lord we like to dwell on the problem. No wonder it's hard to pray in hard times! When this becomes a habit, this leads to depression. We have to discipline ourselves.
As soon as we notice a growing depressing thought, we should immediately run to the Lord. We should work on renewing the mind. We have to set our minds on Jesus. We should continue to remind ourselves who we are in Christ. We are fighters! We don't have to give in to despair.
It's like having a virus. We have to kill the virus and stop it from spreading or it's going to get worse. Always remember, we are not fighting this alone. Exodus 14:14 "The LORD will fight for you; you need only to be still." 
Talk to a godly friend, counselor, or family member.
There is strength in numbers. If you have been overwhelmed by trials and tribulations, then I encourage you to talk to mature believers. Having someone by your side to talk to and to pray with is so beneficial as a believer. Don't be afraid to tell others. 
We must never forget God's deep love for us in our trials. Trials do not mean that we have fallen out of God's favor or God does not love us anymore. Some of the most godliest men have been through extreme difficulties. God is always going to encourage us with His love and sometimes we see His love through the people in our lives.