What does the Bible say about forgiveness?
Forgiveness is not something that you say with your mouth. It is something that you do with your heart. Many people say they forgive, but they never truly forgive. They harbor a hidden bitterness in their heart. Imagine if God never truly forgave us. Where would we be? Hell where we belong.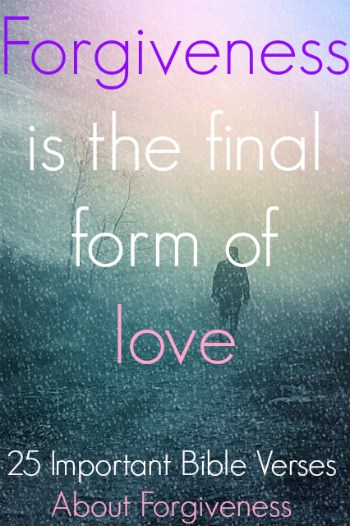 The only reason that we are able to forgive others is because God forgave us first.
Forgiveness comes from God and when we forgive others that is an earthly reflection of God and His love being poured out on the cross of Jesus Christ.
Jesus is why we forgive. Jesus is why we don't want to hold on to grudges. He is worthy of it all. The price that was paid for you is too great.
Christian quotes about forgiveness
"Forgiveness is the final form of love."
"Holding a grudge doesn't make you strong, it makes you bitter, forgiving doesn't make you weak, it sets you free."
"Life becomes easier when you learn to accept an apology you never got."
"Forgiveness does not change the past, but it does enlarge the future."
"Forgive others as quickly as you expect God to forgive you."
"To be a Christian means to forgive the inexcusable because God has forgiven the inexcusable in you." C. S. Lewis
"And you know, when you've experienced grace and you feel like you've been forgiven, you're a lot more forgiving of other people. You're a lot more gracious to others."
"Jesus says that those who live by God's forgiveness must imitate it. A person whose only hope is that God will not hold his faults against him forfeits his right to hold others' faults against them." David Jeremiah
"Forgiveness is an act of the will, and the will can function regardless of the temperature of the heart." Corrie Ten Boom
"Forgiveness is not a feeling; it is a commitment. It is a choice to show mercy, not to hold the offense up against the offender. Forgiveness is an expression of love." Gary Chapman
"The grace of forgiveness, because God Himself has paid the price, is a Christian distinctive and stands splendidly against our hate-filled, unforgiving world. God's forgiveness gives us a fresh start." — Ravi Zacharias
"Forgiveness is the fragrance the violet sheds on the heel that has crushed it."
"We win by tenderness. We conquer by forgiveness." Frederick W. Robertson
"To forgive is to set a prisoner free and discover that the prisoner was you." Lewis B. Smedes
"It is just as necessary to forgive ourselves as it is to forgive others, and the principal reason why forgiveness seemed so difficult is because we have neglected to forgive ourselves." Christian D. Larson
Pride stops us from forgiving others
We see it as weakness when it truly is strength. We don't want to seem vulnerable by being the first person to apologize when usually both parties are feeling the same way. We must let go of the pride. Why keep it? I know it's hard. Everything in us wants to keep the pride. We would rather end the relationship forever then let go of the pride. That is why we must bring it to the Lord. God help me lose the pride. God heal my wounded heart. We have to set our heart on His will. We go to Him and He helps us to say what needs to be said.
1. Proverbs 29:23 "Pride brings a person low, but the lowly in spirit gain honor."
2. Proverbs 11:2 "When pride comes, then comes disgrace, but with humility comes wisdom." – (What does the Bible say about humility?)
3. Proverbs 16:18 "Pride goeth before destruction, and an haughty spirit before a fall."
Love is always associated with forgiveness
Without love no one will see the Lord. Love is what removes the pride. Love was poured out on the cross. We should not only have love for the person, but love for the Lord. "I can't hold this grudge. God's love is too great for me to hold this grudge." Also, when someone sins against us a lot of times it's usually by people we love. Even though they sinned against us we know that we still love them, but we were hurt by their actions.
4. 1 Corinthians 13:4-7 "Love is patient, love is kind and is not jealous; love does not brag and is not arrogant, does not act unbecomingly; it does not seek its own, is not provoked, does not take into account a wrong suffered, does not rejoice in unrighteousness, but rejoices with the truth; bears all things, believes all things, hopes all things, endures all things."
5. Colossians 3:13-14 "Bear with each other and forgive one another if any of you has a grievance against someone. Forgive as the Lord forgave you. And over all these virtues put on love, which binds them all together in perfect unity."
6. 1 Peter 4:8 "Above all, love each other deeply, because love covers over a multitude of sins."
There is a quote that says, "forgive and forget."
Although it sounds good and it is good advice it's hard to do. We have to pray that we forget these things, but sometimes they might pop up in the back of our minds. What we must do is forget it from our speech. What I mean by that is never bring the matter up. It's going to hurt your relationship even more.
Love doesn't keep bringing the matter up. Don't even try to make it into a joke like some people do. Just forget it altogether. Many people say they forgive, but you can tell that they didn't because when a small matter occurs they treat it as a big matter because they hold on to the past. They are not really mad at the small matter, but they are still mad at the past.
Sometimes they even bring up a large list of the past. This is very common among spouses in marriage. Keep no record of wrong just like Jesus kept no record. Jesus knows what we have done in the past. He knows of our transgressions, but when He died on the cross He paid all of it.
He set our sins aside and no longer brings it up. When we refuse to bring up an issue with others and truly forgive from our heart that is a reflection of our Savior and His great love.
7. Proverbs 17:9 "Whoever would foster love covers over an offense, but whoever repeats the matter separates close friends."
8. Luke 23:34 "And Jesus said, "Father, forgive them, for they know not what they do." And they cast lots to divide his garments."
9. Hebrews 8:12 "For I will forgive their wickedness and will remember their sins no more."
10. Ephesians 1:7 "In him we have redemption through his blood, the forgiveness of sins, in accordance with the riches of God's grace."
Go and reconcile with your brother
There have been times when I have been praying and all I could think about is that my relationship is not right with someone.
You try to switch your mind to other things, but it keeps on eating at you. You just have to finally say, "OK God I will go make peace." That doesn't mean that we are to hang around people who continually hurt us, but we are to be at peace with everyone.
Many times it truly might not be your fault. Maybe someone took offense of a stupid situation. Maybe someone sinned against you. That has happened to me before many times. Someone slandered me, but I still was the one who sought reconciliation.
I've heard people say things like "I don't need him in my life," but that was pride talking. That should not be our mindset. If possible we should be at peace with all.
11. Matthew 5:23-24 "Therefore, if you are offering your gift at the altar and there remember that your brother or sister has something against you, leave your gift there in front of the altar. First go and be reconciled to them; then come and offer your gift."
12. Romans 12:16-18 "Live in harmony with one another. Do not be proud, but be willing to associate with people of low position. Do not be conceited. Do not repay anyone evil for evil. Be careful to do what is right in the eyes of everyone. If it is possible, as far as it depends on you, live at peace with everyone."
Unforgiveness only hurts you in the end.
Holding grudges creates bitterness and hate. Don't go kill someone in your mind. We have all done it before. We have all thought ungodly things about people who sinned against us or did something we didn't like. Unforgiveness is unhealthy.
You are taking your eyes off of Christ and Satan starts throwing things in your mind. Satan wants you to think about what you should have done or said in your confrontation. He wants you to think about violence. Our first thought shouldn't be to throw up our middle fingers.
We should immediately go to the Lord for help in removing these wicked desires and keeping our minds on Him. Sometimes we have to cry out to Him because the situation hurts and these evil desires are killing us.
13. Romans 12:19-21 "Do not take revenge, my dear friends, but leave room for God's wrath, for it is written: "It is mine to avenge; I will repay," says the Lord. On the contrary: "If your enemy is hungry, feed him; if he is thirsty, give him something to drink. In doing this, you will heap burning coals on his head." Do not be overcome by evil, but overcome evil with good."
14. Proverbs 16:32 "Whoever is slow to anger is better than the mighty, and he who rules his spirit than he who takes a city."
15. Ephesians 4:26-27 "In your anger do not sin": Do not let the sun go down while you are still angry, and do not give the devil a foothold."
16. Proverbs 14:29 "He who is slow to anger has great understanding, But he who is quick-tempered exalts folly."
Unforgiveness shows hatred.
17. Leviticus 19:17-18 "You shall not hate your fellow countryman in your heart; you may surely reprove your neighbor, but shall not incur sin because of him. You shall not take vengeance, nor bear any grudge against the sons of your people, but you shall love your neighbor as yourself; I am the Lord."
18. Proverbs 10:12 "Hatred stirs up conflict, but love covers over all wrongs."
We must not give up on others
Just like God doesn't give up on us we are not to give up on others. There are some people that are married to alcoholics and the alcoholic spouse continues to ask for forgiveness and I know it is hard for the other spouse. However, once again we must forgive.
19. Luke 17:3-4 "Be on your guard! If your brother sins, rebuke him; and if he repents, forgive him. And if he sins against you seven times a day, and returns to you seven times, saying, I repent, forgive him."
Some people don't know the seriousness of holding a grudge.
People say things like, "but you just don't know what he did." Let me tell you something. You just don't know what you did! You have sinned against a holy God! You do nothing, but sin. Even your greatest works are filthy rags and they are never 100% fully for the glory of God.
Even the legal system shows that a good judge can't forgive a criminal such as yourself. God took your place. God suffered for you on the cross. God lived the life you couldn't live. There are some people that used to curse Jesus, but now they trust in Him as their Lord and Savior.
Jesus should have never forgiven them just like He should have never forgiven a wretched man such as myself. How dare you? If God can forgive murderers, if God can forgive blasphemers, if God can forgive idolaters how come you can't forgive for that small situation?
God would be just and loving if He sent us all to Hell. We cheer in movies when criminals get what they deserve. How dare you? If you can't show mercy God will not show mercy on you.
Unforgiveness is evidence of an unbeliever. Repent. Forgive your parents, forgive that old friend, forgive your spouse, forgive your kids, forgive that person in your church. Don't hold it in your heart any longer. Repent.
20. Matthew 6:14-15 "For if you forgive other people when they sin against you, your heavenly Father will also forgive you. But if you do not forgive others their sins, your Father will not forgive your sins."
21. Matthew 5:7 "Blessed are the merciful, for they shall receive mercy."
22. Ephesians 4:32 "Be kind to one another, tender-hearted, forgiving each other, just as God in Christ also has forgiven you."
23. Matthew 18:24-35 "When he began to settle accounts, one who owed 10,000 talents was brought before him. Since he had no way to pay it back, his master commanded that he, his wife, his children, and everything he had be sold to pay the debt. "At this, the slave fell facedown before him and said, 'Be patient with me, and I will pay you everything!' Then the master of that slave had compassion, released him, and forgave him the loan. "But that slave went out and found one of his fellow slaves who owed him 100 denarii. He grabbed him, started choking him, and said, 'Pay what you owe!' "At this, his fellow slave fell down and began begging him, 'Be patient with me, and I will pay you back. But he wasn't willing. On the contrary, he went and threw him into prison until he could pay what was owed. When the other slaves saw what had taken place, they were deeply distressed and went and reported to their master everything that had happened. "Then, after he had summoned him, his master said to him, 'You wicked slave! I forgave you all that debt because you begged me. Shouldn't you also have had mercy on your fellow slave, as I had mercy on you? And his master got angry and handed him over to the jailers to be tortured until he could pay everything that was owed. So My heavenly Father will also do to you if each of you does not forgive his brother from his heart."
Examples of forgiveness in the Bible
Saul was trying to kill David. David had the opportunity to kill Saul, but he forgave him and let the Lord handle the situation. If David can do it in his extreme situation we have no excuse.
24. 1 Samuel 24:10-12 "Behold, this day your eyes have seen that the Lord had given you today into my hand in the cave, and some said to kill you, but my eye had pity on you; and I said, 'I will not stretch out my hand against my lord, for he is the Lord's anointed. Now, my father, see! Indeed, see the edge of your robe in my hand! For in that I cut off the edge of your robe and did not kill you, know and perceive that there is no evil or rebellion in my hands, and I have not sinned against you, though you are lying in wait for my life to take it. May the Lord judge between you and me, and may the Lord avenge me on you; but my hand shall not be against you."
God can fix any relationship.
Allow God to work in you and the other party and make a broken thing beautiful. Go to Him and pray that His hands move in your life. God is faithful to move.
25. Jeremiah 32:27 "I am the LORD, the God of all mankind. Is anything too hard for me?"
I want to add that sometimes we sin against people and we are ashamed of our actions. We might say, "sorry" to the offended person, but guilt still remains. Many people say that you have to forgive yourself, but that statement is not found in the Bible.
We can either trust in God's mercy and forgiveness in Christ or we can believe Satan and his lies. Confess your sins, let go, and move on. Trust in the Lord and ask Him for help with this situation and also with understanding His grace.