Bible verses about God's love for us
Many of us have a hard time understanding the love of God. I personally have struggled with understanding His great love for me. I used to live like His love was dependent on my performance on my walk of faith, which is idolatry. My mindset was, "I have to do something to make God love me more."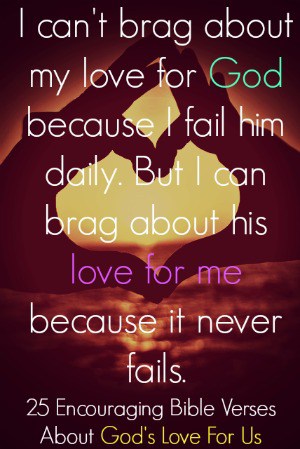 When I sin that sin that I struggle with or when I don't pray or read Scripture I have to make up for it by doing something, which is a lie from Satan.
If you are a Christian I want you to understand that you are loved. His love for you is not based upon your performance.
It's based upon the perfect merit of Jesus Christ. You don't have to move at all you are loved. You don't have to be big. You don't have to be the next John MacArthur. God loves you and don't you ever forget that.
Don't you dare think for a second that you can love anyone more than God loves you.
Quotes about the love of God
"God loves you more in a moment than anyone could in a lifetime."

"One who has been touched by grace will no longer look on those who stray as 'those evil people' or 'those poor people who need our help.' Nor must we search for signs of 'loveworthiness.' Grace teaches us that God loves because of who God is, not because of who we are." Philip Yancey

"Though our feelings come and go, God's love for us does not." C.S. Lewis

"Christ is the humility of God embodied in human nature; the Eternal Love humbling itself, clothing itself in the garb of meekness and gentleness, to win and serve and save us."  Andrew Murray 
Take a look at this verse.
Marriage shows the relationship between Christ and the church. This verse shows how much God loves you. One look upward and you have the Lord hooked. He wants to be with you and when you enter into His presence His heart beats faster.
1. Song of Solomon 4:9 "You have made my heart beat faster, my sister, my bride; You have made my heart beat faster with a single glance of your eyes, With a single strand of your necklace."
Love comes from God 
Where does love come from? How are you able to love your mother, father, child, friends, etc. God's love is so powerful that we are able to love others. Think about how parents see their newborn child and smile. Think about parents playing with their children and having a good time. Have you ever thought about where does that stuff come from? These things are here to be representations to show how much God loves and is joyful over His children.
2. 1 John 4:19 "We love because He first loved us."
3. 1 John 4:16 "And so we know and rely on the love God has for us. God is love. Whoever lives in love lives in God, and God in them."
4. 1 John 4:7 "Dear friends, let us love one another, for love comes from God. Everyone who loves has been born of God and knows God."
God poured out His love
True love takes action. God poured out His awesome love for us on the cross. He crushed His Son so that you may live. When you allow your joy and peace to come from the perfect merit of Christ you will understand God's love better. It is not dependent on what you do, what you are going to do, or what you have done. God's love is greatly shown by what He has already done for you.
5. 1 John 4:10 "This is love: not that we loved God, but that he loved us and sent his Son as an atoning sacrifice for our sins."
6. Romans 5:8-9 "But God demonstrates his own love for us in this: While we were still sinners, Christ died for us. Since we have now been justified by his blood, how much more shall we be saved from God's wrath through him!"
7. John 3:16 "For God so loved the world, that he gave his only begotten Son, that whosoever believeth in him should not perish, but have everlasting life."
True believers have the love of God in them.
8. John 5:40-43 "yet you refuse to come to me to have life. 'I do not accept glory from human beings, but I know you. I know that you do not have the love of God in your hearts. I have come in my Father's name, and you do not accept me; but if someone else comes in his own name, you will accept him."
9. Romans 5:5 "And hope does not put us to shame, because God's love has been poured out into our hearts through the Holy Spirit, who has been given to us."
Does God really love me?
Pray for a greater understanding of the love of God. Sometimes it is so hard to grasp His love for us especially when we look into the mirror and see all of our failures. Without knowing how much God loves you, you are going to feel so miserable.
I was praying one night and I was thinking to myself that God wants me to do more, no! The whole time that I was praying I didn't understand that all God wanted for me was to just understand His great love for me. I don't have to move a muscle I am loved.
10. 2 Thessalonians 3:5 "May the Lord lead your hearts into a full understanding and expression of the love of God and the patient endurance that comes from Christ."
Nothing can separate us from the love of God.
God is not mad at you. Whenever you think that you have done something to separate yourself from God's love or it's too late to get right with God or you need to be more to be loved of God remember that nothing can separate God's love for you. Always remember that God's love never ends.
11. Psalm 136:2-3 "Give thanks to the God of gods, for his steadfast love endures forever. Give thanks to the Lord of lords: His love endures forever. to him who alone does great wonders, His love endures forever."
12. 1 Corinthians 13:8 "Love will never end. But all those gifts will come to an end—even the gift of prophecy, the gift of speaking in different kinds of languages, and the gift of knowledge."
13. Psalm 36:7 "How precious is your unfailing love, O God! All humanity finds shelter in the shadow of your wings."
14. Psalm 109:26 "Help me, LORD my God; save me according to your unfailing love."
15. Romans 8:38-39 "And I am convinced that nothing can ever separate us from God's love. Neither death nor life, neither angels nor demons, neither our fears for today nor our worries about tomorrow–not even the powers of hell can separate us from God's love. No power in the sky above or in the earth below–indeed, nothing in all creation will ever be able to separate us from the love of God that is revealed in Christ Jesus our Lord."
The love of God compels us to do His will.
It is the love of God that drives me to keep fighting and obeying Him. It is the love of God that allows me to discipline myself and it gives me a desire to keep pushing when struggling with sin. The love of God transforms us.
16. 2 Corinthians 5:14-15 "For Christ's love compels us, because we are convinced that one died for all, and therefore all died. And he died for all, that those who live should no longer live for themselves but for him who died for them and was raised again."
17. Galatians 2:20 "I have been crucified with Christ and I no longer live, but Christ lives in me. The life I now live in the body, I live by faith in the Son of God, who loved me and gave himself for me."
18. Ephesians 2:2-5 "in which you formerly lived according to this world's present path, according to the ruler of the kingdom of the air, the ruler of the spirit that is now energizing the sons of disobedience, among whom all of us also formerly lived out our lives in the cravings of our flesh, indulging the desires of the flesh and the mind, and were by nature children of wrath even as the rest. But God, being rich in mercy, because of his great love with which he loved us, even though we were dead in transgressions, made us alive together with Christ—by grace you are saved!"
It was the love of God that drove Jesus when everyone was yelling, "crucify Him."
It was the love of God that drove Jesus to keep going in humiliation and pain. With every step and with every drop of blood the love of God drove Jesus to do the will of His Father.
19. John 19:1-3 "Then Pilate took Jesus and had him flogged severely. The soldiers braided a crown of thorns and put it on his head, and they clothed him in a purple robe. They came up to him again and again and said, "Hail, king of the Jews!" And they struck him repeatedly in the face."
Discipline shows the great love that God has for His children.
Like a loving parent He makes sure that you remain on the right path. God says, "I love you and I refuse to let you live like wicked unbelievers."
20. Hebrews 12:6 "For the Lord disciplines the one he loves, and chastises every son whom he receives."
21. Proverbs 3:12 "because the LORD disciplines those he loves, as a father the son he delights in."
God's love causes us to remain calm, stand strong, and never give up.
22. 1 Corinthians 13:7 "Love never gives up on people. It never stops trusting, never loses hope, and never quits."
23. Jude 1:21 "keep yourselves in the love of God, waiting for the mercy of our Lord Jesus Christ that leads to eternal life."
24. Zephaniah 3:17 "The LORD your God is in your midst, A victorious warrior. He will exult over you with joy, He will be quiet in His love, He will rejoice over you with shouts of joy."
25. 1 Peter 5:6-7 "And God will exalt you in due time, if you humble yourselves under his mighty hand by casting all your cares on him because he cares for you."
In conclusion 
I can't brag about my love for the Lord because I am so unworthy and I fall so short of His glory. One thing that I can brag about is that God loves me greatly and He is working in me daily to help me understand it more and more. If you are a believer write it down, put it on your wall, highlight it in your Bible, put it in your mind, put it in your heart, and don't forget that God loves you.