What does the Bible say about listening? 
Listening is a very important concept in the Bible. We are commanded to listen to God's instructions. The Bible also teaches us to love others – and listening to them is a way that we communicate love.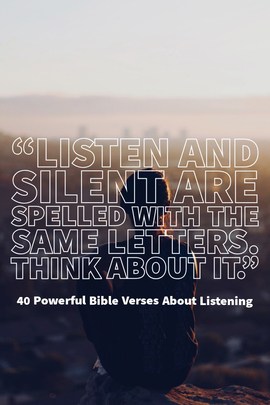 Christian quotes about listening
"Taking the time to listen to truly listen to someone can truly communicate our love and respect even more than out spoken words."
"If a person feels the need to tell you the same story countless times, there is a reason. It is either important to their heart or they feel it is important for you to know. Be kind, be attentive, be patient and perhaps you will be the one God uses to help them move past where they are stuck."
"Lead by listening – to be a good leader you have to be a great listener."
"Listen and silent are spelled with the same letters. Think about it."
"God speaks to those who take time to listen, and He listens to those who take time to pray."
"Prayer at its highest is a two-way conversation – and for me the most important part is listening to God's replies." Frank Laubach
"God speaks in the silence of the heart. Listening is the beginning of prayer."
"It's amazing what we lose in life by listening to fear, instead of listening to God."
The importance of listening 
Repeatedly in Scripture we see commands to listen. Far too often we get preoccupied with our lives and our stressors and we fail to see what God is trying to teach us. Here are a few examples of times that people were commanded to stop and listen in the Bible.
1) Proverbs 1:5 "A wise man will hear and increase in learning, And a man of understanding will acquire wise counsel."

2) Matthew 17:5 "But even as he spoke, a bright cloud overshadowed them, and a voice from the cloud said, "This is my dearly loved Son, who brings me great joy. Listen to him."

3) Acts 13:16 "Then Paul stood up, and motioning with his hand said, "Men of Israel, and you who fear God, listen."
4) Luke 10:16 "Whoever listens to you listens to me; whoever rejects you rejects me; but whoever rejects me rejects him who sent me."
Listening is an act of love
By listening to others, we show them our love. This is vital for counselors and laypeople. People will come to us seeking advice – and we must be sure to listen to them. Let them pour their heart out. Learn to ask probing questions to get to the root of the issue.
If we just start rattling off a long list of things for them to do – they will not know that we love them. But if we take the time to let them share their heart, they will know we care. And if they know we care, we will have an opportunity to speak truth into their lives.
5) Matthew 18:15 "If your brother or sister sins, go and point out their fault, just between the two of you. If they listen to you, you have won them over."
6) 2 Timothy 3:16-17 "All Scripture is inspired by God and profitable for teaching, for reproof, for correction, for training in righteousness; so that the man of God may be adequate, equipped for every good work."
7) Proverbs 20:5 "A plan in the heart of a man is like deep water, But a man of understanding draws it out."
8) Proverbs 12:18 "There is that speaketh like the piercings of a sword: but the tongue of the wise is health."
Bible verses about listening to others 
There are numerous verses in Scripture that teach us to listen to others. We listen to others because God listens to us out of His love for us. By being a good listener, we are becoming more Christ-like. We should also learn to listen to those whom God has placed in our authority, whether it is our parents or our pastors.
9) James 1:19 "This you know, my beloved brethren, but everyone must be quick to hear, slow to speak and slow to anger."
10) Psalm 34:15 "The eyes of the Lord are on the righteous, and his ears are attentive to their cry."
11) Proverbs 6:20-21 "Keep your father's commands, my son, and never forsake your mother's rules, 21 by binding them to your heart continuously, fastening them around your neck."
Listening in ministry 
In ministry, we must be good listeners but we must also urge others to listen to what we have to say. Faith only comes by hearing the Word of God. It is only by the truth revealed in Scripture that people are changed. This must be the focus in all our ministry efforts.
12) Proverbs 18:13 "He who gives an answer before he hears, It is folly and shame to him."

13) James 5:16 "Therefore confess your sins to each other and pray for each other so that you may be healed. The prayer of a righteous person is powerful and effective."
14) Psalm 34:11 "Come, you children, listen to me; I will teach you the fear of the LORD."
15) Philippians 2:3 "Do nothing out of selfish ambition or vain conceit. Rather, in humility value others above yourselves."
16) Proverbs 10:17 "Whoever heeds discipline shows the way to life, but whoever ignores correction leads others astray."
17) Romans 10:17 "Consequently, faith comes from hearing the message, and the message is heard through the word about Christ."
18) Matthew 7:12 "So in everything, do to others what you would have them do to you, for this sums up the Law and the Prophets."
Listening to God
God still speaks through the Holy Spirit. The question is, are we listening? Do we desire to hear His voice over our own voice? Most of us are moving 100 miles per hour throughout the day, but are we willing to stop everything to get alone with Him to listen to Him?
Allow God to speak life into your soul and always remember that His voice will never contradict His Word. God speaks in multiple ways. He can speak in prayer. He can speak through others. Also, let's remember to stay in the Word because He has spoken. We must listen to what He has said in the Bible. He has revealed everything to us that we need to live a life of godliness. The Bible is completely sufficient for all our needs.
19) Psalm 81:8 "Hear, O My people, and I will admonish you; O Israel, if you would listen to Me!"
20) Jeremiah 26:3-6 "Perhaps they will listen, and everyone will turn from his evil way, that I may repent of the calamity which I am planning to do to them because of the evil of their deeds.' "And you will say to them, 'Thus says the LORD, "If you will not listen to Me, to walk in My law which I have set before you, to listen to the words of My servants the prophets, whom I have been sending to you again and again, but you have not listened; then I will make this house like Shiloh, and this city I will make a curse to all the nations of the earth."'"
21) Psalm 46:10-11 Be still, and know that I am God: I will be exalted among the heathen, I will be exalted in the earth. 11 The Lord of hosts is with us; the God of Jacob is our refuge.
22) Psalm 29:3-5 "The voice of the Lord is over the waters; the God of glory thunders, the Lord thunders over the mighty waters. 4 The voice of the Lord is powerful; the voice of the Lord is majestic. 5 The voice of the Lord breaks the cedars; the Lord breaks in pieces the cedars of Lebanon."
23) Psalm 143:8 "Let the morning bring me word of your unfailing love, for I have put my trust in you. Show me the way I should go, for to you I entrust my life."
24) Psalm 62:1 "For God alone my soul waits in silence; from him comes my salvation."
25) Isaiah 55:2-3 "Why spend money on what is not bread, and your labor on what does not satisfy? Listen, listen to me, and eat what is good, and you will delight in the richest of fare. 3 Give ear and come to me; listen, that you may live. I will make an everlasting covenant with you, my faithful love promised to David."

26) Jeremiah 15:16 "Your words were found and I ate them. And Your words became a joy to me and the happiness of my heart. For I have been called by Your name, O Lord God of All."
27) Jeremiah 29:12-13 "Then you will call upon Me and come and pray to Me, and I will listen to you. 13 You will look for Me and find Me, when you look for Me with all your heart."
28) Revelation 3:22 "He that hath an ear, let him hear what the Spirit saith unto the churches."
God is listening to your prayers
God loves His children – and as a caring Father, He listens to us when we pray to Him. Not only do we have that promise, but we can see over and over where God desires for us to talk to Him. This is extraordinary – God doesn't NEED our companionship. He isn't lonely.
God, who is so perfect and so holy: so completely otherly in who He is and what He is has said that He wants us to talk to Him. We are nothing but a speck of dust. We can't begin to formulate the words of praise that He so deserves that He so requires due to His holiness – yet He said He wants to listen to us because He loves us.
26) Jeremiah 33:3 "Call to me and I will answer you and tell you great and unsearchable things you do not know."
27) 1 john 5:14 "This is the confidence we have in approaching God: that if we ask anything according to his will, he hears us."
28) Jeremiah 29:12 "Then you will call on me and come and pray to me, and I will listen to you."
29) Psalm 116:1-2 "I love the Lord, for He heard my voice; He heard my cry for mercy. Because He turned His hear to me, I will call on Him as long as I live."
30) 1 John 5:15 "And we know that He hears us – whatever we ask – we know that we have what we asked of Him"
31) Isaiah 65:24 "Even before they finish praying to me, I will answer their prayers."
32) Psalm 91:15 "When he calls out to Me, I will answer him; I will be with him in trouble. I will deliver and honor him. 16 With long life I will satisfy him and show him my salvation."
33) Psalm 50:15 "Call on me in times of trouble. I will rescue you, and you will honor me."
34) Psalm 18:6 "I called to the LORD in my distress, and I cried to my God for help. From his temple he heard my voice, and my cry to him reached his ears."
35) Psalm 66:19-20 "But certainly God has heard me; He has attended to the voice of my prayer. Blessed be God, Who has not turned away my prayer, Nor His mercy from me!"
Hearing and doing
In Scripture, we can see a direct correlation between listening and obeying. They go completely hand in hand. You are not listening well if you are not obeying. Listening isn't just a passive activity. It encompasses so much more. It is hearing God's truth, understanding God's truth, being changed by God's truth, and living out God's truth.
To listen correctly means that we must live a life of obedience to what He has commanded us. Let's not only be hearers but doers. Look and see what Has been done for you on the cross. Look and see how much you are loved. Praise God for His great attributes and allow that to compel you to live a life pleasing to Him.
36) James 1:22-24 "But prove yourselves doers of the word, and not merely hearers who delude themselves. For if anyone is a hearer of the word and not a doer, he is like a man who looks at his natural face in a mirror; for once he has looked at himself and gone away, he has immediately forgotten what kind of person he was."
37) 1 John 1:6 "If we claim to have fellowship with him and yet walk in the darkness, we lie and do not live out the truth."
38) 1 Samuel 3:10 "Then the LORD came and stood and called as at other times, "Samuel! Samuel!" And Samuel said, "Speak, for Your servant is listening."
39) John 10:27 "My sheep listen to my voice; I know them, and they follow me."
40) 1 John 4:1 "Beloved, do not believe every spirit, but test the spirits to see whether they are from God, because many false prophets have gone out into the world."
Conclusion
Let us pray to God to be more transformed into the image of Christ, His Son in all aspects of who we are. Let us pour into the Word so that we might be listeners of the Word, and be transformed by the Holy Spirit so that we can be obedient to His commands.