What does the Bible say about discouragement?
I would say that discouragement is probably the greatest attack of Satan on my life. He uses discouragement to his advantage because it is extremely powerful.
It can cause people to quit on something that God has told them to do, it can cause sickness, it can lead to sin, it can lead to atheism, it can lead to bad decision making, and more. Don't let disappointment stop you.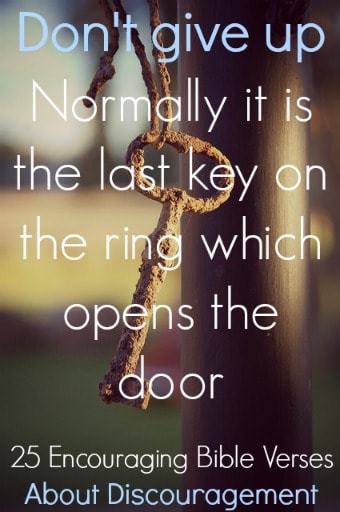 I noticed in my life how disappointment after disappointment has led to God's will being done. God has blessed me in ways I would have never been blessed if I never failed. Sometimes trials are blessings in disguise.
I've been through many trials and from experience I can say God has been faithful in all of them. He has never let me down. Sometimes we want God to answer immediately, but we must allow Him to work. We must be still and just trust. "God I don't know where you are leading me, but I'm going to trust you."
Christian quotes about discouragement
"Develop success from failures discouragement and failure are two of the surest stepping stones to success."
"The Christian life is not a constant high. I have my moments of deep discouragement. I have to go to God in prayer with tears in my eyes, and say, 'O God, forgive me,' or 'Help me." – Billy Graham
"Faith must always pass the test of discouragement."
"Don't give up. Normally it is the last key on the ring which opens the door."
"Every Christian who struggles with depression struggles to keep their hope clear. There is nothing wrong with the object of their hope – Jesus Christ is not defective in any way whatsoever. But the view from the struggling Christian's heart of their objective hope could be obscured by disease and pain, the pressures of life, and by Satanic fiery darts shot against them… All discouragement and depression is related to the obscuring of our hope, and we need to get those clouds out of the way and fight like crazy to see clearly how precious Christ is. Can Christian be Depressed?" John Piper
"As I look back on my life, I realize that every time I thought I was being rejected from something good, I was actually being re-directed to something better."
"A teardrop on earth summons the King of heaven." Chuck Swindoll
"The remedy for discouragement is the Word of God. When you feed your heart and mind with its truth, you regain your perspective and find renewed strength." Warren Wiersbe
"Disappointment is inevitable. But to become discouraged, there's a choice I make. God would never discourage me. He would always point me to himself to trust him. Therefore, my discouragement is from Satan. As you go through the emotions that we have, hostility is not from God, bitterness, unforgiveness, all of these are attacks from Satan." Charles Stanley
"One of the most valuable aids to meditation is Scripture memorization. In fact, when I encounter someone who is battling discouragement or depression, I often ask two questions: "Are you singing to the Lord?" and "Are you memorizing Scripture?" These two exercises are not some magical formula to make all our problems go away, but they do have incredible power to change our perspective and attitude toward the issues we are facing." Nancy Leigh DeMoss
"For every discouragement has been allowed to come to us in order that through it we may be cast in utter helplessness at the Saviour's feet." Alan Redpath
There is only one cure for discouragement
We can try to do all these other things in the flesh, but the only cure for discouragement is trust in the Lord. Discouragement shows a lack of trust. If we fully trusted in the Lord we would not be discouraged. Trust is the only thing that has helped me. We have to stop looking to what is seen.
I've seen God work in impossible situations. We live by faith! Trust in who He says He is. Trust in His love for you. Trust in what He says that He is going to do. Sometimes I have to go outside, be still, and focus on the Lord. There is nothing on this Earth like silence. Noise causes us not to think clearly. Sometimes we need silence so we can listen to the Lord.
Stop trusting your situation God is in control not your situation. One time I was sitting outside dealing with a bunch of anxious thoughts and I noticed a bird come and pick some food up off the ground and fly away. God told me, "if I provide for the birds how much more will I provide for you? If I love the birds how much more do I love you?"
One second in God's presence will calm your worries. In an instant my heart was calm. You must believe in the promises of God. Jesus said don't let your hearts be troubled.
1. Proverbs 3:5-6 Trust in the Lord with all your heart and lean not on your own understanding; in all your ways submit to him, and he will make your paths straight.
2. Joshua 1:9 Haven't I commanded you: be strong and courageous? Do not be afraid or discouraged, for the LORD your God is with you wherever you go.
3. John 14:1 Let not your heart be troubled: ye believe in God, believe also in me.
4. Romans 8:31-35 What then shall we say to these things? If God is for us, who is against us? He who did not spare His own Son, but delivered Him over for us all, how will He not also with Him freely give us all things? Who will bring a charge against God's elect? God is the one who justifies; who is the one who condemns? Christ Jesus is He who died, yes, rather who was raised, who is at the right hand of God, who also intercedes for us. Who will separate us from the love of Christ? Will tribulation, or distress, or persecution, or famine, or nakedness, or peril, or sword?
5. 2 Corinthians 5:7 For we live by faith, not by sight.
Watch what your eyes are focusing on.
Sometimes I get discouraged for no reason. When you take your focus off of God discouragement will creep in on you. I noticed that when my eyes turn to stuff of the world such as things, my future, etc. Satan uses that to send discouragement. Most people take their focus off of God and put it on the world.
This is one of the reasons for the increase of depression. We can't live without God and when you try to your heart gets discouraged. We need to set our heart on Him. We need to focus on Him. Whenever your focus seems to turn from God and go in a different direction stop for a second and go be alone with God. Get intimate with Him in prayer.
6. Colossians 3:2 Set your minds on things above, not on earthly things.
7. Proverbs 4:25 Let your eyes look directly forward, and your gaze be straight before you.
8. Romans 8:5 For they that are after the flesh do mind the things of the flesh; but they that are after the Spirit the things of the Spirit.
Discouragement results in more sin and going astray.
Why do you think Satan wants you to be discouraged? He wants to kill your trust in the Lord. Discouragement makes you lose hope and makes you spiritually tired. It starts to become harder for you to get back up and move on. Your soul starts to give up. I'm not only referring to obedience to the Lord. I am referring to your prayer life as well.
You become spiritually drained and it is harder for you to pray. It is harder for you to seek God. That is why we have to take care of discouragement in the beginning stages. Once you leave the discouragement door open you allow Satan to come in and start planting seeds of doubt. "You're not Christian, God is not real, He's still mad at you, you're worthless, take a break, God wants you to suffer, just listen to some worldly music that will help."
Satan starts to send confusion and you start to get lost because your focus is not on the captain. Discouragement can lead to compromise and things that you didn't do before. I notice that when I become discouraged I can start to watch more TV, I can start to compromise with my music selection, I can work less, etc. Be very careful. Close the door of discouragement now.
9. 1 Peter 5:7-8 Cast all your anxiety on him because he cares for you. Be alert and of sober mind. Your enemy the devil prowls around like a roaring lion looking for someone to devour.
10. Ephesians 4:27 and do not give the devil an opportunity to work.
Discouragement makes it harder for you to believe God and His promises.
God cares when we are discouraged while serving Him. He understands and He encourages us to persevere. God continues to remind me about what He has promised me when my heart gets discouraged.
11. Exodus 6:8-9 And I will bring you to the land I swore with uplifted hand to give to Abraham, to Isaac and to Jacob. I will give it to you as a possession. I am the LORD. Moses reported this to the Israelites, but they did not listen to him because of their discouragement and harsh labor.
12. Haggai 2:4-5 Yet now be strong, O Zerubbabel, declares the Lord. Be strong, O Joshua, son of Jehozadak, the high priest. Be strong, all you people of the land, declares the Lord. Work, for I am with you, declares the Lord of hosts, according to the covenant that I made with you when you came out of Egypt. My Spirit remains in your midst. Fear not.
God understands your discouragement.
This is one of the reasons why He wants you to remain in the Word. You need spiritual food. When you start living without the Word you start to become dull and stagnant.
13. Joshua 1:8 This book of instruction must not depart from your mouth; you are to recite it day and night so that you may carefully observe everything written in it. For then you will prosper and succeed in whatever you do.
14. Romans 15:4-5 For everything that was written in the past was written to teach us, so that through the endurance taught in the Scriptures and the encouragement they provide we might have hope. May the God who gives endurance and encouragement give you the same attitude of mind toward each other that Christ Jesus had.
Many times discouragement is because of a set back in our life, a delay, or difficulty in a certain goal.
One quote that is so true in the Christian life is the quote that says, "a minor setback for a major come back." Sometimes when something bad happens we pause for a second and think it's over. "I messed up God's will or I was never in God's will. Surely if I was doing God's will I would have not failed."
Many times success looks like failure in the beginning, but you have to get up and fight! You have to keep on moving. Some of you just need to get up. It's not over yet! Before I started writing this article, I was outside being still before the Lord. I looked to my right and I noticed what seemed to be a very small centipede climbing up the wall.
It started climbing higher and higher and then it fell. I looked on the ground and it wasn't moving. 3 minutes went by and it still wasn't moving. I thought it was dead for a second. Then, the small bug turned from its side and started to climb the wall again. It didn't let a discouraging fall stop it from progressing. Why are you letting a discouraging fall stop you?
Sometimes the setbacks that happen in life are to build us and make us stronger in ways we don't understand at the moment. It's either discouragement is going to stop you or drive you. Sometimes you have to say to yourself "it's not going to end like this." Trust and move! Don't allow Satan to remind you of the past which leads to discouragement. Don't dwell on it. You have a future and it is never behind you!
15. Job 17:9 The righteous keep moving forward, and those with clean hands become stronger and stronger.
16. Philippians 3:13-14 Brothers, I do not consider myself to have taken hold of it. But one thing I do: Forgetting what is behind and reaching forward to what is ahead, I pursue as my goal the prize promised by God's heavenly call in Christ Jesus.
17. Isaiah 43:18-19 Don't remember the former things; don't dwell on things past. Watch! I'm about to carry out something new! And now it's springing up don't you recognize it? I'm making a way in the wilderness and paths in the desert.
18. Romans 8:28 And we know that all things work together for good to them that love God, to them who are the called according to his purpose.
You must be patient as you wait on the Lord.
Sometimes we think it is taking too long and our impatience affects us. Most of the time the huge mountains in our life will not fall down in one day. We must trust in the Lord as He works. He is faithful and He answers at the best time.
19. Galatians 6:9 And let us not grow weary of doing good, for in due season we will reap, if we do not give up.
20. Psalm 37:7 Be still before the Lord and wait patiently for him; fret not yourself over the one who prospers in his way, over the man who carries out evil devices!
Trust in the Lord when you feel discouraged
Success seems different than what you imagined.
Success for a Christian is the obedience to the known will of God whether that means suffering or not. John the baptist became discouraged. He was in prison. He thought to himself if he is truly Jesus why are things not different? John expected something different, but he was in the will of God.
21. Matthew 11:2-4 When John, who was in prison, heard about the deeds of the Messiah, he sent his disciples to ask him, "Are you the one who is to come, or should we expect someone else?" Jesus replied, "Go back and report to John what you hear and see."
Here are a couple more things that can cause discouragement.
Discouragement can be caused by the words of others. When doing God's will Satan is going to bring opposition especially when you are down. In my life God's will resulted in people telling me to go into a different direction, people mocking me, making fun of me, etc.
It made me doubt and get discouraged. Don't trust in the words of others trust in the Lord. Allow Him to lead. Listen to Him. Discouragement can also occur when we compare ourselves with others. Be careful. Allow the Lord to be your focus.
22. Romans 12:2 Do not be conformed to this world, but be transformed by the renewal of your mind, that by testing you may discern what is the will of God, what is good and acceptable and perfect.
When you backslide from your prayer life, then discouragement will enter.
Learn to be still before Him and pray. A moment of worship lasts a lifetime. Leonard Ravenhill said, "the man who is intimate with God, will never be intimated by anything." When your goal is God Himself He will be your joy. He will align your heart with His heart.
As God starts to slip from my grasp my heart cries. We need to readjust our hearts. We need to readjust our prayer life. Even in the worst disappointments that may happen in this life. Jesus is enough. Be quiet before His presence. Are you hungry for Him? Seek Him until you die! "God I need more of you!" Sometimes fasting is needed to set your heart on God.
23. Psalm 46:10-11 Be still, and know that I am God: I will be exalted among the heathen, I will be exalted in the earth. The LORD of hosts is with us; the God of Jacob is our refuge.
24. 34:17-19 The righteous cry, and the Lord heareth, and delivereth them out of all their troubles. The Lord is nigh unto them that are of a broken heart; and saveth such as be of a contrite spirit. Many are the afflictions of the righteous: but the Lord delivereth him out of them all.
25. Philippians 4:6-7 Do not be anxious about anything, but in every situation, by prayer and petition, with thanksgiving, present your requests to God. And the peace of God, which transcends all understanding, will guard your hearts and your minds in Christ Jesus.
I want to remind you to watch out for things that can increase discouragement such as a lack of sleep. Go to bed on time. Also, make sure that you are eating right. The way we treat our body can affect us.
Trust in the Lord! Focus on Him throughout the day. One of the things that helps me focus on God is listening to godly music throughout the day.