What does the Bible say about fear?
One of the effects of the fall is fear, anxiety, and these battles that we struggle within our mind. We are all fallen creatures and although believers are being renewed into the image of Christ, we all struggle in this area. God knows our battle against fear. One of the ways He wanted to show us that He knows is by the many, do not fear verses in the Bible. The Lord wants us to take comfort in His Words.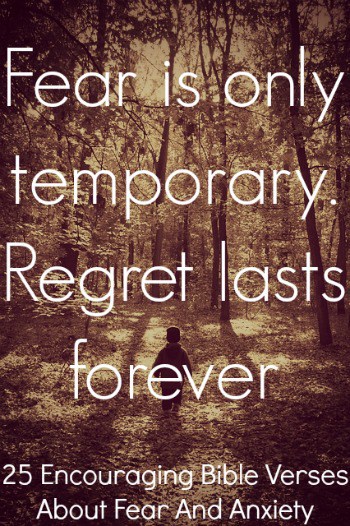 Sometimes to overcome your fears, you're going to have to face your fears, but once again take comfort because God is with you. Satan will try to increase our fear, but remember God's faithfulness in the past.
God has brought you out of that sin, God has fixed your marriage, God has provided for you, God has given you a job, God has healed you, God has restored your relationship with others, but Satan says, "what if you enter into another trial? What if that pain returns? What if you lose your job? What if you get rejected?" It is the devil who lodges seeds of doubt into our mind and says, "what if He doesn't provide? What if God does not love you? What if God stopped listening to your prayers? What if God leaves you stranded?" He creates so many "what ifs" and anxious thoughts.
There is no reason to live life in fear of things that have not occurred. We must be a people who trust in the Lord and know that He is in control. If He can cover our sins with the blood of His Son, can't He cover our lives? We cast so much doubt on our loving Father, the Creator of the universe.
Christian quotes about fear
"F-E-A-R has two meanings: 'Forget Everything And Run' or 'Face Everything And Rise.' The choice is yours."
"It is better to make a thousand failures than to be too cowardly to ever undertake anything." Clovis G. Chappell
"Fear is not real. The only place that fear can exist is in our thoughts of the future. It is a product of our imagination, causing us to fear things that do not at present and may not ever exist. That is near insanity. Do not misunderstand me danger is very real but fear is a choice."
"Fear is born of Satan, and if we would only take time to think a moment we would see that everything Satan says is founded upon a falsehood." A. B. Simpson
"With the power of God within us, we need never fear the powers around us." Woodrow Kroll
"It is better to make a thousand failures than to be too cowardly to ever undertake anything." Clovis G. Chappell
"Worry is a cycle of inefficient thoughts whirling around a center of fear." Corrie Ten Boom
"Fear arises when we imagine that everything depends on us." — Elisabeth Elliot
"Courage doesn't mean you don't get afraid. Courage means you don't let fear stop you."
"Fear is only temporary. Regret lasts forever."
"Fear can paralyze us and keep us from believing God and stepping out in faith. The devil loves a fearful Christian!" Billy Graham
"If you listen to your fears, you will die never knowing what a great person you might have been." Robert H. Schuller
"A perfect faith would lift us absolutely above fear." George MacDonald
"Meet your fears with faith." Max Lucado
"Fear is a liar."
Satan wants you to live in fear
One thing that Satan wants to do to believers is cause them to live in fear. Even if nothing in your life warrants fear, he will send forth confusion and discouraging thoughts. You can have a secure job and Satan will send fear and cause you to think, "what if I get fired." Sometimes he will say things like "God will cause you to lose your job to test you."
He can confuse even the godliest believers and cause them to live in anxiety. I've been there and I've struggled with this. If you're anything like me, you have faced these battles in your mind. You think that something bad is going to happen. You must recognize where these thoughts come from. These thoughts are from the enemy. Don't believe them! The cure for those struggling with these discouraging thoughts is to trust in the Lord. God says, "don't worry about your life. I will be your Provider. I will take care of your needs."
God is in control of our life. I know it's easier said than done, but if God is in control, you never have to worry about a thing! There is nothing that goes on in your life that He doesn't know about. You have to be still and get to know who He us. Put your confidence in God.
Say, "oh Lord help me to trust in You. Help me to block the negative words of the enemy. Help me to know that your provision, your help, your guidance, your favor, your love, your strength, is not based upon my performance because if it was. I would have been lost, dead, destitute, etc."
1. Proverbs 3:5-6 "Trust in the LORD with all your heart and lean not on your own understanding; in all your ways submit to him, and he will make your paths straight."
2. Isaiah 41:10 "So do not fear, for I am with you; do not be dismayed, for I am your God. I will strengthen you and help you; I will uphold you with my righteous right hand."
3. Joshua 1:9 "Have I not commanded you? Be strong and courageous. Do not be afraid; do not be discouraged, for the LORD your God will be with you wherever you go."
4. Psalm 56:3 "But when I am afraid, I will put my trust in you."
5. Luke 1:72-76 "to show mercy to our ancestors and to remember his holy covenant, the oath he swore to our father Abraham: to rescue us from the hand of our enemies, and to enable us to serve him without fear in holiness and righteousness before him all our days. And you, my child, will be called a prophet of the Most High; for you will go on before the Lord to prepare the way for him."
"God, I'm going to trust you with my future."
All the thoughts that run through our mind will overwhelm us. It is going to get to a point where God is going to ask you, "are you going to trust me with your future?" God told Abraham to "get up and go to the land I will show you." Imagine the thoughts running through the head of Abraham.
If I were in that situation, my palms would be sweaty, my heart would be pounding, I would think, how will I eat? How will I feed my family? How am I going to get there? What is the correct route? What does it look like? What do I do next? Where will I find work? There would be a spirit of fear.
When God told Abraham to go to a different land, what He was actually telling Abraham is to trust Him with everything. A couple years ago, God led me to move to a different city that was 3 hours away. I didn't know what I was going to do next, but God said, "you're going to have to trust Me. You shall not lack one thing."
God has been so faithful to me through the years! Time and time again, I see God's hand at work and I'm still amazed. Sometimes God is going to lead you out of your comfort zone to accomplish His will. He is going to glorify His name and He is going to do it through you! God says, "all you have to do is trust and everything else will be taken care of. Don't be anxious and don't trust in your thoughts. [insert name] you're going to have to trust Me with your future. You're going to have to let Me provide for you. You're going to have to let Me lead you. Now you have to fully depend on Me. By faith just like Abraham moved, we move and we do the will of God.
We have to get to a place of complete surrender to the Lord. When a believer gets to that place of complete surrender, doors open. You have to trust God with your tomorrows. Although I might not know what will happen tomorrow, Lord I will trust You!
6. Genesis 12:1-5 "The LORD had said to Abram, "Go from your country, your people and your father's household to the land I will show you. I will make you into a great nation, and I will bless you; I will make your name great, and you will be a blessing. I will bless those who bless you, and whoever curses you I will curse; and all peoples on earth will be blessed through you." So Abram went, as the LORD had told him; and Lot went with him. Abram was seventy-five years old when he set out from Harran."
7. Matthew 6:25-30 "Therefore I tell you, do not worry about your life, what you will eat or drink; or about your body, what you will wear. Is not life more than food, and the body more than clothes? Look at the birds of the air; they do not sow or reap or store away in barns, and yet your heavenly Father feeds them. Are you not much more valuable than they? Can any one of you by worrying add a single hour to your life? And why do you worry about clothes? See how the flowers of the field grow. They do not labor or spin. Yet I tell you that not even Solomon in all his splendor was dressed like one of these. If that is how God clothes the grass of the field, which is here today and tomorrow is thrown into the fire, will he not much more clothe you—you of little faith?"
8. Psalm 23:1-2 "The LORD is my shepherd; I shall not want. 2 He makes me lie down in green pastures. He leads me beside still waters."
9. Matthew 6:33-34 "But seek first the kingdom of God and His righteousness, and all these things shall be added to you. Therefore do not worry about tomorrow, for tomorrow will worry about its own things. Sufficient for the day is its own trouble."
God did not give you a spirit of fear
Don't let Satan steal your joy. Satan gives us a spirit of fear, but God gives us a different spirit. He gives us a spirit of power, peace, self-control, love, etc. When your joy comes from circumstances, that is always an open door for Satan to plant fear in you.
Our joy must come from Christ. When we truly rest upon Christ, there will be an everlasting joy in us. Whenever you start to experience fear, identify the culprit and find the solution in Christ. I encourage you to pray to the Holy Spirit daily for more peace, boldness, and power.
10. 2 Timothy 1:7 "For God hath not given us the spirit of fear; but of power, and of love, and of a sound mind."
11. John 14:27 "Peace I leave with you; my peace I give you. I do not give to you as the world gives. Do not let your hearts be troubled and do not be afraid."
12. Romans 8:15 The Spirit you received does not make you slaves, so that you live in fear again; rather, the Spirit you received brought about your adoption to sonship. And by him we cry, "Abba, Father."
Do not fear! He's the same God.
I was reading Genesis last night and God showed me something that believers often forget. He's the same God! He's the same God who led Noah. He's the same God who led Abraham. He's the same God who led Isaac. Do you truly grasp the power of this truth? Sometimes we act like He is a different God. I'm tired of many well-meaning Christians thinking that God doesn't lead how He used to lead. Lies, lies, lies! He's the same God.
We have to cast out the spirit of unbelief. Read Hebrews 11 today! Abraham, Sarah, Enoch, Abel, Noah, Isaac, Jacob, Joseph, and Moses pleased God by their faith. Today, we are looking for burning bushes, miracles, and wonders. Please understand that I am not saying that God doesn't give signs and do amazing miracles, because He does. However, the righteous shall live by faith! Without faith you can't please God.
Our faith shouldn't last until bedtime and then we start worrying again. No! "God I'm going to take your Word for it. Here I am God. Help my unbelief!" God is trying to produce a remarkable faith in you. Some of you are in a battle right now. You're a testimony to the world. What testimony do you give when you're murmuring about everything? When all you do is complain you're bringing out negative energy that affects not only you, it affects those around, and it affects those seeking God.
The Israelites complained and it made more people complain. They said, "this is the God we serve. He brought us out here to die. Surely if we don't die of starvation we are going to die of fear." Once you start complaining you forget every single thing that God did for you in the past. He's the same God that brought you out of the trial before!
Once you start to forget who God is, you start to run around and try to do things in your own strength. Fear causes your heart to go in many different directions, instead of being aligned with God. What does God say in Exodus 14:14? "I'm working, you need only to be still. I'll fight for you!" The same God who has fought for you before, will fight for you again. My God will defeat any battle! There is nothing impossible for God!
We are the most blessed generation. We have all the stories of men in the Bible. We know how the stories turned out. God has been faithful and we read these stories over and over again. Don't forget the promises and miracles of God. He's not mad at you. If you will trust Christ with taking away your past sins, then trust Him with your future. God is looking for those who are going to have faith. We serve the same God and He will fight for you.
13. Exodus 14:14 "The LORD will fight for you; you need only to be still."
14. Deuteronomy 1:30 "The LORD your God who goes before you will Himself fight on your behalf, just as He did for you in Egypt before your eyes."
15. Deuteronomy 3:22 "Do not be afraid of them; the LORD your God himself will fight for you."
16. Matthew 19:26 "Jesus looked at them and said, "With man this is impossible, but with God all things are possible."
17. Leviticus 26:12 "And I will walk among you and will be your God, and you shall be my people."
When you neglect God, you become weak.
Sometimes the cause of our fear is because of neglecting God. When your heart is not aligned toward the Lord, it really affects you. Why do you think that Satan wants to kill your prayer life? When a believer tries to live without the source of their salvation, they become weak and broken. Once you start neglecting God it becomes harder and harder to sense His presence and you start to feel alone.
So many believers are neglecting God and that is why so many believers are weak, timid, they can't handle burden, they are afraid to witness, they are afraid to do God's will, they have no power in their life. When you don't shut yourself away with God, you will turn into a coward. You have to get alone with God.
When you looked for Isaac, you found him in the field alone with God. John the Baptist was in the wilderness. Jesus always found a lonely place. All of God's greatest men have been alone with God seeking His face. You have fear and you want more boldness in your life, but you have not because you ask not. We have many problems, but if we would just get alone with God, we would see that all of our problems will be solved.
Therefore, pray! Always pray! When those anxious thoughts sneak up on you, you have two options. You can either dwell on them, which makes it worse and gives Satan an opportunity, or you can bring them to God. Don't neglect the prayer closet.
18. Proverbs 28:1 "The wicked flee though no one pursues, but the righteous are as bold as a lion."
19. Psalm 34:4 I sought the LORD, and he answered me; he delivered me from all my fears.
20. Psalm 55:1-8 Listen to my prayer, O God, do not ignore my plea; hear me and answer me. My thoughts trouble me and I am distraught because of what my enemy is saying, because of the threats of the wicked; for they bring down suffering on me and assail me in their anger. My heart is in anguish within me; the terrors of death have fallen on me. Fear and trembling have beset me; horror has overwhelmed me. I said, "Oh, that I had the wings of a dove! I would fly away and be at rest. I would flee far away and stay in the desert; I would hurry to my place of shelter, far from the tempest and storm."
21. Philippians 4:6-7 Do not be anxious about anything, but in every situation, by prayer and petition, with thanksgiving, present your requests to God. And the peace of God, which transcends all understanding, will guard your hearts and your minds in Christ Jesus.
22. 1 Peter 5:7-8 "Cast all your anxiety on him because he cares for you. Be alert and of sober mind. Your enemy the devil prowls around like a roaring lion looking for someone to devour."
The Lord's faithfulness endures forever.
I want everyone to know that fear is inevitable. Even the godliest men and women will succumb to fear, but rejoice in the fact that fear is a choice. Sometimes our nights can be long. We've all had those nights when we were struggling with fear and anxiety and it was hard for us to pray. I encourage you to pray even when your heart doesn't feel like it.
God will give you the strength. David made it clear. You may go through the night and worry, weep, etc. but God's mercies are new every morning. There is joy that comes in the morning. It can be so hard to trust in God when our soul is downcast and we are restless. I remember nights when my heart was burdened and all I could say was "help Lord."
I cried myself to sleep, but in the morning there was peace. Every morning is a day in which, we get to praise our King. Through our resting in Him, God works a stillness in us. Psalm 121 teaches us that even when we slumber, God does not slumber and not only that, He will not let your foot slip. Take a rest from your anxiety. Fear is for a moment, but the Lord lasts forever. There is joy in the morning! Glory be to God.
23. Psalm 30:5 "For his anger lasts only a moment, but his favor lasts a lifetime; weeping may stay for the night, but rejoicing comes in the morning."
24. Lamentations 3:22-23 "The steadfast love of the Lord never ceases; his mercies never come to an end; they are new every morning; great is your faithfulness."
25. Psalm 94:17-19 "If the LORD had not been my help, My soul would soon have dwelt in the abode of silence. If I should say, "My foot has slipped," Your lovingkindness, O LORD, will hold me up. When my anxious thoughts multiply within me, Your consolations delight my soul."