Bible verses about joy
One of the most important things in the Christian life is joy. However, it seems as if far too many believers are living without joy. It seems as if we're just barely getting by and going through the daily motions of life.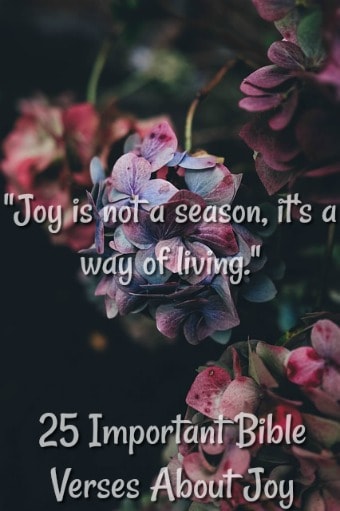 We were meant for so much more than this! Let's find out the key to experiencing joy.
Quotes
"Joy is not a season, it's a way of living."

"Joy is not necessarily the absence of suffering, it is the presence of God."

"If you have no joy, there's a leak in your Christianity somewhere."

"The Lord gives his people perpetual joy when they walk in obedience to him." Dwight L. Moody
What does the Bible say about joy?
True joy is a gift from the Lord. In Scripture we see that joy is one of the fruits of the Holy Spirit. Joy comes from believing God, belonging to His Kingdom, and knowing Jesus as Lord.
1. Romans 15:13 "May the God of hope fill you with all joy and peace as you trust in him, so that you may overflow with hope by the power of the Holy Spirit."
2. Romans 14:17 For the kingdom of God is not a matter of eating and drinking, but of righteousness, peace and joy in the Holy Spirit,
3. Galatians 5:22-23 "But the fruit of the Spirit is love, joy, peace, longsuffering, gentleness, goodness, faith, 23 Meekness, temperance: against such there is no law."
4. Philippians 1:25 "Convinced of this, I know that I will remain, and I will continue with all of you for your progress and joy in the faith."
Joy coming from your performance
One easy way to feel miserable on your walk with Christ is to allow your joy to come from your performance. There have been seasons when my joy was coming from my performance as a believer and I felt awful and defeated. I was hard on myself for everything. When your joy is coming from anything other than Christ that is idolatry. One moment you think you are saved, the next moment you question your salvation. One day you think you are deeply loved by God and the next day you feel that God loves you less because you didn't read your Bible. 
One thing that I learned about idolatry is that it leaves you dry. It leaves you broken and empty. I remember collapsing on my bed because of my failure to witness effectively. It didn't take long for God to remind me that my joy shouldn't come from my performance and my identity should not come from my ability to evangelize. It should be rooted in Christ alone. Sometimes we have to remind ourselves of who God says that we are in Christ. Scripture says that we are more than conquerors, redeemed, we are loved, we are precious in His eyes, His special treasure, etc.
God is not looking at you saying, "you messed up today and now you have to work to get in My good graces!" He's not saying that because we can't. We mess up every day because we can't live up to His standard, which is perfection. Sometimes we will get convicted by the Holy Spirit. However, we have to remember that we have been set free by the blood of Christ. In Christ we have no condemnation because His blood and His grace are greater than the things that seek to condemn us. There will be so much joy in your life when you realize that your identity does not lie in how good that you are, but how good Christ is!
5. Philippians 3:1-3 "Whatever happens, my dear brothers and sisters, rejoice in the Lord. I never get tired of telling you these things, and I do it to safeguard your faith. Watch out for those dogs, those people who do evil, those mutilators who say you must be circumcised to be saved. For we who worship by the Spirit of God are the ones who are truly circumcised. We rely on what Christ Jesus has done for us. We put no confidence in human effort."
Where is your joy coming from?
Where do you seek to get your joy from? If you can be honest, what do you run to the most? How are you feeding your mind? From personal experience I can tell you that when my devotional life is healthy I experience more joy. When I get too consumed by TV or secular music I begin to feel empty.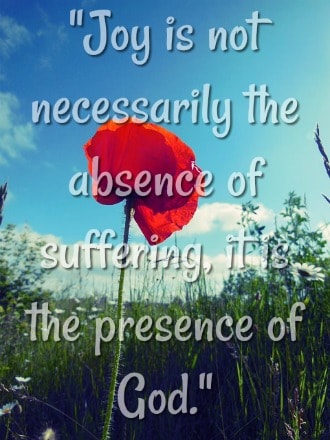 We were made for Christ and while some things are not inherently bad, too much of those things can take our heart away from Christ. We have to remove these broken cisterns in our lives to drink the water that Christ has to offer. Joy is one of the fruits of the Holy Spirit. However, if we quench the Spirit we can miss out on all that the Holy Spirit has to offer. Most of us are missing the beauty of Christ because our hearts are in other places.
Let us repent and have that change of heart that leads us back to Christ. Anything that may be hindering you, cut it off so that you can fully experience Christ. Become more intimate with Him. Go to that special place to get alone with Him and get lost in His beauty. Don't allow your love for Christ to become common or to remain common.  Seek Him and set your heart upon Him. Allow Him to remind you of who He is and what He has done for you on the cross.
6. John 7:37-38 "On the last day, that great day of the feast, Jesus stood and cried out, saying, "If anyone thirsts, let him come to Me and drink. 38 He who believes in Me, as the Scripture has said, out of his heart will flow rivers of living water."
7. John 10:10 "The thief does not come except to steal, and to kill, and to destroy. I have come that they may have life, and that they may have it more abundantly."
8. Psalm 16:11 "You will make known to me the path of life; In Your presence is fullness of joy; In Your right hand there are pleasures forever."
Happiness vs joy 
Happiness is momentary and can be due to current circumstances. However, joy is a lasting inward experience. Pleasure can create happiness, but the effects do not last. True joy in the Lord is eternal.
9. Ecclesiastes 2:1-3 "I said to myself, "Come on, let's try pleasure. Let's look for the 'good things' in life." But I found that this, too, was meaningless. 2 So I said, "Laughter is silly. What good does it do to seek pleasure?" 3 After much thought, I decided to cheer myself with wine. And while still seeking wisdom, I clutched at foolishness. In this way, I tried to experience the only happiness most people find during their brief life in this world."
10. Psalm 4:7 "You have given me greater joy than those who have abundant harvests of grain and new wine."
11. Psalm 90:14 "Satisfy us in the morning with your unfailing love, that we may sing for joy and be glad all our days."
Joy in trials
For some people having joy in the midst of trials seems like an impossibility. However, for a believer this impossible thought can become a reality when we fix our eyes on Christ and not our circumstance. Having joy in trials is easier when we trust in God's sovereignty and His great love for us. Although the situation may seem hopeless we know that the Lord is sovereign, and we trust in Him accomplishing His will in our lives.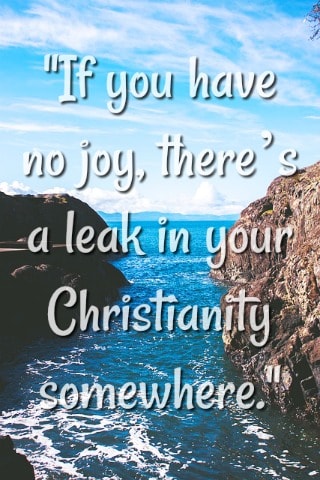 While Paul was in prison he wrote a letter to the Philippians and he told them to "rejoice always!" How could Paul say such a thing while he was stuck in prison with the possibility of being martyred? It is because the source of his joy was the Lord. Christ was victorious on the cross and now He is living inside believers. Our victorious Lord is living inside us and He will never leave us. Christ is the reason why we can smile in the pain. Christ is the reason why we can give the Lord praise in our trials. Instead of dwelling on your problems, dwell on Christ who is the solution.
Having joy does not mean that we don't voice our concerns to the Lord. However, we are reminded of His goodness and we have a God who encourages and comforts us. When I first became a Christian, I went through years of pain and loneliness. However, during that time I was rooted in the Lord. I was constantly seeking His face in prayer and in His Word. I had peace and joy during those times of uncertainty.
As I look back, I know the reason for my joy during those hard times was the Lord. The reason I did not enter into a state of despair was because my joy was coming from Him and I knew that He was sovereign over my situation. Always remember this, there is so much strength in making Christ your focus.
12. Hebrews 12:2-3 "Fixing our eyes on Jesus, the pioneer and perfecter of faith. For the joy set before him he endured the cross, scorning its shame, and sat down at the right hand of the throne of God. 3 Consider him who endured such opposition from sinners, so that you will not grow weary and lose heart."
13. James 1:2-4 "Consider it all joy, my brethren, when you encounter various trials, 3 knowing that the testing of your faith produces endurance. 4 And let endurance have its perfect result, so that you may be perfect and complete, lacking in nothing."
14. Romans 12:12 "Rejoicing in hope, patient in tribulation, continuing steadfastly in prayer."
15. Philippians 4:4 "Rejoice in the Lord always; again I will say, rejoice!"
16. 2 Corinthians 7:4 "I am acting with great boldness toward you; I have great pride in you; I am filled with comfort. In all our affliction, I am overflowing with joy."
17. Philippians 4:5-8 "Let your gentleness be evident to all. The Lord is near. 6 Do not be anxious about anything, but in every situation, by prayer and petition, with thanksgiving, present your requests to God. 7 And the peace of God, which transcends all understanding, will guard your hearts and your minds in Christ Jesus. 8 Finally, brothers and sisters, whatever is true, whatever is noble, whatever is right, whatever is pure, whatever is lovely, whatever is admirable—if anything is excellent or praiseworthy—think about such things."
18. Psalm 94:19 "When anxiety was great within me, your consolation brought me joy."
The joy of obedience
The deeper we get into sin the deeper we feel the effects of sin. Sin brings shame, anxiety, emptiness, and sorrow. There is so much joy when we surrender our lives to Christ. There is joy in obedience not because we are trusting in our own merit, but because we are living in God's grace. His grace is our daily strength. 
We were made to abide in Him and when we are not abiding in Him we feel and become weak. Abiding in Christ entails various different things such as depending on His grace, abiding in His love, walking by faith, trusting Him, cherishing His Word, and being obedient to His Word. There is joy in obedience because of the great price that was paid for us on the cross.
19. John 15:11 "These things I have spoken to you so that My joy may be in you, and that your joy may be made full."
20. Psalm 37:4 "Delight yourself in the Lord, and he will give you the desires of your heart."
21. Psalm 119:47-48 "For I delight in your commands because I love them. 48 I reach out for your commands, which I love, that I may meditate on your decrees."
22. Psalm 119:1-3 "Joyful are people of integrity, who follow the instructions of the LORD. Joyful are those who obey his laws and search for him with all their hearts. They do not compromise with evil, and they walk only in his paths."
Joy from community
We were not created to be alone. If we are not involved in a community, we are hurting ourselves. As Christians, we are told to encourage our brothers and sisters. We need to continually remind each other of where our joy comes from. We need to continually remind each other to focus on Christ. Community is essential on our walk with Christ and it is essential for joy. 
23. Hebrews 3:13 "But encourage one another daily, as long as it is called "Today," so that none of you may be hardened by sin's deceitfulness."
24. 2 Corinthians 1:24 "Not that we lord it over your faith, but we work with you for your joy, because it is by faith you stand firm."
25. 1 Thessalonians 5:11 "Therefore encourage one another and build each other up, just as in fact you are doing."
Bonus
Psalm 71:23 "My lips will shout for joy when I sing praise to You because You have redeemed me."