What does the Bible say about character?
What do you think about when you hear the word "character?" Character is our distinctive and individual mental and moral qualities. We express our character through how we treat other people and through our integrity, disposition, and moral fiber. We all have negative and positive character traits, and obviously, we want to cultivate positive character and subdue negative traits. This article will unpack what the Bible has to say about developing character.
Christian quotes about character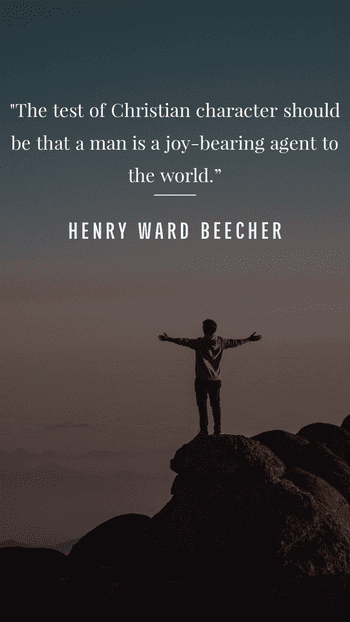 "The test of Christian character should be that a man is a joy-bearing agent to the world." Henry Ward Beecher
"According to Scripture, virtually everything that truly qualifies a person for leadership is directly related to character. It's not about style, status, personal charisma, clout, or worldly measurements of success. Integrity is the main issue that makes the difference between a good leader and a bad one." John MacArthur
"The true expression of Christian character is not in good-doing but in God-likeness." Oswald Chambers
"So often we try to develop Christian character and conduct without taking the time to develop God-centered devotion. We try to please God without taking the time to walk with Him and develop a relationship with Him. This is impossible to do." Jerry Bridges
"We wonder why we don't have faith; the answer is, faith is confidence in the character of God and if we don't know what kind of God God is, we can't have faith." Aiden Wilson Tozer
"Every problem is a character-building opportunity, and the more difficult it is, the greater the potential for building spiritual muscle and moral fiber."
What is Christian character?
Christian character reflects our relationship with Christ. We learn and build Christian character as we grow closer to God and follow His directives. We still have our individual personalities, but they develop into a godly version – a better version of ourselves – the person God created us to be. We grow in Christian character as we walk with God, dive into His Word, and spend time with Him in prayer. Christian character should display Christ to those around us – we are His emissaries of grace!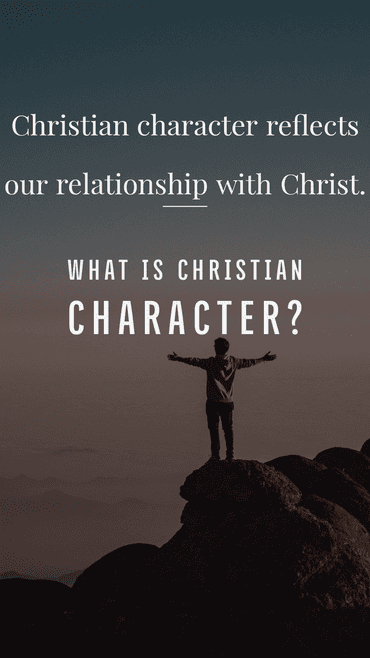 We have to be intentional about developing Christian character. Every day we make choices that will either grow our Christian character or send it into a slump. Our life circumstances are where God builds character, but we have to cooperate with Him in the effort. We are often confronted with issues and situations that tempt us to act out in ways that are the opposite of Christian character – we might want to fight back, get even, use foul language, get angry, and so on. We have to make the conscience choice to respond in a Christlike way.
1. Hebrews 11:6 (ESV) "And without faith it is impossible to please him, for whoever would draw near to God must believe that he exists and that he rewards those who seek him."
2. Galatians 5:22-23 "But the fruit of the Spirit is love, joy, peace, forbearance, kindness, goodness, faithfulness, 23 gentleness and self-control. Against such things there is no law."
3. 1 Thessalonians 4:1 (NIV) "As for other matters, brothers and sisters, we instructed you how to live in order to please God, as in fact you are living. Now we ask you and urge you in the Lord Jesus to do this more and more."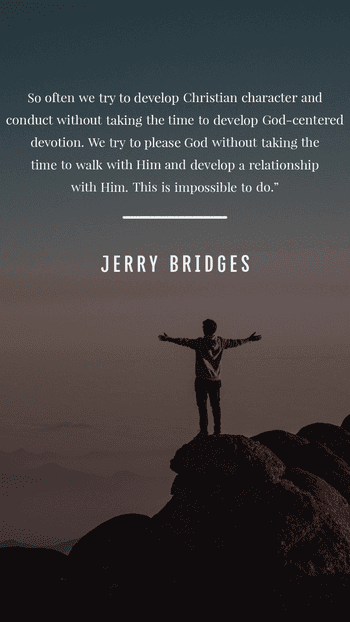 4. Ephesians 4:1 (NKJV) "I, therefore, the prisoner of the Lord, beseech you to walk worthy of the calling with which you were called."
5. Colossians 1:10 "so that you may walk in a manner worthy of the Lord and may please Him in every way: bearing fruit in every good work, growing in the knowledge of God."
6. Colossians 3:23-24 (NASB) "Whatever you do, do your work heartily, as for the Lord and not for people, 24 knowing that it is from the Lord that you will receive the reward of the inheritance. It is the Lord Christ whom you serve."
7. Hebrews 4:12 "For the word of God is alive and active. Sharper than any double-edged sword, it penetrates even to dividing soul and spirit, joints and marrow; it judges the thoughts and attitudes of the heart."
8. Romans 12:2 "Do not conform to the pattern of this world, but be transformed by the renewing of your mind. Then you will be able to test and approve what God's will is—his good, pleasing and perfect will."
9. Philippians 4:8 (KJV) "Finally, brethren, whatsoever things are true, whatsoever things are honest, whatsoever things are just, whatsoever things are pure, whatsoever things are lovely, whatsoever things are of good report; if there be any virtue, and if there be any praise, think on these things."
10. Hebrews 12:28–29 (NKJV) "Therefore, since we are receiving a kingdom which cannot be shaken, let us have grace, by which we may serve God acceptably with reverence and godly fear. 29 For our God is a consuming fire."
11. Proverbs 10:9 "Whoever walks in integrity walks securely, but whoever takes crooked paths will be found out."
12. Proverbs 28:18 "He who walks with integrity will be kept safe, but whoever is perverse in his ways will suddenly fall."
What does the Bible say about Christian character?
"We proclaim Him, admonishing every person and teaching every person with all wisdom, so that we may present every person complete in Christ." (Colossians 1:28)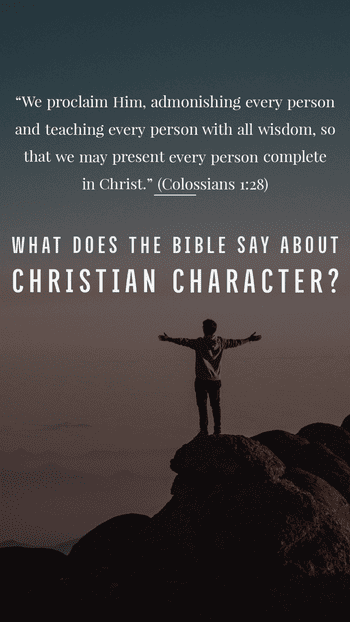 The word "complete" in this verse especially references the completeness of Christian character – of being fully mature, which involves divine insight or wisdom. Becoming complete in Christian character is intrinsic to our journey of faith. As we continue to grow in our knowledge and relationships with Christ, we mature so that we measure to the full and complete standard of Christ. (Ephesians 4:13)
"Applying all diligence, in your faith supply moral excellence, and in your moral excellence, knowledge, and in your knowledge, self-control, and in your self-control, perseverance, and in your perseverance, godliness, and in your godliness, brotherly kindness, and in your brotherly kindness, love." (2 Peter 1:5-7)
Growing in moral excellence (Christian character) involves diligence, determination, and hunger to be god-like.
13. Colossians 1:28 "Him we proclaim, warning everyone and teaching everyone with all wisdom, that we may present everyone mature in Christ."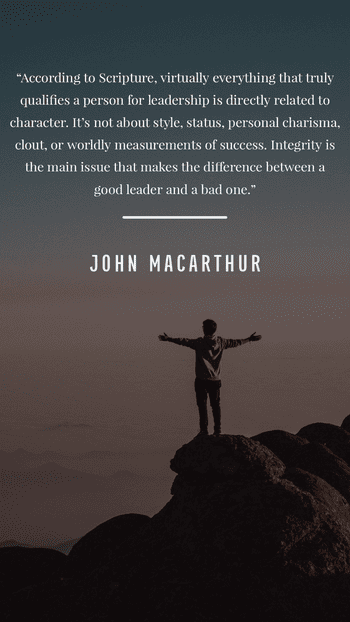 14. Ephesians 4:13 "until we all reach unity in the faith and in the knowledge of the Son of God, as we mature to the full measure of the stature of Christ."
15. 2 Peter 1:5-7 "For this very reason, make every effort to add to your faith goodness; and to goodness, knowledge; 6 and to knowledge, self-control; and to self-control, perseverance; and to perseverance, godliness; 7 and to godliness, mutual affection; and to mutual affection, love."
16. Proverbs 22:1 "A good name is to be chosen rather than great riches, Loving favor rather than silver and gold."
17. Proverbs 11:3 "The integrity of the upright guides them, but the unfaithful are destroyed by their duplicity."
18. Romans 8:6 "The mind governed by the flesh is death, but the mind governed by the Spirit is life and peace."
What is the character of God?
We can understand the character of God through what He says about Himself and by observing His actions.
Perhaps the most mind-blowing aspect of God's character is His love. God is love (1 John 4:8). Nothing can separate us from the love of God. (Romans 8:35-39) Our goal as believers is "to know the love of Christ which surpasses knowledge, that we are filled to all the fullness of God." (Ephesians 3:19) God's love for us is so great that He sacrificed His own Son Jesus so we could be reunited in relationship with Him and have eternal life (John 3:16).
We are supposed to have the attitude or mind of Christ Jesus, who emptied Himself, took the form of a servant, and humbled Himself to death on a cross. (Philippians 2:5-8)
God is merciful but also just. "The Rock! His work is perfect, For all His ways are just; A God of faithfulness and without injustice, Righteous and upright is He." (Deuteronomy 32:4) He is compassionate and merciful, slow to anger, abounding in faithfulness, and forgiving sin. And yet, He is also just: He will by no means leave the guilty unpunished. (Exodus 34 6-7) "The saved get mercy, and the unsaved get justice. Nobody gets injustice" ~ R. C. Sproul
God is unchanging (Malachi 3:6). "Jesus Christ is the same yesterday and today and forever." (Hebrews 13:8)
God's wisdom and knowledge are perfect. "Oh, the depth of the riches both of the wisdom and knowledge of God! How unsearchable are His judgments and unfathomable His ways!" (Romans 11:33) As A. W. Tozer wrote: "Wisdom sees everything in focus, each in proper relation to all, and is thus able to work toward predestined goals with flawless precision."
God is always faithful, even when we aren't. "Know therefore that the LORD your God is God; He is the faithful God, keeping His covenant of love to a thousand generations of those who love Him and keep His commands." (Deuteronomy 7:9) "If we are faithless, He remains faithful, for He cannot deny Himself." (2 Timothy 2:13)
God is good. He is morally perfect and abundantly kind. "O, taste and see that the Lord is good." (Psalm 34:8) God is holy, sacred, and set apart. "Holy, holy, holy is the Lord Almighty." (Revelation 4:8) "The holiness of God, the wrath of God, and the health of the creation are inseparably united. God's wrath is His utter intolerance of whatever degrades and destroys." ~ A. W. Tozer
19. Mark 10:18 (ESV) "And Jesus said to him, "Why do you call me good? No one is good except God alone."
20. 1 John 4:8 "Whoever does not love does not know God, because God is love."
21. 1 Samuel 2:2 "There is no one holy like the LORD; there is no one besides you; there is no Rock like our God."
22. Isaiah 30:18 "And therefore will the LORD wait, that he may be gracious unto you, and therefore will he be exalted, that he may have mercy upon you: for the LORD is a God of judgment: blessed are all they that wait for him."
23. Psalm 34:8 "Taste and see that the Lord is good; blessed is the one who takes refuge in him."
24. 1 John 4:8 "He that loveth not knoweth not God; for God is love."
25. Deuteronomy 7:9 "Know therefore that the LORD thy God, he is God, the faithful God, which keepeth covenant and mercy with them that love him and keep his commandments to a thousand generations."
26. 1 Corinthians 1:9 "God, who has called you into fellowship with His Son Jesus Christ our Lord, is faithful."
27. Revelation 4:8 "Each of the four living creatures had six wings and was covered with eyes all around, even under its wings. Day and night they never stop saying: "'Holy, holy, holy is the Lord God Almighty,' who was, and is, and is to come."
28. Malachi 3:6 "For I am the Lord, I change not; therefore ye sons of Jacob are not consumed."
29. Romans 2:11 "For there is no partiality with God."
30. Numbers 14:18 "The Lord is slow to anger and abundant in lovingkindness, forgiving iniquity and transgression; but He will by no means clear the guilty, visiting the iniquity of the fathers on the children to the third and the fourth generations."
31. Exodus 34:6 (NASB) "Then the Lord passed by in front of him and proclaimed, "The Lord, the Lord God, compassionate and gracious, slow to anger, and abounding in lovingkindness and truth."
32. 1 John 3:20 (ESV) "for whenever our heart condemns us, God is greater than our heart, and he knows everything."
Biblical character traits
Christian character epitomizes the fruit of the Spirit: love, joy, peace, patience, kindness, goodness, faithfulness, gentleness, and self-control (Galatians 5:22-23).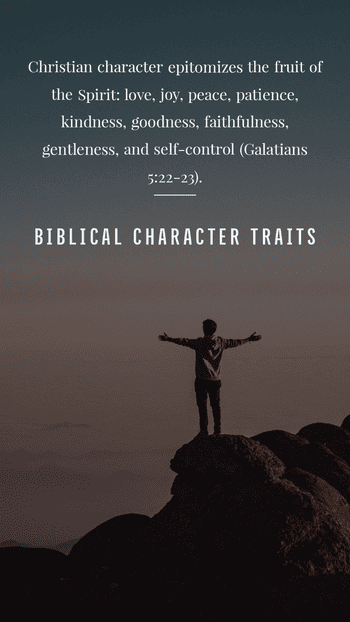 The most essential Biblical character trait is love. "This is My commandment, that you love one another as I have loved you. By this, everyone will know that you are My disciples: if you love one another" (John 13:34-35). "Be devoted to one another in brotherly love. Outdo yourselves in honoring one another." (Romans 12:10) "Love your enemies and pray for those who persecute you." (Matthew 5:44)
The character trait of joy comes from the Holy Spirit (Acts 13:52) and overflows even amid severe trials (2 Corinthians 8:2).
The Biblical character trait of peace guards our hearts and minds (Philippians 4:7), and we should make every effort to live at peace with everyone (Hebrews 12:14).
Patience involves humility and gentleness toward others, bearing with one another in love (Ephesians 4:2).
Goodness means being good or morally righteous, but it also means doing good to other people. We are created in Christ to do good works (Ephesians 2:10).
Faithfulness means full of faith and also carries the idea of being loyal and trustworthy. Being full of faith means being expectant that God will do what He has promised; it is trusting in His trustworthiness.
Gentleness is meekness – or gentle strength. It is a divine balance of holding power yet being mild and considerate of the needs and fragility of others.
Self-control is a super-important biblical character trait that means exercising mastery over ourselves in the power of the Holy Spirit. It means not blurting out the first thing that comes to mind and not reacting in anger. It means controlling our eating and drinking, taking dominion over unhealthy habits, and cultivating good habits.
33. Galatians 5:22-23 "But the fruit of the Spirit is love, joy, peace, forbearance, kindness, goodness, faithfulness, 23 gentleness and self-control. Against such things there is no law."
34. 1 Peter 2:17 "Show proper respect to everyone, love the family of believers, fear God, honor the emperor."
35. Philippians 4:7 "And the peace of God, which transcends all understanding, will guard your hearts and your minds in Christ Jesus."
36. Ephesians 4:2 "with all humility and gentleness, with patience, bearing with one another in love."
37. Colossians 3:12 "Therefore, as the elect of God, holy and beloved, clothe yourselves with hearts of compassion, kindness, humility, gentleness, and patience."
38. Acts 13:52 "And the disciples were filled with joy and with the Holy Spirit."
39. Romans 12:10 "Be devoted to one another in love. Honor one another above yourselves."
40. Philippians 2:3 "Do nothing out of selfish ambition or empty pride, but in humility consider others more important than yourselves."
41. 2 Timothy 1:7 "for God gave us a spirit not of fear but of power and love and self-control."
The importance of good character
We want to develop godly character because we love God and want to please Him and be more like Him. We want to honor Him and glorify Him with our lives.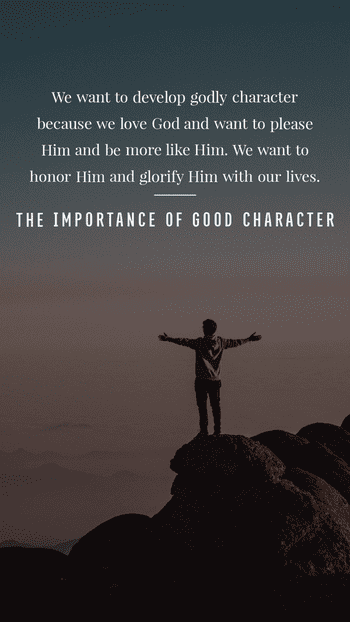 "For we are His workmanship, created in Christ Jesus for good works, which God prepared beforehand so that we would walk in them." (Ephesians 2:10)
As believers, we are called to be salt and light to the world. But our light must shine before people so that they may see our good works and glorify God. (Matthew 5:13-16)
Think about that! Our life – our good character – should cause unbelievers to glorify God! As Christians, we should be a healthy and healing influence on the world. We "must permeate society as agents of redemption." ~Craig Blomberg
42. Ephesians 2:10 "For we are God's handiwork, created in Christ Jesus to do good works, which God prepared in advance for us to do."
43. Matthew 5:13-16 "You are the salt of the earth. But if the salt loses its saltiness, how can it be made salty again? It is no longer good for anything, except to be thrown out and trampled underfoot. 14 "You are the light of the world. A town built on a hill cannot be hidden. 15 Neither do people light a lamp and put it under a bowl. Instead they put it on its stand, and it gives light to everyone in the house. 16 In the same way, let your light shine before others, that they may see your good deeds and glorify your Father in heaven."
44. Proverbs 22:1 "A good name is to be chosen rather than great riches, loving favor rather than silver and gold."
45. Proverbs 10:7 "The mentioning of the righteous is a blessing, But the name of the wicked will rot."
46. Psalm 1:1-4 "Blessed is the man that walketh not in the counsel of the ungodly, nor standeth in the way of sinners, nor sitteth in the seat of the scornful. 2 But his delight is in the law of the Lord; and in his law doth he meditate day and night. 3 And he shall be like a tree planted by the rivers of water, that bringeth forth his fruit in his season; his leaf also shall not wither; and whatsoever he doeth shall prosper. 4 The ungodly are not so: but are like the chaff which the wind driveth away."
Developing godly character
Developing a godly character means making the right choices. When we are intentional about Christ-like actions, words, and thoughts throughout the day, we grow in integrity and reflect Christ more consistently. This means responding to adverse situations, hurtful comments, disappointments, and challenges in God's way rather than following our human nature. This helps us to discipline ourselves for godliness, which becomes instilled in our habits and actions.,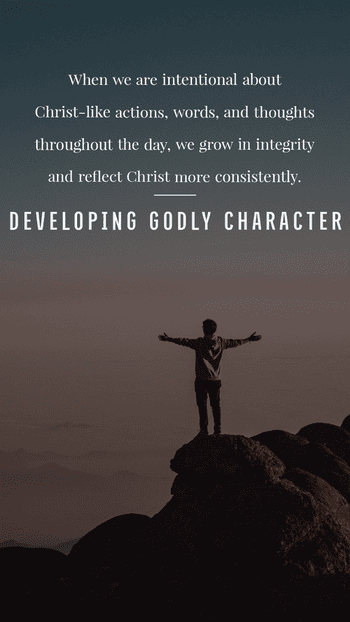 A valuable key to developing godly character is a consistent devotional life. This means being in God's Word daily and meditating on what it's saying and how that should play out in our lives. It means taking our challenges, negative situations, and hurts to God and asking for His help and divine wisdom. It means being tender to His Holy Spirit's guidance in our lives. It means repenting and confessing our sins when we mess up and getting back on track.
An awesome way to develop godly character is to find a godly mentor – it could be your pastor or pastor's wife, a parent, or a Spirit-filled friend who will encourage you in Christ-like character and call you out when you need correction.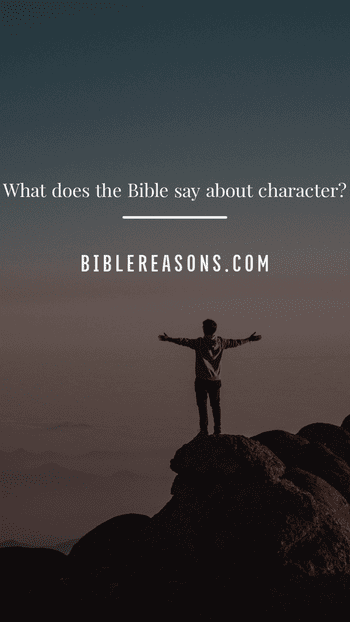 47. Psalm 119:9 "How can a young person stay on the path of purity? By living according to your word."
48. Matthew 6:33 "But seek first his kingdom and his righteousness, and all these things will be given to you as well."
49. 1 Corinthians 10:3-4 "all ate the same spiritual food, 4 and all drank the same spiritual drink. For they drank of that spiritual Rock that followed them, and that Rock was Christ."
50. Amos 5:14-15 "Seek good, not evil, that you may live. Then the Lord God Almighty will be with you, just as you say he is. 15 Hate evil, love good; maintain justice in the courts. Perhaps the Lord God Almighty will have mercy on the remnant of Joseph."
How does God develop our character?
God develops our character through the work of the Holy Spirit in our lives. We can resist the Spirit or quench His work in us (1 Thessalonians 5:19) by ignoring Him and following our own way. But when we submit to His guidance and pay attention to His conviction of sin and gentle push toward holiness, then spiritual fruit is manifested in our lives.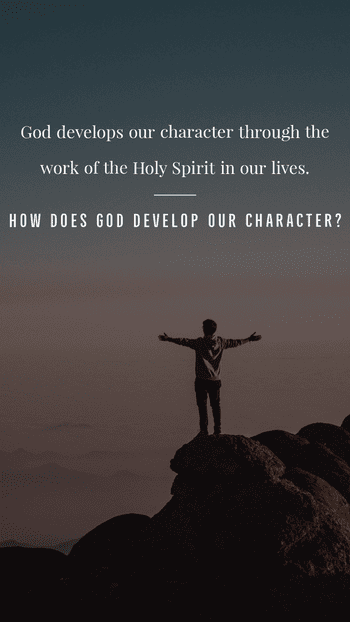 The Holy Spirit develops our character as we war against the flesh – our natural, unholy desires. "I say then, walk by the Spirit and you will certainly not carry out the desire of the flesh. For the flesh desires what is against the Spirit, and the Spirit desires what is against the flesh." (Galatians 5:16-18)
51. Ephesians 4:22-24 "You were taught, with regard to your former way of life, to put off your old self, which is being corrupted by its deceitful desires; 23 to be made new in the attitude of your minds; 24 and to put on the new self, created to be like God in true righteousness and holiness."
52. 1 Timothy 4:8 "For physical training is of some value, but godliness has value for all things, holding promise for both the present life and the life to come."
53. Romans 8:28 "And we know that in all things God works for the good of those who love him, who have been called according to his purpose."
54. 1 Thessalonians 5:19 "Do not quench the Spirit."
55. Galatians 5:16-18 "So I say, walk by the Spirit, and you will not gratify the desires of the flesh. 17 For the flesh desires what is contrary to the Spirit, and the Spirit what is contrary to the flesh. They are in conflict with each other, so that you are not to do whatever you want. 18 But if you are led by the Spirit, you are not under the law."
56. Philippians 2:13 "for it is God who works in you to will and to act in order to fulfill his good purpose."
God uses trials to build character
Adversity is the soil in which character grows – if we let go and let God do His work! Trials and adversity can discourage and depress us, but God can do amazing things in and through us if we consider them an opportunity for growth.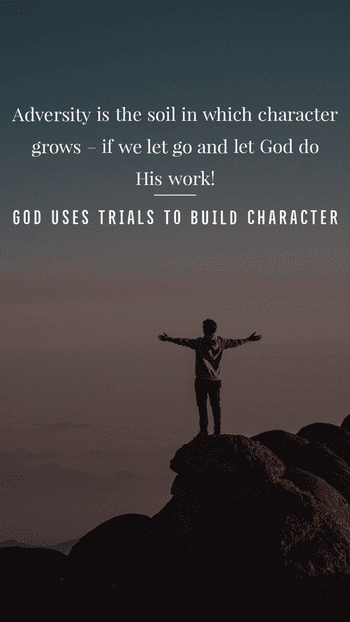 God wants us to walk in holiness of character. Persevering through tough times produces holy character: "suffering produces perseverance, perseverance produces character, and character produces hope" (Romans 5:3-4).
God permits trials and testing in our lives because He wants us to grow more like Jesus through the experience. Even Jesus learned obedience from the things He suffered (Hebrews 5:8).
When persevering through trials, the crucial thing is not to allow the trials to influence our feelings and faith, but to trust in God's goodness, promises, abiding presence, and infinite love. We might not understand what we're going through, but we can rest in the character of God, knowing He is our Rock and our Redeemer.
Trials are the refining fire that purifies us as we persevere through them and develop the character of Christ in us.
57. Romans 5:3-4 "Not only so, but we also glory in our sufferings, because we know that suffering produces perseverance; 4 perseverance, character; and character, hope."
58. Hebrews 5:8 "Son though he was, he learned obedience from what he suffered."
59. 2 Corinthians 4:17 "For our light and momentary troubles are achieving for us an eternal glory that far outweighs them all."
60. James 1:2-4 "Count it all joy, my brothers, when you meet trials of various kinds, 3 for you know that the testing of your faith produces steadfastness. 4 And let steadfastness have its full effect, that you may be perfect and complete, lacking in nothing."
What does your life say about your character?
Your character is displayed through your actions, words, thoughts, desires, mood, and attitude. Even committed Christians with excellent character have a few isolated moments where they slip up and react to a situation in a less than optimal way. When that happens, it's an opportunity to learn and grow.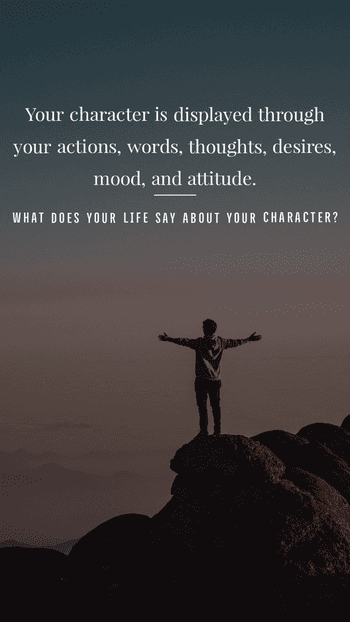 But suppose you consistently display poor character, such as habitual lying, using bad language, often reacting in anger, exercising poor self-control, being argumentative, etc. In that case, you may want to think about how you need to grow your character. Get into God's Word, be persistent in prayer and praising God, be in God's house and with godly people as often as possible because bad company can corrupt good morals. Be careful what you're watching on TV or reading. Place as many positive influences around yourself as you can and remove bad influences.
2 Corinthians 13:5 "Examine yourselves, to see whether you are in the faith. Test yourselves. Or do you not realize this about yourselves, that Jesus Christ is in you?—unless indeed you fail to meet the test!"
Conclusion
Character is developed through the storms of life, but it also helps us weather them! "One who walks in integrity walks securely." (Proverbs 10:9) "Let integrity and uprightness protect me, For I wait for You." (Psalm 25:21)
Godly character and integrity bring blessings upon us, but our children are also blessed. "The godly walk with integrity; blessed are their children who follow them." (Proverbs 20:7)
Godly character is a manifestation of the sanctifying work of the Holy Spirit. God is pleased when we grow in character. "You put the heart to the test and delight in uprightness" (1 Chronicles 29:17)
"Character is both developed and revealed by tests, and all of life is a test." ~Rick Warren