Bible verses about suicide 
This is a really tough subject. When talking about suicide people don't want to say what a family or friend doesn't want to hear. When someone we are close with commits suicide the last thing you want to hear is that they went to Hell, but did they go to Hell?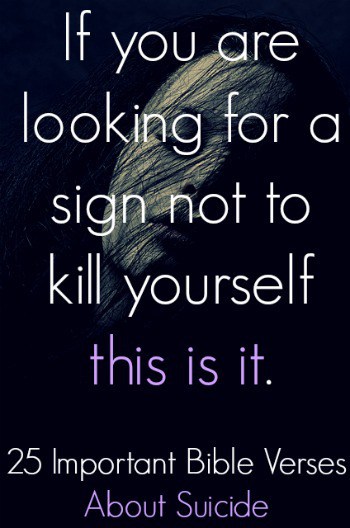 Can a Christian commit suicide and still be saved? Would a Christian commit suicide? This is not as easy as people make it seem, let's learn more below.
Quotes
"The peculiar feature of Death by Suicide is that it is not only self-inflicted but sudden. And there are many sins which must either be dealt with suddenly or not at all." Henry Drummond

"Suicide is man's way of telling God, 'You can't fire me – I quit.'" – Bill Maher

"Suicide doesn't take away the pain, it gives it to someone else."

"If you are looking for a sign not to kill yourself this is it."

"If you're going through hell, keep going."

"Never let a stumble in the road be the end of the journey."
When we read about suicides in the Bible. It was only done by evil people.
There was no godly man who committed suicide in Scripture. Of course this doesn't mean that a godly person can't, but we should take this into consideration. There are 6 suicides in Scripture. Many people will say 7 because of Samson, but what Samson did was not suicide. If he had a choice to live he would have lived.
1. Judges 9:54 Hurriedly he called to his armor-bearer, "Draw your sword and kill me, so that they can't say, 'A woman killed him.'" So his servant ran him through, and he died."
2. 1 Samuel 31:4 Saul said to his armor-bearer, "Draw your sword and run me through, or these uncircumcised fellows will come and run me through and abuse me." But his armor-bearer was terrified and would not do it; so Saul took his own sword and fell on it.
3. 2 Samuel 17:23 When Ahithophel saw that his advice had not been followed, he saddled his donkey and set out for his house in his hometown. He put his house in order and then hanged himself. So he died and was buried in his father's tomb.
4. 1 Kings 16:18 When Zimri saw that the city was taken, he went into the citadel of the royal palace and set the palace on fire around him. So he died.
5. Matthew 27:5 So he threw the silver into the sanctuary and departed. Then he went and hanged himself.
Suicide is murder. It is self-murder.
Many people will say it's self-hate, but it is probably the strongest expression of selfishness and self love. Many people kill themselves because they want something that they don't have or maybe they lost something and thinking only about themselves they take matters into their own hands and kill themselves. There was a young man in my area who just graduated high school and he took his own life because his relationship ended. He desired and he didn't have so he committed murder. This is the main reason for suicide.
6. James 4:2 You desire and do not have, so you murder. You covet and cannot obtain, so you fight and quarrel. You do not have, because you do not ask.
7. 2. Matthew 5:21 "You have heard that it was said to the people long ago, 'You shall not murder, and anyone who murders will be subject to judgment.'
It is not normal to want to kill yourself. 
8. Ephesians 5:29 After all, no one ever hated their own body, but they feed and care for their body, just as Christ does the church.
One of the questions we have to ask ourselves is suicide really enduring to the end?
9. Matthew 24:13 But the one who endures to the end will be saved.
People don't go to Hell because they committed suicide.  It is not the unforgivable sin.
People go to Hell for not trusting in Jesus Christ alone for salvation. I am not saying that someone can lose their salvation. You can't lose your salvation, but true faith in Christ changes your life. Scripture says that those who put their trust in Jesus Christ will be a new creation. What I am saying is were they ever truly saved to begin with? We have to ask ourselves this.
When you hear about people having a mental illness such as depression, anxiety, schizophrenia, etc. The Bible says the main reason is because of unrepentant sin and not trusting in the Lord. Scripture says that most people who profess to be believers will not enter in Heaven. People can say they are Christian by name and rebel in God in such a way that you don't know about.
Most people who have professed to be Christian and committed suicide did not make it into Heaven. I am not saying that a Christian who commits suicide can't go to Heaven. I am saying is that the fruit of a Christian? Were they truly saved? Would a Christian live a life of selfishness?
10. 2 Corinthians 5:17-19 Therefore, if anyone is in Christ, the new creation has come: The old has gone, the new is here! All this is from God, who reconciled us to himself through Christ and gave us the ministry of reconciliation: that God was reconciling the world to himself in Christ, not counting people's sins against them. And he has committed to us the message of reconciliation.
11. Ephesians 4:21-24 when you heard about Christ and were taught in him in accordance with the truth that is in Jesus. You were taught, with regard to your former way of life, to put off your old self, which is being corrupted by its deceitful desires; to be made new in the attitude of your minds; 24 and to put on the new self, created to be like God in true righteousness and holiness.
12. 2 Corinthians 13:5 Examine yourselves to see whether you are in the faith; test yourselves. Do you not realize that Christ Jesus is in you–unless, of course, you fail the test?
I am not saying suicidal thoughts can't be thrown into you mind by Satan, but would a Christian willfully keep on considering and attempting suicide? This is practicing sin. Does that show a heart for God and His will?
13. 1 John 3:9-10 Everyone who has been fathered by God does not practice sin, because God's seed resides in him, and thus he is not able to sin, because he has been fathered by God. By this the children of God and the children of the devil are revealed: Everyone who does not practice righteousness—the one who does not love his fellow Christian—is not of God.
14. Jeremiah 17:9 The heart is deceitful above all things, and desperately sick; who can understand it?
Suicide is extremely dishonoring the Lord. It is taking your life with one act of selfish rebellion.
No one wants to die like that. No one wants to die with the last memories of them being they killed themselves. Depression does not last. Our trials do not last. God doesn't tell you to make a way. He says He will make a way! He Doesn't say trust in the flesh. He says trust in Him!
I know many Christians who have suffered horribly, pains that you will never ever go through. They could have taken the easy way out. They could have committed suicide, but they didn't. They did not want to dishonor the Lord. They trusted the Lord and rested upon His grace and by doing so and enduring they became a powerful testimony.
15. James 4:7 Submit yourselves therefore to God. Resist the devil, and he will flee from you.
16. Ecclesiastes 7:17 Do not be overwicked, and do not be a fool– why die before your time?
Can suicide take a believer out of the love of God? Was self-murder covered by the blood of Christ?
17. Romans 8:37-39 No, in all these things we have complete victory through him who loved us! For I am convinced that neither death, nor life, nor angels, nor heavenly rulers, nor things that are present, nor things to come, nor powers, nor height, nor depth, nor anything else in creation will be able to separate us from the love of God in Christ Jesus our Lord.
18. Colossians 2:13-14 When you were dead in your sins and in the uncircumcision of your flesh, God made you alive with Christ. He forgave us all our sins, having canceled the charge of our legal indebtedness, which stood against us and condemned us; he has taken it away, nailing it to the cross.
Is it possible for a weak Christian to kill himself after being hounded by spiritual attacks from Satan?
Yes, and I believe that some people who professed to know Christ and committed this sin are in Heaven, but I believe most are not and are in Hell. But either way trying to play God is never the answer. Suicide is not an option. Also, you don't want to commit suicide and find out that this sin was evidence that you were not truly saved. The real pain is going to be in Hell. God can fix any situation and He will give you peace. Seek happiness from the Lord and not your situation. All you have to do is trust in Him.
19. Matthew 11:28  "Come to me, all you who are weary and burdened, and I will give you rest."
20. Psalm 43:5 Why, my soul, are you downcast? Why so disturbed within me? Put your hope in God, for I will yet praise him, my Savior and my God.
21. Romans 15:13  May the God of hope fill you with all joy and peace as you trust in him, so that you may overflow with hope by the power of the Holy Spirit.
22. Psalm 34:18 The LORD is close to the brokenhearted, and he delivers those whose spirit has been crushed.
God's people are known as people who persevere and have hope. They are not quitters. When you commit suicide it is saying I have no hope, I have no future, I have no purpose.
23. Romans 5:2-5 through whom we have also obtained access by faith into this grace in which we stand, and we rejoice in the hope of God's glory. Not only this, but we also rejoice in sufferings, knowing that suffering produces endurance, and endurance, character, and character, hope. And hope does not disappoint, because the love of God has been poured out in our hearts through the Holy Spirit who was given to us.
24. 2 Corinthians 1:10 He delivered us from so great a risk of death, and he will deliver us. We have set our hope on him that he will deliver us yet again.
25. Ephesians 2:10 For we are God's handiwork, created in Christ Jesus to do good works, which God prepared in advance for us to do.
If you are currently in a trial put your mind on the love of God. The love of God is what made Jesus keep on moving in the pain. The love of God will keep you. God has not abandoned you. Please be alone with Him in prayer. Fall upon Him.
The pain is doing something in your life. We all have to go through it. I had to go through it, but God's promises never failed. He will make a way. Keep fighting. Please never keep anything such as suicidal thoughts a secret. Seek help from someone and don't dwell on those thoughts. Whenever you feel worthless please read this.