Bible verses about confusion
Being confused can be one of the worst feelings. Are you struggling with confusion? If you are don't worry because you are not alone. I have struggled with this as well. The things that happen every day in our lives can be confusing. We all need direction, but as Christians we can rest assure that the Holy Spirit is living inside of us and He is able to guide us and keep our mind at ease.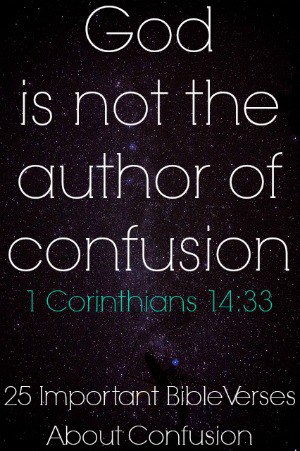 Quotes about confusion 
"Confusion and impotence are the inevitable results when the wisdom and resources of the world are substituted for the presence and power of the Spirit."  Samuel Chadwick
"Storms can bring fear, cloud judgment, and create confusion. Yet God promises that as you seek Him through prayer, He will give you wisdom to know how to proceed. The only way you will survive the storm will be on your knees."  Paul Chappell
"He is not a God of confusion, of discordance, or accidental, random, private courses in the execution of His will, but of determinate, regulated, prescribed action." John Henry Newman
"Prayer is the cure for a confused mind, a weary soul, and a broken heart."
"God is the reason why even at the saddest part of life we smile, even in confusion we understand, even in betrayal we trust, and even in pain we love."
"Confusion and mistakes come when we forget the importance of God's Word as our unwavering guide." 
Satan is the author of confusion
Satan seeks to cause chaos, disorder, death, and destruction.
1. 1 Corinthians 14:33 "For God is not the author of confusion, but of peace, as in all churches of the saints."
2. 1 Peter 5:8 "Be alert and of sober mind. Your enemy the devil prowls around like a roaring lion looking for someone to devour."
3. 2 Corinthians 2:11 "in order that Satan might not outwit us. For we are not unaware of his schemes."
Satan tries to confuse us when it comes to sin.
He says, "one time wouldn't hurt. You're saved by grace go ahead. God is OK with it." He always seeks to attack the validity of God's Word. He says, "did God really say that you couldn't do it?" We must resist by turning to the Lord.
4. James 4:7 "Submit yourselves, then, to God. Resist the devil, and he will flee from you."
5. Genesis 3:1 "Now the serpent was the most cunning of all the wild animals that the LORD God had made. He said to the woman, "Did God really say, 'You can't eat from any tree in the garden?"
Satan comes when you are down. 
When you receive disappointment, when you are in some type of trial, when you sin, when you're struggling with a certain sin, these are times when Satan will rush in and say things like you are not right with God, God is mad at you, you are not really a Christian, God has forsaken you, don't go to God and keep on asking for forgiveness, your ministry is not important, it's God's fault blame Him, etc.
Satan will come in and make these lies, but remember Satan is a liar. He will do anything he can to make you doubt God's love for you, His mercy, His grace, and His power. God is with you. God says don't lean on your own understand which bring confusion, but instead trust in me. I got this. Even as I am writing this Satan seeks to bring confusion upon things in my life. 
6. John 8:44 "You are of your father the Devil, and you want to carry out your father's desires. He was a murderer from the beginning and has not stood in the truth, because there is no truth in him. When he tells a lie, he speaks from his own nature, because he is a liar and the father of liars."
7. Proverbs 3:5 "Trust in the LORD with all your heart And do not lean on your own understanding."
8. Luke 24:38 "And he said to them, 'Why are you troubled, and why do doubts arise in your hearts?"
Satan will try to make you think that God is incapable of helping you in a particular situation.
"This situation is too hard for God. It is impossible for Him." Satan can lie all he wants because my God works in impossibility! He is faithful.
9. Jeremiah 32:27 "I am the LORD, the God of all mankind. Is anything too hard for me?"
10. Isaiah 49:14-16 "But Zion said, "The LORD has forsaken me, the Lord has forgotten me." "Can a mother forget the baby at her breast and have no compassion on the child she has borne? Though she may forget, I will not forget you! See, I have engraved you on the palms of my hands; your walls are ever before me."
The world is under the confusion of the devil.
11. 2 Corinthians 4:4 "in whose case the god of this world has blinded the minds of the unbelieving so that they might not see the light of the gospel of the glory of Christ, who is the image of God."
Confusion brings fear
Even if God has given you a personal promise that He will make a way for you, the devil will bring confusion. He will start making you think God didn't say He was going to provide for you. He is not going to make a way for you. You're then going to say God, but I thought you said you will provide for me, what did I do? Satan wants you to doubt, but you must trust in the Lord.
12. Matthew 8:25-26 "The disciples went and woke him, saying, "Lord, save us! We're going to drown!" He replied, "You of little faith, why are you so afraid?" Then he got up and rebuked the winds and the waves, and it was completely calm."
13. Isaiah 41:10 "So do not fear, for I am with you; do not be dismayed, for I am your God. I will strengthen you and help you; I will uphold you with my righteous right hand."
14. 2 Corinthians 1:10 "He delivered us from such a deadly peril, and he will deliver us. On him we have set our hope that he will deliver us again."
Satan sends confusion when you seek to do God's will.
Things that are clearly God's will for you that God keeps on telling you to do in prayer becomes confusing. Things that should be so obvious to you Satan starts planting seeds of doubt and wonder. You start to think God I thought I have been doing what you want me to do I'm so confused. This is a huge topic for me.
This has happened to me a lot for large and even small matters. For example, there have been times when I have been around others and I get a burden to help a homeless man I see and Satan says don't give to him, people are going to think you're doing it for show. What are people going to think, he's just going to use the money on drugs, etc. I have to fight against these confusing thoughts all the time.
15. 2 Corinthians 11:14 "And no wonder, for Satan himself masquerades as an angel of light."
Be careful how you live your life.
You can bring confusion to others by the way you live your life. Don't become a stumbling block.
16. 1 Corinthians 10:31-32 "So whether you eat or drink or whatever you do, do it all for the glory of God. Do not cause anyone to stumble, whether Jews, Greeks or the church of God."
Never trust in your heart, but instead trust in the Lord and His Word.
17. Jeremiah 17:9  "The heart is more deceitful than all else And is desperately sick; Who can understand it?"
18. John 17:17 "Sanctify them by the truth; your word is truth."
Satan tried to confuse Jesus.
19. Matthew 4:1-4 "Then Jesus was led up by the Spirit into the wilderness to be tempted by the devil. And after fasting forty days and forty nights, he was hungry. And the tempter came and said to him, "If you are the Son of God, command these stones to become loaves of bread." But he answered, "It is written, "Man shall not live by bread alone, but by every word that comes from the mouth of God."
Jesus came to destroy confusion 
You might be feeling confused right now, but I want you to know that Jesus came to destroy confusion. We must rest upon Christ in confusing situations.
20. 1 John 3:8 "the one who practices sin is of the devil; for the devil has sinned from the beginning. The Son of God appeared for this purpose, to destroy the works of the devil."
21. 2 Corinthians 10:5 "Casting down imaginations, and every high thing that exalteth itself against the knowledge of God, and bringing into captivity every thought to the obedience of Christ."
The Holy Spirit helps us overcome confusion.
Pray to the Holy Spirit. Say, "Holy Spirit help me." Listen to the Holy Spirit and allow Him to guide.
22. 2 Timothy 1:7 "For God hath not given us the spirit of fear; but of power, and of love, and of a sound mind."
23. John 14:26 "But the Helper, the Holy Spirit, whom the Father will send in My name, He will teach you all things, and bring to your remembrance all that I said to you."
False teachers bring confusion 
There are many false teachers who do Satan's dirty work and bring confusion and false teachings into the church. We must be careful because some false teachings might sound extremely close to the truth or have some truth within it. We must test the spirit with the Word of God.
24. 1 John 4:1 "Dear friends, do not believe every spirit, but test the spirits to see whether they are from God, because many false prophets have gone out into the world."
We must pray for wisdom.
Ask yourself are you praying for wisdom? There has never been a time when I asked for wisdom and God didn't give it to me. This is one prayer that God always answers. Pray for wisdom and pray for God's will and God will let you know in a variety of different ways and you will know it's Him.
25. James 1:5 "But if any of you lacks wisdom, let him ask of God, who gives to all generously and without reproach, and it will be given to him."
Bonus
Pray to the Lord and say God help my unbelief. I believe, but Satan's confusion along with sin is affecting me.
Mark 9:24 "Immediately the father of the child cried out and said, "I believe; help my unbelief!"