What does the Bible say about mountains?
Mountains are significant in the Bible. Not only does scripture use them in a physical sense but scripture also uses mountains in a symbolic and prophetic sense as well.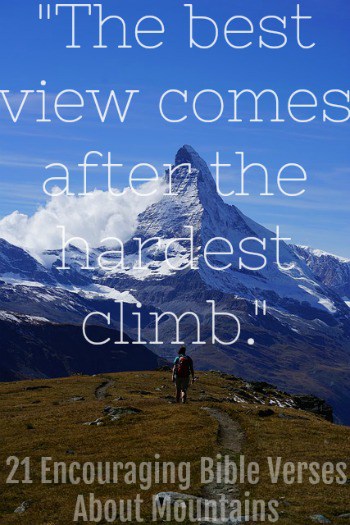 When you're on a mountain top you think of yourself as being closer to God due to being so far above sea level. In the Bible, we read about many people having encounters with God on mountains tops.
Let's go through some awesome mountain verses to encourage you in whatever season that you may be in.
Christian quotes about mountains
"The God on the mountain is still God in the valley."
"My Savior, He can use mountains."
"You say "I am afraid I cannot hold out.' Well, Christ will hold out for you. There is no mountain that He will not climb with you if you will; He will deliver you from your besetting sin." D.L. Moody
"Every mountain top is within reach if you just keep climbing."
"The best view comes after the hardest climb."
"Go where you feel most alive."
"How glorious a greeting the sun gives the mountains!"
"Memories made in the mountains stay in our hearts forever."
"When God wants to move a mountain, he does not take a bar of iron, but he takes a little worm. The fact is, we have too much strength. We are not weak enough. It is not our strength that we want. One drop of God's strength is worth more than all the world." D.L. Moody
"The heart of Christ became like a reservoir in the midst of the mountains. All the tributary streams of iniquity, and every drop of the sins of His people, ran down and gathered into one vast lake, deep as hell and shoreless as eternity. All these met, as it were, in Christ's heart, and He endured them all." C.H. Spurgeon
Faith that moves mountains.
What's the point of praying if we do not believe what we are praying about will come to pass? God wants us to expect wisdom. He wants us to expect His promises when we pray for them. He wants us to expect His provision, protection, and deliverance.
Sometimes we pray without any faith at all. First, we doubt the love of God and then we doubt that God can answer us. Nothing grieves God's heart more than when His children doubt Him and His love. Scripture teaches us that "Nothing is too hard for the Lord." A little faith goes a long way.
Sometimes we may struggle with believing God when we have been waiting for years for things to come to pass. Sometimes I think about how little our faith is. Jesus doesn't say we need much. He reminds us that faith the size of a small mustard seed can overcome those mountainous obstacles that may arise in our life.
1. Matthew 17:20 And He said to them, "Because of the littleness of your faith; for truly I say to you, if you have faith the size of a mustard seed, you will say to this mountain, 'Move from here to there,' and it will move; and nothing will be impossible to you."
2. Matthew 21:21-22 Jesus replied, "Truly I tell you, if you have faith and do not doubt, not only can you do what was done to the fig tree, but also you can say to this mountain, 'Go, throw yourself into the sea,' and it will be done. If you believe, you will receive whatever you ask for in prayer."
3. Mark 11:23 "Truly I tell you that if anyone says to this mountain, 'Be lifted up and thrown into the sea,' and has no doubt in his heart but believes that it will happen, it will be done for him."
4. James 1:6 "But he must ask in faith, without doubting, because he who doubts is like a wave of the sea, blown and tossed by the wind."
Do not be afraid for the Lord your God is with you.
God knows when we are going through trials and tribulations. God is greater, stronger, and more powerful than the mountains in your life. No matter how burdensome your mountain might be, trust in the Creator of the world.
5. Nahum 1:5 "The mountains quake before him and the hills melt away. The earth trembles at his presence, the world and all who live in it."
6. Psalm 97:5-6 "The mountains melt like wax before the LORD, before the Lord of all the earth. The heavens proclaim his righteousness, and all peoples see his glory."
7. Psalm 46:1-3 "God is our refuge and strength, an ever-present help in trouble. Therefore we will not fear, though the earth give way and the mountains fall into the heart of the sea, though its waters roar and foam and the mountains quake with their surging."

8. Habakkuk 3:6 "When he stops, the earth shakes. When he looks, the nations tremble. He shatters the everlasting mountains and levels the eternal hills. He is the Eternal One!"
9. Isaiah 64:1-2 "Oh, that you would rend the heavens and come down, that the mountains would tremble before you! As when fire sets twigs ablaze and causes water to boil, come down to make your name known to your enemies and cause the nations to quake before you!"
10. Psalms 90:2 "A prayer of Moses the man of God. Lord, you have been our dwelling place throughout all generations. Before the mountains were born or you brought forth the whole world, from everlasting to everlasting you are God." (God's love Bible quotes)
11. Isaiah 54:10 "For the mountains may be removed and the hills may shake, But My lovingkindness will not be removed from you, And My covenant of peace will not be shaken," Says the Lord who has compassion on you."
Get alone with God on the mountains.
If you know anything about me, then you know I love the intimacy of the mountains. So far, this year I took two trips to mountainous areas. I went to the Blue Ridge Mountains and the Rocky Mountains. On both occasions, I found a desolate area on the mountain and I worshiped the entire day.
The mountains are a wonderful place for solitude. In scripture, we read about how Jesus separated Himself from others and went on a mountain top to be alone with His Father. We should imitate His prayer life. In our daily lives, there is so much noise. We have to learn to get alone with God and enjoy Him. When we are alone with Him we learn to hear His voice and our heart begins to turn from the world and aligns with the heart of Christ.
Many of us don't live in mountainous areas. Mountains are not some magic place where we will automatically experience God. It's not about the place it's about the heart. When you decide to go somewhere to be alone with God you are saying, "I want You and nothing else."
I live in Florida. There are no mountains here. However, I create spiritual mountains. I like to go near the water at night when everyone is tucked in their beds and I like to be still before the Lord. Sometimes I go in my closet to worship. Create your own spiritual mountain today where you live and get alone with the Lord.
12. Luke 6:12 "One day soon afterward Jesus went up on a mountain to pray, and he prayed to God all night."
13. Matthew 14:23-24 "After he had dismissed them, he went up on a mountainside by himself to pray. Later that night, he was there alone, and the boat was already a considerable distance from land, buffeted by the waves because the wind was against it."
14. Mark 1:35 "Very early in the morning, while it was still dark, Jesus got up, left the house and went off to a solitary place, where he prayed."
15. Luke 5:16 "Yet He frequently withdrew to the wilderness to pray."
16. Psalm 121:1-2 "I lift up my eyes to the mountains— where does my help come from? My help comes from the LORD, the Maker of heaven and earth."
In the Bible, remarkable things occurred on mountain tops.
Remember how God revealed Himself to Moses. Remember how Noah landed on a mountain top after the flood. Remember how Elijah challenged the false prophets of Baal on Mount Carmel.
17. Exodus 19:17-20 "And Moses brought the people out of the camp to meet God, and they stood at the foot of the mountain. Now Mount Sinai was all in smoke because the Lord descended upon it in fire; and its smoke ascended like the smoke of a furnace, and the whole mountain quaked violently. When the sound of the trumpet grew louder and louder, Moses spoke and God answered him with thunder. The Lord came down on Mount Sinai, to the top of the mountain; and the Lord called Moses to the top of the mountain, and Moses went up."
18. Genesis 8:4 "In the seventh month, on the seventeenth day of the month, the ark rested upon the mountains of Ararat."
19. 1 Kings 18:17-21 "When Ahab saw Elijah, Ahab said to him, "Is this you, you troubler of Israel?" He said, "I have not troubled Israel, but you and your father's house have, because you have forsaken the commandments of the Lord and you have followed the Baals. Now then send and gather to me all Israel at Mount Carmel, together with 450 prophets of Baal and 400 prophets of the Asherah, who eat at Jezebel's table." So Ahab sent a message among all the sons of Israel and brought the prophets together at Mount Carmel. Elijah came near to all the people and said, "How long will you hesitate between two opinions? If the Lord is God, follow Him; but if Baal, follow him." But the people did not answer him a word."
The Sermon on the Mount.
The greatest sermon ever preached was on a mountain by the greatest man who ever lived. The Sermon on the Mount covered many topics but if I had to summarize the Sermon on the Mount, then I would say that Christ taught us how to walk as a believer. The God-Man Jesus taught us how to live a life pleasing to the Lord.
20. Matthew 5:1-7 "When Jesus saw the crowds, He went up on the mountain; and after He sat down, His disciples came to Him. He opened His mouth and began to teach them, saying, "Blessed are the poor in spirit, for theirs is the kingdom of heaven. "Blessed are those who mourn, for they shall be comforted. "Blessed are the gentle, for they shall inherit the earth. "Blessed are those who hunger and thirst for righteousness, for they shall be satisfied. "Blessed are the merciful, for they shall receive mercy."
21. Matthew 7:28–29 "And when Jesus finished these sayings, the crowds were astonished at his teaching, for he was teaching them as one who had authority, and not as their scribes."
Bonus
Psalm 72:3 "The mountains shall bring peace to the people, and the little hills, by righteousness."