Bible verses about bravery
Christians can't do God's will without braveness. Sometimes God requires believers to trust Him, separate from the normal, and take risks. Without bravery you're going to let opportunities pass you by. You're going to trust in things rather than trusting in God.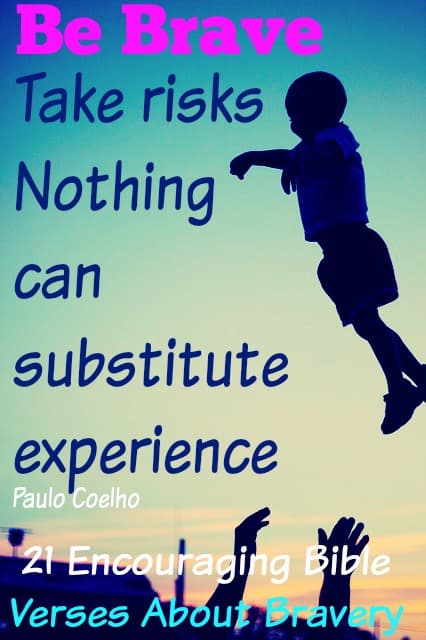 "It's OK I have my savings account I don't need God." Stop doubting God! Let go of fear because our Almighty God is in control of all situations.
If it is God's will for you to do something then do it. If God allowed you to be in a tough situation be strong and trust in Him because He knows what He is doing.
If God tells you to wait patiently, then stand firm. If God told you to evangelize use God's strength and boldly preach the Word of God.
God is bigger than your situation and He will never leave nor forsake you. Pray for help daily and stop relying on your own strength, but rely on God's strength.
God is the same God who helped Moses, Joseph, Noah, David, and more. When your trust in God grows and you get to know Him more in is His Word, then your bravery will grow. "God has called me and He will help me!"
Quotes
"Courage is contagious. When a brave man takes a stand, the spines of others are often stiffened." Billy Graham

"Be brave. Take risks. Nothing can substitute experience." Paulo Coelho

"I learned that courage was not the absence of fear, but the triumph over it. The brave man is not he who does not feel afraid, but he who conquers that fear." Nelson Mandela

"Fall seven times, stand up eight."

"It requires bravery to do something no one else around you is doing." Amber Heard
God will always be by your side.
1. Matthew 28:20 Teaching them to observe all things whatsoever I have commanded you: and, lo, I am with you always, even unto the end of the world. Amen.
2. Isaiah 41:13 For I the LORD thy God will hold thy right hand, saying unto thee, Fear not; I will help thee.
Whom shall I fear?
3. Psalm 27:1-3 The Lord is my light and my salvation— so why should I be afraid? The Lord is my fortress, protecting me from danger, so why should I tremble? When evil people come to devour me, when my enemies and  foes attack me, they will stumble and fall. Though a mighty army surrounds me, my heart will not be afraid. Even if I am attacked, I will remain confident.
4. Romans 8:31 So what should we say about this? If God is for us, no one can defeat us.
5. Psalm 46:2-5  So we will not fear when earthquakes come and the mountains crumble into the sea. Let the oceans roar and foam. Let the mountains tremble as the waters surge!  A river brings joy to the city of our God, the sacred home of the Most High. God dwells in that city; it cannot be destroyed. From the very break of day, God will protect it.
Stand tall! You will not be put to shame.
6. Isaiah 54:4 Don't be afraid, because you won't be ashamed; don't fear shame, for you won't be humiliated because you will forget the disgrace of your youth, and the reproach of your widowhood you will remember no more.
7. Isaiah 61:7 Instead of your shame you will have a double portion, And instead of humiliation they will shout for joy over their portion. Therefore they will possess a double portion in their land, Everlasting joy will be theirs.
He provides strength
8. Colossians 1:11 being strengthened with all power according to his glorious might so that you may have great endurance and patience.
9. 1 Corinthians 16:13 Remain alert. Keep standing firm in your faith. Keep on being courageous and strong.
10. Isaiah 40:29 He giveth power to the faint; and to them that have no might he increaseth strength.
God will help you in all situations, nothing is too hard for Him.
11. Jeremiah 32:27 Behold, I am the LORD, the God of all flesh. Is anything too hard for me?
12. Matthew 19:26 But Jesus beheld them, and said unto them, With men this is impossible; but with God all things are possible.
Trust in the Lord
13. Psalm 56:3-4 What time I am afraid, I will trust in thee. In God I will praise his word, in God I have put my trust; I will not fear what flesh can do unto me.
14. Psalm 91:2 I will say to the Lord, "You are my place of safety and protection. You are my God and I trust you."
15. Psalm 62:8 People, trust God all the time. Tell him all your problems, because God is our protection.
16. Psalm 25:3 No one who trusts in you will ever be disgraced, but disgrace comes to those who try to deceive others.
Reminder
17. 2 Corinthians 4:8-11 In every way we're troubled but not crushed, frustrated but not in despair, persecuted but not abandoned, struck down but not destroyed. We are always carrying around the death of Jesus in our bodies, so that the life of Jesus may be clearly shown in our bodies. While we are alive, we are constantly being handed over to death for Jesus' sake, so that the life of Jesus may be clearly shown in our mortal bodies.
Let's check out examples of bravery in the Bible.
18. 2 Samuel 2:6-7 May the LORD now show you kindness and faithfulness, and I too will show you the same favor because you have done this. Now then, be strong and brave, for Saul your master is dead, and the people of Judah have anointed me king over them.
19. 1 Samuel 16:17-18 So Saul said to his attendants, "Find someone who plays well and bring him to me." One of the servants answered, "I have seen a son of Jesse of Bethlehem who knows how to play the lyre. He is a brave man and a warrior. He speaks well and is a fine-looking man. And the LORD is with him."
20. 1 Samuel 14:52 The Israelites fought constantly with the Philistines throughout Saul's lifetime. So whenever Saul observed a young man who was brave and strong, he drafted him into his army.
21. 2 Samuel 13:28-29 Absalom ordered his men, "Listen! When Amnon is in high spirits from drinking wine and I say to you, 'Strike Amnon down,' then kill him. Don't be afraid. Haven't I given you this order? Be strong and brave." So Absalom's men did to Amnon what Absalom had ordered. Then all the king's sons got up, mounted their mules and fled.