Bible verses about troubles
It's always easy to trust God when things are going good, but how about when we are going through trials? On your Christian walk of faith you will go through some bumps, but it builds you.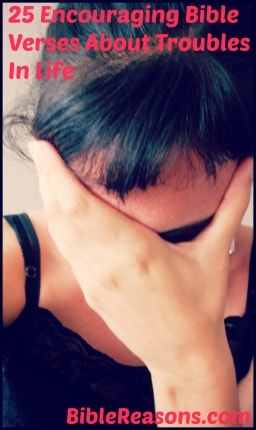 When we go through trials we tend to forget about people in Scripture who went through trials in life. God will help us in our time of need just like He helped others. Ever since I accepted Christ I've been through many trials and even though God sometimes doesn't answer in our specific way He answers in the best way at the best time.
Through all the hard times God has never forsaken me. Trust in Him with all your heart. Jesus said you will have peace through Him in your trials. The reason we are so worried sometimes is because a lack of a prayer life. Build your prayer life! Continually talk to God, thank Him, and ask Him for help. Fast and instead of thinking about your problems keep your mind on Christ.
Quotes about troubles
"Nothing is permanent in this wicked world – not even our troubles."

"Troubles are often the tools by which God fashions us for better things."

"Worrying does not take away tomorrow's troubles. It takes away today's peace." – Today verses in the Bible

"If you only pray when you're in trouble, you're in trouble."
 God is our refuge
1. Psalm 46:1 For the director of music. Of the Sons of Korah. According to alamoth. A song. God is our refuge and strength, an ever-present help in trouble.
2. Nahum 1:7 The LORD is good, a strong hold in the day of trouble; and he knoweth them that trust in him.
3. Psalm 9:9-10 The LORD is a refuge for the oppressed, a stronghold in times of trouble. Those who know your name trust in you, for you, LORD, have never forsaken those who seek you.
4. Psalm 59:16 But I will sing of your strength, in the morning I will sing of your love; for you are my fortress, my refuge in times of trouble.
5. Psalm 62:8 Trust in him at all times, you people; pour out your hearts to him, for God is our refuge.
Pray, Pray, Pray
6. Psalm 91:15 When they call on me, I will answer; I will be with them in trouble. I will rescue and honor them.
7. Psalm 50:15 and call on me in the day of trouble; I will deliver you, and you will honor me.
8. Psalm 145:18 The LORD is near to all who call on him, to all who call on him in truth.
9. Psalm 34:17-18 The righteous cry out, and the LORD hears them; he delivers them from all their troubles. The LORD is close to the brokenhearted and saves those who are crushed in spirit.
10. James 5:13  Is anyone among you suffering? Then he must pray. Is anyone cheerful? He is to sing praises.
Joy in trials. It is not meaningless.
11. Romans 5:3-5 And not only so, but we glory in tribulations also: knowing that tribulation worketh patience; And patience, experience; and experience, hope And hope maketh not ashamed; because the love of God is shed abroad in our hearts by the Holy Ghost which is given unto us.
12. James 1:2-4 Consider it all joy, my brethren, when you encounter various trials, knowing that the testing of your faith produces endurance. And let endurance have its perfect result, so that you may be perfect and complete, lacking in nothing.
13. Romans 12:12 Be joyful in hope, patient in affliction, faithful in prayer.
14. 2 Corinthians 4:17 For this light momentary affliction is preparing for us an eternal weight of glory beyond all comparison.
Reminders
15. Proverbs 11:8 The godly are rescued from trouble, and it falls on the wicked instead.
16. Matthew 6:33-34 But seek first his kingdom and his righteousness, and all these things will be given to you as well. Therefore do not worry about tomorrow, for tomorrow will worry about itself. Each day has enough trouble of its own.
17. John 16:33  "I have told you these things, so that in me you may have peace. In this world you will have trouble. But take heart! I have overcome the world."
18. Romans 8:35  Who shall separate us from the love of Christ? shall tribulation, or distress, or persecution, or famine, or nakedness, or peril, or sword?
God of comfort
19. 2 Corinthians 1:3-4 Praise be to the God and Father of our Lord Jesus Christ, the Father of compassion and the God of all comfort, who comforts us in all our troubles, so that we can comfort those in any trouble with the comfort we ourselves receive from God.
20. Isaiah 40:1 Comfort ye, comfort ye my people, saith your God.
He will not forsake you.
21. Isaiah 41:10 So do not fear, for I am with you; do not be dismayed, for I am your God. I will strengthen you and help you; I will uphold you with my righteous right hand.
22. Psalm 94:14 For the LORD will not cast off his people, neither will he forsake his inheritance.
23. Hebrews 13:5-6 Keep your life free from love of money, and be content with what you have, for he has said, "I will never leave you nor forsake you." So we can confidently say, "The Lord is my helper; I will not fear; what can man do to me?"
Bible examples
24. Psalm 34:6 This poor man cried, and the LORD heard him, and saved him out of all his troubles.
25. Psalm 143:11 For your name's sake, O LORD, preserve my life! In your righteousness bring my soul out of trouble!
Bonus
Psalm 46:10 "Be still, and know that I am God! I will be honored by every nation. I will be honored throughout the world."