I had a friend ask me a couple of days ago how I remain firm in my faith and confident in my identity in Christ being a woman in today's brutal society. I quickly responded by saying prayer, renewal of the mind and a couple of other things but that question remained in my mind and on my heart for hours upon hours.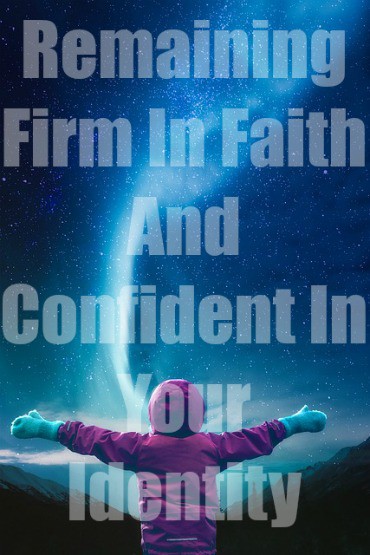 That night I sat up in bed and really analyzed myself and my identity in Christ. Why do so many people around me struggling with confidence? Why do I still have areas in me that limit God?
Reflecting on that question made me realize something: when confronted with a trial or a mountain, who will I say I am?
Be transparent with yourself for a moment. Does your faith sway when you look at your current Goliath? Do you know who you are in Christ?
I decided the next morning, that I'd write down how it is that I remain firm and confident in the identity Christ gave me.
What you believe in your heart, is how you'll be.
 "For as he thinks in his heart, so is he." (Proverbs 23:7)
If you're enveloped in negativity and pessimism, you'll walk in just that, unhappiness. Develop a sense of control over your thoughts and learn to identify the devil's schemes to upset you and trap you in that negative mindset. Decide to walk in happiness and joy today and every day! Make a habit of speaking words of affirmation over your life. Even when trials arise, rely on Jesus and always keep in mind that all things work out for good for those who love Him and are called according to His purpose for Him, (Romans 8:28). I believe that Christ redeemed me and the purpose He instilled in me is far greater than I can ever imagine! That is my confidence and what I believe in my heart and walk in every day.
Renewing your mind and examining yourself.
 "Examine yourselves to see whether you are in the faith; test yourselves…" (2 Corinthians 13:5)
Renewing our mind is something we should all do daily! Each day comes with its own worries so prepare yourself every morning to overcome those obstacles! In addition to renewing your mind, we should all be examining ourselves. A clear indicator is the fruit that you're bearing. Is it good fruit or bad? In that, ask God to reveal to you what areas we need to surrender or re-surrender.
Prayer.
 "This is the confidence we have in approaching God: that if we ask anything according to His will, He hears us." (1 John 5:14)
Communicating with God is SO important. Communication is key in every relationship, yes, even with the Lord. Just look at 1 John 5:14 above and look at how that verse ends… "He hears US." How incredible is it that the God of the universe listens to us! I love that God encourages transparency, He wants to know your thoughts and feelings. Just as a father is open with his children, God cares and comforts. Through prayer, I've been able to break down so many walls of insecurities. I encourage you to open up to Him and express yourself the same way you'd express yourself with your best friend.
Write down what/who you are in Christ.
I've loved journaling for as long as I can remember. It's always been easy to develop thoughts, record dreams and look back on achievements. When I first came to Christ, I remember I wrote down my goals and reading them over, I see God's hand in so many of those goals! After graduating high school, I found myself having so much anxiety and stressing 'adulting.' I went through months of struggling with anxiety attacks so I turned back to one of my passions — journaling. I took a new journal I had and I wrote down what/who I am in Christ. In moments of weakness or despair, I read through them and read through the promises that God has given me.
Trust/faith in Him
 "Those who know your name trust in you, for you, LORD, have never forsaken those who seek you." (Psalm 9:10)
TRUST! Where does your trust lie? Is your trust in God unconditional or conditional? In today's society, self-reliance is something major and yeah, it's easier, but once you realize that what God offers is so much better than what this world offers, your whole perspective changes. There is such security in Him and His promises for our lives. True faith and trust comes from knowing the God you serve.
I may not know the reason as to why each individual is insecure but I do know that those insecurities are lies from the devil to keep you bound. It's such a limitation when God made you in His likeness. Galatians 5:22-23 tells us about the fruit of the Spirit being love, joy, peace, forbearance, kindness, goodness, faithfulness, gentleness and self-control and those are all characteristics we need to possess.
Find security in Jesus. Allow His supernatural love to transform every aspect of your life. Change your reliance from the things of this world to Him.