Take your eyes off the mountain that is before you; climb it, stand on it, dominate it, and place your eyes on the one who created all things… If we constantly contemplate the enormous mountains we face versus our Savior; it will make you shrink and feel obsolete. You were created to conquer it and worship your Father from it.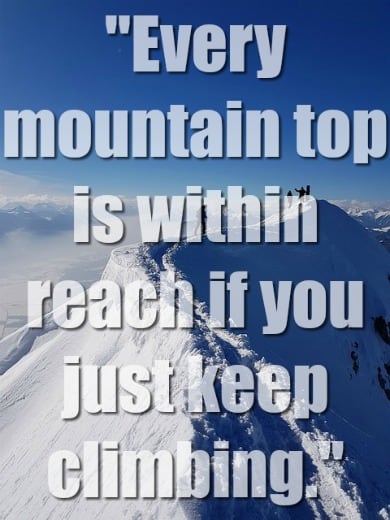 Not to stand in-front of it and feel overwhelmed and minuscule due to its grand appearance. You were made in the image of God and designed to co-create with Him. This is why we don't back-down or shrivel in fear. We simply reconnect to our source of strength and courage and continue to walk. As the Lord told Moses in (Exodus 14:15) "Tell the Israelites to move-on." I tell you; move forward, link-up with your Savior, and He will give you the vigor to mount it. We walk by faith and not by sight. Stand in awe only of God and not of the obstacle.
"Have I not commanded you? Be strong and courageous. Do not be afraid; do not be discouraged, for the Lord your God will be with you wherever you go." Joshua 1:9
The Lord has deposited courage inside you. He told Joshua, "be strong and courageous." If the Lord spoke this to Joshua, it's because He knew Joshua would experience feelings of weakness and fear. Further; being strong, courageous, and electing not to be discouraged is a CHOICE. What will you choose?
Are we going to stand on the unsettled and dubious ground of feelings of inadequacy and impotence in-front of a situation? Or will we stand in the unshakable truth of God's Word and decide to take heart and continue to walk knowing all things will work together for our good?
"From the days of John the Baptist until now, the kingdom of heaven has been subjected to violence, and violent people have been raiding it." Mathew 11:12
Let's break it up and really see what this verse is implying. The meaning of violence is: "intense, turbulent, or furious and often destructive action or force, fervor". We have been called to peace, that is obvious. However; when it comes to life, it's challenges, and walking into the promises of God, we cannot be passive. The Bible does not teach us to live our life with God in a laid-back way. Absolutely not! We are soldiers in a warfare that our physical eyes do not perceive. "Thou therefore endure hardness, as a good soldier of Jesus Christ" (2 Timothy 2:3).
We must have fervor and be intentional, intense, and unwavering in our walk; in our faith; in our discipline to seek the giver of life. Today I urge you to look at that mountain which stands before you and remember what your God says in His Word. Take it on with the full assurance that He is with you. He will never leave you nor forsake you. If you face a certain situation it is because God has full confidence that you can dominate it. Don't dwindle; simply move forward, keep walking because the victory is yours.
We can do ALL THINGS through Christ who strengthens us. The Bible doesn't say we'll gain strength from talking to our neighbors or friends or from telling everyone and their mothers of our problems. It states Christ is the one who imparts strength. Therefore, disconnect from the things you must disconnect from and connect to the lover of your soul. Recharge yourself with His endless source of strength. Arm yourself for the battle. Dig deep into His Word, worship Him, He is worthy of your praise. Moreover, ask Him to give you the resources needed to move onward and upward. Jesus said, "you have not because you ask not" (James 4:2).
Guys be encouraged in His Word today and only bow to the One who moves mountains.