Bible verses for teachers
Are you a Christian teacher? In a way we all are teachers at some point in our lives. Whether it is teaching at a school, church, home, or anywhere teach what is appropriate and right. Have confidence in the Lord, conduct yourself in an honorable manner, and bring wisdom to the hearers.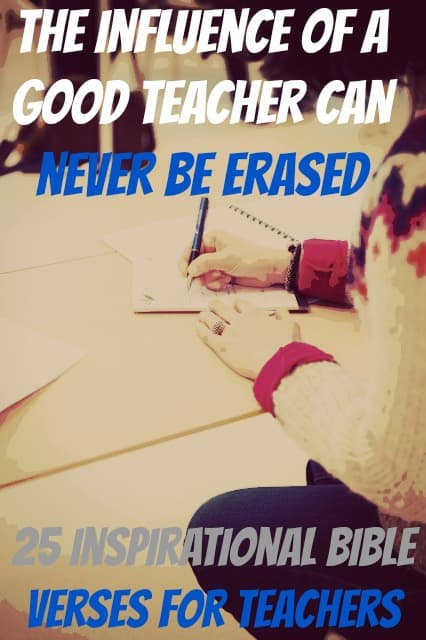 If you are a Bible teacher, then you will feed your students Scripture, but let's say you're a math teacher then you won't teach Scripture.
What you can do though is use the principles of the Bible to make you a better and more effective teacher.
Quotes
"A teacher who is not dogmatic is simply a teacher who is not teaching." G.K. Chesterton

"Good teachers know how to bring out the best in students." – Charles Kuralt

"The influence of a good teacher can never be erased."

"It takes a big heart to help shape little minds."

"Teachers who love teaching, teach children to love learning."
What does the Bible say?
1. 1 Timothy 4:11 "Teach these things and insist that everyone learn them."
2. Titus 2:7-8 "In the same way, encourage the young men to live wisely. And you yourself must be an example to them by doing good works of every kind. Let everything you do reflect the integrity and seriousness of your teaching. Teach the truth so that your teaching can't be criticized. Then those who oppose us will be ashamed and have nothing bad to say about us."
3. Proverbs 22:6 "Train up a child in the way he should go: and when he is old, he will not depart from it."
4. Deuteronomy 32:2-3 "Let my teaching fall on you like rain; let my speech settle like dew. Let my words fall like rain on tender grass, like gentle showers on young plants. I will proclaim the name of the Lord; how glorious is our God!"
5. Proverbs 16:23-24 "The heart of the wise teacheth his mouth, and addeth learning to his lips. Pleasant words are as an honeycomb, sweet to the soul, and health to the bones."
6. Psalm 37:30 "The mouths of the righteous utter wisdom, and their tongues speak what is just."
7. Colossians 3:16 "Let the message about Christ, in all its richness, fill your lives. Teach and counsel each other with all the wisdom he gives. Sing psalms and hymns and spiritual songs to God with thankful hearts."
The gift of teaching.
8. 1 Peter 4:10 "As good servant managers of God's grace in its various forms, serve one another with the gift each of you has received."
9. Romans 12:7 "If your gift is serving others, serve them well. If you are a teacher, teach well."
Help from the Lord.
10. Exodus 4:12 "Now go; I will help you speak and will teach you what to say."
11. Psalm 32:8 "I will instruct thee and teach thee in the way which thou shalt go: I will guide thee with mine eye."
12. Deuteronomy 31:6 "Be strong and courageous. Do not fear or be in dread of them, for it is the LORD your God who goes with you. He will not leave you or forsake you."
13. Luke 12:12 for "the Holy Spirit will teach you in that very hour what you ought to say."
14. Philippians 4:13 "I can do all things through Christ which strengtheneth me."
Students
15. Luke 6:40 "Students are not greater than their teacher. But the student who is fully trained will become like the teacher."
16. Matthew 10:24 "The student is not above the teacher, nor a servant above his master."
Reminders
17. 2 Timothy 1:7 "For God hath not given us the spirit of fear; but of power, and of love, and of a sound mind."
18. 2 Timothy 2:15 "Do your best to present yourself to God as one approved, a worker who does not need to be ashamed and who correctly handles the word of truth."
19. Galatians 5:22-23 "But the fruit of the Spirit is love, joy, peace, longsuffering, gentleness, goodness, faith, Meekness, temperance: against such there is no law."
20. Romans 2:21 "Well then, if you teach others, why don't you teach yourself? You tell others not to steal, but do you steal?"
21. Proverbs 3:5-6 "Trust in the Lord with all thine heart; and lean not unto thine own understanding. In all thy ways acknowledge him, and he shall direct thy paths."
Examples
22. Luke 2:45-46 "When they did not find him, they went back to Jerusalem to look for him. After three days they found him in the temple courts, sitting among the teachers, listening to them and asking them questions."
23. John 13:13 "You call me Teacher and Lord, and you are right, because that's what I am."
24. John 11:28 "After she had said this, she went back and called her sister Mary aside. "The Teacher is here," she said, "and is asking for you."
25. John 3:10 "Jesus answered and said to him, "Are you the teacher of Israel and do not understand these things?"
Bonus
James 1:5 "But if any of you lacks wisdom, let him ask of God, who gives to all generously and without reproach, and it will be given to him."