Bible verses about selflessness
One trait that is needed on your Christian walk of faith is selflessness. Sometimes we worry about ourselves and our wants rather than wanting to give others our time and our help, but this should not be. We must have empathy for others and put ourselves in someone else's shoes. The only thing this selfish world cares about is what is in it for me? We don't need a reason to serve and help others we just do and we do it expecting nothing in return.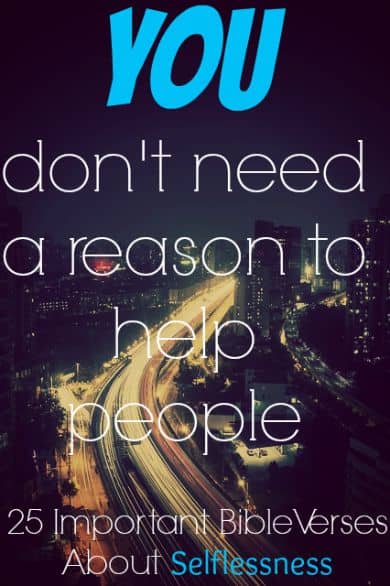 Humble yourself and put others before yourself. We must allow God to conform our lives into Christlikeness. Jesus had it all but for us He became poor. God humbled Himself and for us came down from Heaven in the form of man.
As believers we must be a reflection of Jesus. Selflessness results in sacrificing for others, forgiving others, making peace with others, and having more love for others.
Quotes
"True love is selfless. It is prepared to sacrifice."

"You don't need a reason to help people."

"Praying for others in your brokenness is a selfless act of love."

"Learn to love without condition. Talk without bad intention. Give without any reason. And most of all, care for people without any exception."
Loving others as ourselves is the second greatest commandment.
1. 1 Corinthians 13:4-7 Love is patient, love is kind, it is not envious. Love does not brag, it is not puffed up. It is not rude, it is not self-serving, it is not easily angered or resentful. It is not glad about injustice, but rejoices in the truth. It bears all things, believes all things, hopes all things, endures all things.
2. Romans 12:10 Be kindly affectioned one to another with brotherly love; in honour preferring one another;
3. Mark 12:31 The second most important command is this: 'Love your neighbor the same as you love yourself. These two commands are the most important."
4. 1 Peter 3:8 To sum up, all of you be harmonious, sympathetic, brotherly, kindhearted, and humble in spirit;.
Selflessness doesn't end at loving our family and friends. Scripture tells us to love even our enemies. 
5. Leviticus 19:18 Forget about the wrong things people do to you. Don't try to get even. Love your neighbor as yourself. I am the Lord.
6. Luke 6:27-28 "But I say to you who listen: Love your enemies, do what is good to those who hate you, bless those who curse you, pray for those who mistreat you.
Imitate Jesus the perfect example of selflessness. 
7. Philippians 2:5-8 You should have the same attitude toward one another that Christ Jesus had, who though he existed in the form of God did not regard equality with God as something to be grasped, but emptied himself by  taking on the form of a slave, by looking like other men, and by sharing in human nature. He humbled himself,
by becoming obedient to the point of death even death on a cross!
8. 2 Corinthians 8:9 You know about the kindness of our Lord Jesus Christ. He was rich, yet for your sake he became poor in order to make you rich through his poverty.
9. Luke 22:42 Father, if you are willing, take this cup away from me. Yet not my will but yours be done."
10. John 5:30 I can do nothing on my own initiative. Just as I hear, I judge, and my judgment is just, because I do not seek my own will, but the will of the one who sent me.
Stop serving self and instead serve others. 
11. Philippians 2:3-4 Instead of being motivated by selfish ambition or vanity, each of you should, in humility, be moved to treat one another as more important than yourself. Each of you should be concerned not only about your own interests, but about the interests of others as well.
12. Galatians 5:13 For you, brothers, were called to freedom. Only do not turn your freedom into an opportunity to gratify your flesh, but through love make it your habit to serve one another.
13. Romans 15:1-3  Now we who are strong have an obligation to bear the weaknesses of those without strength, and not to please ourselves. Each one of us must please his neighbor for his good, to build him up. For even the Messiah did not please Himself. On the contrary, as it is written, The insults of those who insult You have fallen on Me.
14. Romans 15:5-7 Now may the God who gives endurance and encouragement allow you to live in harmony with one another, according to the command of Christ Jesus, so that you may glorify the God and Father of our Lord Jesus Christ with a united mind and voice. Therefore accept one another, just as the Messiah also accepted you, to the glory of God.
Selflessness leads to generosity.
15. Proverbs 19:17 Giving help to the poor is like loaning money to the Lord. He will pay you back for your kindness.
16. Matthew 25:40 The king will answer them, 'I can guarantee this truth: Whatever you did for one of my brothers or sisters, no matter how unimportant they seemed, you did for me.
17. Proverbs 22:9 Generous people will be blessed, because they share their food with the poor.
18. Deuteronomy 15:10 So be sure to give to the poor. Don't hesitate to give to them, because the Lord your God will bless you for doing this good thing. He will bless you in all your work and in everything you do.
Selflessness puts God first in our lives. 
19. John 3:30 He must become greater and greater, and I must become less and less.
20. Matthew 6:10 Thy kingdom come. Thy will be done in earth, as it is in heaven.
21. Galatians 2:20 I have been crucified with Christ. It is no longer I who live, but Christ who lives in me. And the life I now live in the flesh I live by faith in the Son of God, who loved me and gave himself for me.
Reminders
22. Proverbs 18:1 Unfriendly people care only about themselves; they lash out at common sense.
23. Romans 2:8 But for those who are self-seeking and who reject the truth and follow evil, there will be wrath and anger.
24. Galatians 5:16-17 So I say, live by the Spirit, and you will never fulfill the desires of the flesh. For what the flesh wants is opposed to the Spirit, and what the Spirit wants is opposed to the flesh. They are opposed to each other, and so you do not do what you want to do.
Selflessness is decreasing. 
25. 2 Timothy 3:1-5 Remember this! In the last days there will be many troubles, because people will love themselves, love money, brag, and be proud. They will say evil things against others and will not obey their parents or be thankful or be the kind of people God wants. They will not love others, will refuse to forgive, will gossip, and will not control themselves. They will be cruel, will hate what is good, will turn against their friends, and will do foolish things without thinking. They will be conceited, will love pleasure instead of God, and will act as if they serve God but will not have his power. Stay away from those people.
Bonus
Psalm 119:36 Turn my heart toward your statutes and not toward selfish gain.