Worries. We all have them, it's in our human nature to simply worry about life events or situations. Some of us worry more than others and plenty of us worry so much that we get anxiety from even thinking about all the things that we are worried about.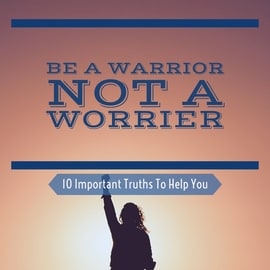 Anyone?
Just me?
Ah ok. Let's move on shall we then.
Though having worries is normal, it can overtake our life so much that we forget the God we have! The God we can lean on, the God who is there constantly helping us figure out life through prayer and His Word. We forget that we are WARRIORS and not just worriers. We forget that scripture has so much to say about us and worries. So I wanted to remind you of God's Love for us through His Word and what He has to say about worries. It doesn't matter if you're worried about tomorrow, maybe your rent, your next meal, or even about death. God has wisdom beyond us and helps us walk through it.
Philippians 4:6-7 "Do not be anxious about anything, but in everything by prayer and supplication with thanksgiving let your requests be made known to God. And the peace of God, which surpasses all understanding, will guard your hearts and your minds in Christ Jesus."
How hard is it to not worry/ be anxious about anything when we read here to not worry about… anything. So very hard but as I've gotten closer to the Lord I've learned to slowly let go of the small things and I'm getting to where I'm letting go of the really big things!
1 Peter 5:7 "Casting all your anxieties on him, because he cares for you."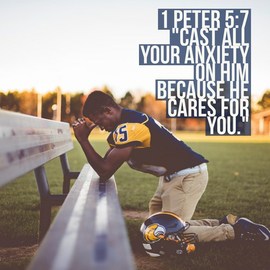 He cares for you and me. Simple. He is good, He is caring and because He is caring He says, to cast all of our worries on Him. But how do we do that? Prayer. Get on your knees and give it to God!
Matthew 6:25-34 "Therefore I tell you, do not be anxious about your life, what you will eat or what you will drink, nor about your body, what you will put on. Is not life more than food, and the body more than clothing? Look at the birds of the air: they neither sow nor reap nor gather into barns, and yet your heavenly Father feeds them. Are you not of more value than they? And which of you by being anxious can add a single hour to his span of life? And why are you anxious about clothing? Consider the lilies of the field, how they grow: they neither toil nor spin, yet I tell you, even Solomon in all his glory was not arrayed like one of these."
Growing up my family was very poor, like as in my father had two pairs of sweats and I wore the same sandals for 3 years. My mother was pregnant and had two maternity dresses and we slept on the floor kind of poor. I'll never forget my parents ability to cast all of their anxieties and worries on God for provision. One day I remember my mother got on her knees and prayed for food. We only had a small pack of tortillas and two cans of green beans. She prayed hard! A few hours later someone knocked on our door and the woman told us that her idiot son had bought double everything on her list. My mother held her hand and asked her not to scold her son because God had heard her prayers. I can't make this up. It's true! I've seen what the power of prayer can do when it comes to trusting God instead of worrying.
Proverbs 12:25 "Anxiety in a man's heart weighs him down, but a good word makes him glad."
Have you ever been weighed down by worry? The type of worry that hurts the soul? Does it feel wonderful? Absolutely NOT! Worry and anxiety weighs us down so much, but a good Word from the Lord makes us glad!
Matthew 6:33-34 "But seek first the kingdom of God and his righteousness, and all these things will be added to you. "Therefore do not be anxious about tomorrow, for tomorrow will be anxious for itself. Sufficient for the day is its own trouble."
When we worry we aren't really taking time to read the Word and to pray. Instead we are too busy wallowing in pity. God grants us a way out. Sometimes it's not easy, but He offers us freedom by approaching Him. Seeking Him first and all other things will be added unto to you! Today has its own problems, approach God with it!
Philippians 4:13 "I can do all things through him who strengthens me."
People take this verse way out of context and it's unfortunate because it's actually deeper than what we use it for. was in prison writing this and he was hungry, naked, and … without worry. I don't know many who are in Paul's shoes, but we sure do worry like we are. If he can proclaim this, we can too and stop worrying!
Matthew 11:28-30 "Come to me, all who labor and are heavy laden, and I will give you rest. Take my yoke upon you, and learn from me, for I am gentle and lowly in heart, and you will find rest for your souls. For my yoke is easy, and my burden is light."
This is such a profound verse. He's inviting us to rest in Him. Pray and ask Him to give you peace even when things aren't going well. To give you strength to go through whatever it is that's worrying you!
Matthew 6:27 "And which of you by being anxious can add a single hour to his span of life?"
Well this is pretty straight forward, isn't it? I mean really, when was the last time that worrying added time to your life? It's quite the opposite if you ask me. It slowly steals your time! Your joy and peace!
John 14:27 "Peace I leave with you; my peace I give to you. Not as the world gives do I give to you. Let not your hearts be troubled, neither let them be afraid."
The world has many things to offer and one of them is worry. It troubles our hearts and weighs us down. What God has to offer is nothing like what the world has. Peace everlasting and strength for the day. His Word restores our minds and heals our hearts! Why be afraid?
Psalm 94:19 "When the cares of my heart are many, your consolations cheer my soul."
The book of Psalms is such a beautiful book, filled with the praise and words of some of the best authors in world history. King David being one. He knew the Lord's heart so well and His words know how to draw us near as he expressed his songs to God. This one and many expressing the peace of God. When we let go and put our trust in the Lord we allow the Lord to bring cheer to our souls! Oh I love this book!
I really want to encourage you to meditate on some of these verses, put them to memory, and always go back to them when worry strikes you. Don't let worry burden you, but let God teach you how to be a warrior!