Bible verses about hopelessness
When everything seems to be falling apart and life seems hopeless consider people like Job or Jeremiah who wanted to give up, but overcame trials. When everything is going great how can you see the goodness of the Lord?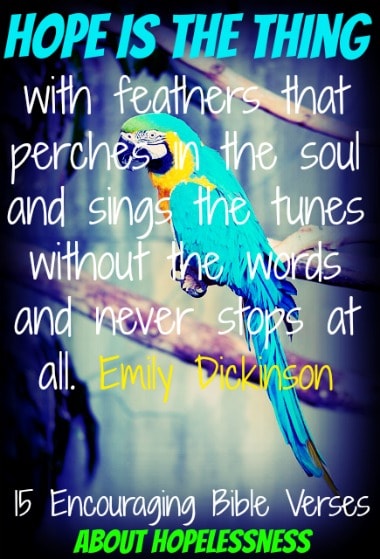 The devil wants you to lose hope and he wants you to start losing faith.
He wants to destroy, but he will not prevail because God's love never fails. God will not I repeat He will not forsake His children.
God can't lie and He will not leave you. If God allowed you to be in a situation rest assure that you will have a future. God's will is not always the easiest road, but it's the right road and if it is His will you will get through it.
God makes a way when there seems to be no way. He will help you just ask because He knows. You will not be put to shame just trust in the Lord. Trust in His Word because God will guide you. Commit to Him, walk with Him, and continually talk to Jesus.
Hopelessness leads to depression that is why it is crucial that you always set your mind on Christ, which will give you a peace like no other. Exodus "14:14 The LORD will fight for you, and you have only to be silent."
Quotes
"Hopelessness has surprised me with patience." Margaret J. Wheatley

"Hope is being able to see that there is light despite all of the darkness." Desmond Tutu

"God grant me the courage not to give up what I think is right even though I think it is hopeless." Chester W. Nimitz
Future
1. Proverbs 23:18 Surely there is a future, And your hope will not be cut off.
2. Proverbs 24:14 Know also that wisdom is like honey for you: If you find it, there is a future hope for you, and your hope will not be cut off.
What does the Bible say?
3. Psalm 147:11 The LORD values those who fear Him, those who put their hope in His faithful love.
4. Psalm 39:7 And so, Lord, where do I put my hope? My only hope is in you.
5. Romans 8:24-26 For in this hope we were saved. Now hope that is seen is not hope. For who hopes for what he sees? But if we hope for what we do not see, we wait for it with patience. Likewise the Spirit helps us in our weakness. For we do not know what to pray for as we ought, but the Spirit himself intercedes for us with groanings too deep for words.
6. Psalm 52:9 I will praise you forever, O God, for what you have done. I will trust in your good name in the presence of your faithful people.
He will never forsake His children. Never!
7. Psalm 9:10-11 And they that know thy name will put their trust in thee: for thou, LORD, hast not forsaken them that seek thee. Sing praises to the LORD, which dwelleth in Zion: declare among the people his doings.
8. Psalm 37:28 For the LORD loves justice And does not forsake His godly ones; They are preserved forever, But the descendants of the wicked will be cut off.
9. Deuteronomy 31:8 "The LORD is the one who goes ahead of you; He will be with you. He will not fail you or forsake you. Do not fear or be dismayed."
When trusting in the Lord and doing God's will you will not be put to shame.
10. Psalm 25:3 No one who hopes in you will ever be put to shame, but shame will come on those who are treacherous without cause.
11. Isaiah 54:4 "Do not be afraid; you will not be put to shame. Do not fear disgrace; you will not be humiliated. You will forget the shame of your youth and remember no more the reproach of your widowhood."
12. Isaiah 61:7 Instead of your shame you will receive a double portion, and instead of disgrace you will rejoice in your inheritance. And so you will inherit a double portion in your land, and everlasting joy will be yours.
Whenever you're feeling hopeless.
13. Hebrews 12:2-3 fixing our eyes on Jesus, the pioneer and perfecter of faith. For the joy set before him he endured the cross, scorning its shame, and sat down at the right hand of the throne of God. Consider him who endured such opposition from sinners, so that you will not grow weary and lose heart.
Reminders
14. Psalm 25:5 Guide me in your truth and teach me, for you are God my Savior, and my hope is in you all day long.
15. Philippians 4:6-7 Do not be anxious about anything, but in everything by prayer and supplication with thanksgiving let your requests be made known to God. And the peace of God, which surpasses all understanding, will guard your hearts and your minds in Christ Jesus.
Bonus
Psalm 119:116-117 Uphold me according to your promise, that I may live, and let me not be put to shame in my hope! Hold me up, that I may be safe and have regard for your statutes continually!