The alarm went off, I put it on SNOOZE, and then, I fell back to sleep expecting another alarm to follow. However, it didn't. When I opened my eyes, I bolted out of bed, skipped the make-up, and I was running out the door five minutes later. I missed breakfast and my coffee, forgot my lunch, noticed lint stuck on the pants I wore, and concluded that I needed a reset button for that day.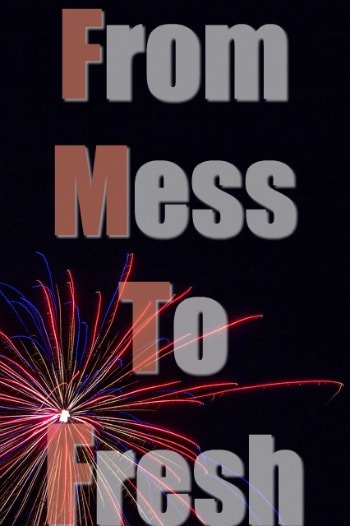 I think we've all had these messy days. And unfortunately, as nice as it would be sometimes, reset buttons don't exist.
Maybe, there have been times when we wanted to not only change a day and start over, but we wanted to rewind further back into the week, the last month, and even a few years ago to redirect our entire life path up to this point. Most people fall into this mindset that there is a specific little window when they can make life changes, start something new, or perhaps, travel somewhere different. This little window just so happens to be this time of year for the majority of us!
We feel pressure to create a New Year's Resolution to start off "fresh" and to become better in an area of our lives such as working out more, eating healthier…you know, the usual resolutions. But then, we find ourselves losing interest in our New Year's resolutions because it is not what we are accustomed to doing on a regular basis or it is too challenging for us to complete. After approximately two months, our resolutions are thrown out the window, and we typically say, "Well, there's always next year."
Why do we believe that there's always next year? See, our focus has been shifted to looking forward to a new year. What about focusing on a new day?
"Go to now, ye that say, Today or tomorrow we will go into such a city, and continue there a year, and buy and sell, and get gain: Whereas ye know not what shall be on the morrow. For what is your life? It is even a vapour, that appeareth for a little time, and then vanisheth away." -James 4:13-14 KJV
There is no rule that states that you can't have a fresh start NOW because we are not always promised a tomorrow. We don't have to wait for a new year to become better husbands and wives, Christians, friends, siblings, and church members. We are allowing the world around us to permeate into our mindset that we can wait to improve ourselves. Of course, I am not saying that we don't need to create New Year's resolutions, but I am saying that we can be more intentional with our New Year's resolutions so that they shine Jesus' light in the world!
This year, take a different approach to your New Year's resolution whatever it may be. I want to encourage you to create a resolution that will help you grow closer to God. Be open to changing your resolution if you feel that it isn't benefitting you especially at the beginning. Make a resolution that is more attainable for you, simple, and motivating. This will help you become consistent and keep your resolution for the entire year and might flow into your years to come instead of just the first two months of the year. My personal resolution for 2018 is to pray in the morning. It sounds incredibly simple, but notice, I didn't set a certain time because my mornings are sometimes rushed (see above, haha). By not setting aside an exact time, I don't feel that sense of failure if I forget, and it keeps me motivated. In the case that it slips my mind one morning, I can always make up for it in the afternoon or take extra time when I get home from work to pray. Resolutions are meant to push you and encourage you into transforming a part of your life. They are not meant to strain you and make you feel like you are chained down to something that you cannot escape from.
When I was in high school, my New Year's resolution was to memorize one Bible verse per week. I shared my resolution with my Sunday School class, and a couple of them decided to join me. Towards the middle of the year, we started struggling with our resolution. We realized that we should have developed this habit by starting smaller. For instance, a more attainable resolution for all of us would have been to memorize a Bible verse once a month instead of once a week. Then, the following year, we could have built onto our new habit of memorizing a verse per month to memorizing a Bible verse once a week which is where we started out. I was more determined to follow through with this resolution even though we found it difficult half-way through the year because I was being held accountable. I also felt that I wasn't alone in this journey of memorizing scripture, and it kept my fire burning the whole year!
There is no right or wrong way to make your own New Year's resolution because that's the thing, it is YOUR RESOLUTION. Be aware that every resolution takes work and time, and it isn't always necessarily going to be a gravy train. You don't have to begin a new year to start a resolution; you can make a resolution any time of the year. Keep in mind that your spiritual resolution will be attacked constantly. The Devil is going to do his best to distract you and get you off track. He wants you to be discouraged and believe the lie that there's always next year like everyone else. Hand your messy days over to God and let Him turn them into fresh ones. Because our days turn into years, and let's face it, there is no reset button!
"Finally, my brethren, be strong in the Lord, and in the power of his might." -Ephesians 6:10 KJV