I had tiny toes with me today as I had to go back to the start of the book of John to re-read and take notes.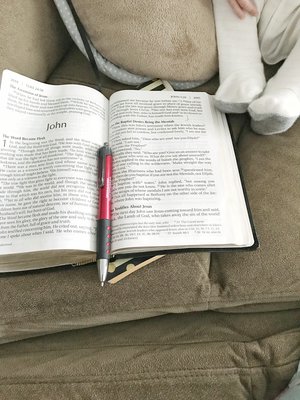 I'll be honest, sometimes I read and forget what I read… like the next day.
Can I share something with you all? I don't read scripture every day and even sadder… is that a word?  I must admit I don't always walk the talk and it's something I've struggled with since the birth of our baby. My prayers are short and I fall asleep. Scripture time is reading and forgetting and sometimes I go DAYS without reading my Bible and feeling guilty and I don't dare approach God… this is all so wrong.
First of all, I had to come to terms that praying half an hour isn't what it looks like for right now and it doesn't make me any holier for it. Bible time is a MUST so I had to put many things aside to be able to do this.
That means I wake up earlier, to get up earlier I must go to bed earlier. That means no TV or less. It means I need to put my day in order and make God first. I've heard this quote but not sure who said it:
"If you're too busy for God, you're busier than you're supposed to be."
I've made it my mission to spend time with my God even if that means sacrificing, wanting to stay up to watch a show, or scroll through FB or Instagram. It means saying no to the world and yes to God. It means saying yes to His Word. It doesn't have to be an hour long but it has to be a time where it's you, God, and His Word. Maybe it's a 3-minute devotional that hits your heart. Maybe it looks like a 5-minute sit down of reading or finishing your Bible book and truly understanding what you read.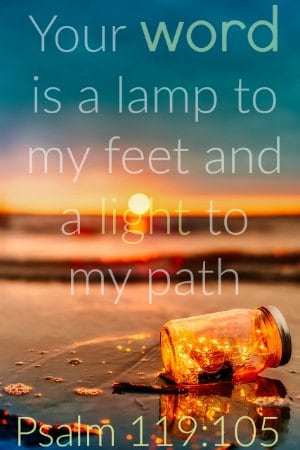 It's nice to listen to a good preaching, it's amazing to listen to worship music, but those things are easy to do. Well at least for me it is. It's so easy to push play on a good sermon but why is it that it's so hard to sit, and read the Bible? Our flesh is lazy when given the opportunity to do something productive like spending time with God.
It's so important and I know this and yet I find myself being a hypocrite.
I felt so guilty this morning as I got up late, my girls were hungry and I had a newborn who was crying and all I could think about was, "this is why I can't spend time with God first thing in the morning. It's impossible." Then I took a deep breath and served my family breakfast, fed my baby boy, and put him to sleep. I made up my mind that after breakfast instead of jumping at my day I would sit. Even if my home was a mess, even if my to-do list was the size of an encyclopedia. I sat down and asked my daughters to quietly read to themselves (no TV either) and I just sat and read. 
Romans 8:5 "For those who live according to the flesh set their minds on the things of the flesh, but those who live according to the Spirit set their minds on the things of the Spirit."
It felt amazing. Not the sitting part, due to my hyperactive personality I really dislike sitting still but the stillness of time spent with a book inspired by the Holy Spirit stopped me and captured my heart once again as always.
Psalm 119:105 "Your word is a lamp to my feet and a light to my path."
I read John and I understood. I came to the feet of Jesus and asked Him to renew my mind. To help me out all things aside, to teach me what to give up and what to put on my schedule. Most importantly, I asked Him to forgive my lazy ways and to help me to make Him a priority.
John 3:30 "He must increase, but I must decrease."
Spending time with God doesn't have to be lengthy, or fancy as I see many people post on social media with coffee, makeup done, and a clean home at 5AM according to them. It's a time spend with God, opened to rebuke and comfort.
I don't know about you but eternity, His Word, and time with Jesus is worth starting over right now, it's never too late. Today you can choose to examine your day and make it about the one who gave it to you. Today, make it happen friends, I know I am.