What does the Bible say about light?
In the beginning God said, "Let there be light," and there was light. He saw that the light was good. Light is always something good and positive in Scripture. It is a symbol of God, His children, truth, faith, righteousness, etc. Darkness is the opposite of every single one of these things.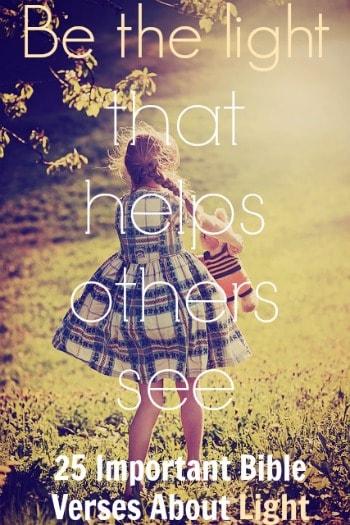 I don't want anyone to think that to be a Christian you have to walk in the light. No! To be a Christian you have to repent and trust in Christ alone for salvation. True faith in Christ alone will change your life and you will walk in the light and grow in grace.
You are going to follow the light of the Scriptures not because following it saves you, but because you are the light. If you are saved by the blood of Christ it's who you are now. You were made new. Are you walking in the light? In these light Bible verses, I have included the ESV, KJV, NIV, NASB, NKJV, NIV, and NLT translations.
Christian quotes about light
"To secure one's freedom the Christian must experience God's light which is God's truth." Watchman Nee
"If you want to give a light to others, you have to glow yourself."
"Hope is being able to see that there is light despite all of the darkness."
"Be the light that helps others see."
"Though the light shines on things unclean, yet it is not thereby defiled." Augustine
"Christ is the true light of the world; it is through him alone that true wisdom is imparted to the mind." Jonathan Edwards
"To trust God in the light is nothing, but trust him in the dark—that is faith." Charles Spurgeon
"With Christ, darkness cannot succeed. Darkness will not gain victory over the light of Christ." Dieter F. Uchtdorf
"Sin turns ugly and is subject to defeat only when seen in the light of Christ's beauty." Sam Storms
"In faith there is enough light for those who want to believe and enough shadows to blind those who don't." Blaise Pascal
"We are told to let our light shine, and if it does, we won't need to tell anybody it does. Lighthouses don't fire cannons to call attention to their shining- they just shine." Dwight L. Moody
"The way, like the cross, is spiritual: that is an inward submission of the soul to the will of God, as it is manifested by the light of Christ in the consciences of men, though it be contrary to their own inclinations." William Penn
"We cannot believe that the church of God is already possessed of all that light which God intends to give it; nor that all Satan's lurking places have already been found out." Jonathan Edwards
"Glory in Christ and you can bask in His light forever." Woodrow Kroll
"It is the Gospel that can translate you from darkness into light."
Drawing close to the light
Have you ever wondered why many great men of God such as Peter, Paul, etc. had a great revelation of their sinfulness?
It is because when you start seeking the face of God you get closer to the light. When you start getting closer to the light you start to see more sin than ever before. Some Christians are not that close to the light.
They stay at a distance so the light doesn't shine on their great sinfulness. When I first became a Christian I didn't truly understand how sinful I was. As I started to grow and sought to know God and be alone with Him, the light shined brighter and brighter and it showed me different areas in my life where I fell short in.
If Jesus Christ did not die for my sins, then I have no hope. The light makes the cross of Jesus Christ even more glorious. Jesus is my only claim. This is why as believers as we walk in the light we continually confess our sins. You must get closer to the light.
1. 1 John 1:7-9 "But if we walk in the light, as he is in the light, we have fellowship with one another, and the blood of Jesus, his Son, purifies us from all sin. If we claim to be without sin, we deceive ourselves and the truth is not in us. If we confess our sins, he is faithful and just and will forgive us our sins and purify us from all unrighteousness."
2. Romans 7:24-25 "What a wretched man I am! Who will rescue me from this body that is subject to death?  Thanks be to God, who delivers me through Jesus Christ our Lord! So then, I myself in my mind am a slave to God's law, but in my sinful nature a slave to the law of sin."
3. Luke 5:8 "When Simon Peter saw this, he fell at Jesus' knees and said, 'Go away from me, Lord; I am a sinful man!"
God speaks light in your darkness.
God is faithful even when we are not.
God will not allow a believer to give up in the hard times. Sometimes even a believer will try to run away from God, but they will not be able to escape the great light. God's light breaks through the darkness and brings them back to Him. We have hope in the Lord.
The devil will not claim us. God will never let us go. What is stronger than the light of the Almighty God? You might go through darkness and pain, but the light of the Lord will always come through in times of despair. Call on the name of Jesus. Seek the light.
4. Psalm 18:28 "For it is you who light my lamp; the LORD my God lightens my darkness."
5. Micah 7:8 "Do not gloat over me, my enemy! Though I have fallen, I will rise. Though I sit in darkness, the LORD will be my light."
6. Psalm 139:7-12 "Where can I go from Your Spirit? Or where can I flee from Your presence? If I ascend to heaven, You are there; If I make my bed in Sheol, behold, You are there. If I take the wings of the dawn, If I dwell in the remotest part of the sea, Even there Your hand will lead me, And Your right hand will lay hold of me. If I say, "Surely the darkness will overwhelm me, And the light around me will be night," Even the darkness is not dark to You, And the night is as bright as the day. Darkness and light are alike to You."
7 John 1:5 "The light shines in the darkness, and the darkness has not overcome it."
8. 2 Timothy 2:13 "if we are faithless, he remains faithful— for he cannot deny himself."
Darkness reveals unbelief and the light reveals faith.
Without the light there is no purpose to this life. Without the light there is no hope. Without the light we are alone and many unbelievers know this and it causes them to struggle with depression. Without the light people are dead and blind. You need the light of God that reveals everything.
When you're in the darkness you don't know where you're going. You don't understand anything and life doesn't make sense. You can't see! Everything is dark. You're just living, but you don't even know what allows you to live or why you live. You need the light! You are here for Him. Believe in the light, Jesus Christ and He will show you the truth of everything. When you follow Christ you will have His light.
9. John 12:35 -36 "Then Jesus told them, "You are going to have the light just a little while longer. Walk while you have the light, before darkness overtakes you. Whoever walks in the dark does not know where they are going. Believe in the light while you have the light, so that you may become children of light." When he had finished speaking, Jesus left and hid himself from them."
10. John 8:12 "When Jesus spoke again to the people, he said, 'I am the light of the world. Whoever follows me will never walk in darkness, but will have the light of life."
11. John 12:44-46 Then Jesus cried out, "Whoever believes in me does not believe in me only, but in the one who sent me. The one who looks at me is seeing the one who sent me. I have come into the world as a light, so that no one who believes in me should stay in darkness."
12. John 9:5 "While I am in the world, I am the light of the world."
13. Acts 26:18 "to open their eyes and turn them from darkness to light, and from the power of Satan to God, so that they may receive forgiveness of sins and a place among those who are sanctified by faith in me."
The transforming light of Christ
When you repent and put your trust in Christ alone for salvation you will be a light. Not only do you see everything more clearly, but the light will come to live inside of you. The light of the gospel will transform you.
14. 2 Corinthians 4:6 For God, who said, "Let light shine out of darkness," made his light shine in our hearts to give us the light of the knowledge of God's glory displayed in the face of Christ."
15. Galatians 2:20 "I have been crucified with Christ and I no longer live, but Christ lives in me. The life I now live in the body, I live by faith in the Son of God, who loved me and gave himself for me."
16. Acts 13:47 "For this is what the Lord has commanded us: 'I have made you a light for the Gentiles, that you may bring salvation to the ends of the earth."
Living in the light
What does your life say? Have you been changed by the Lord or are you still living in darkness?
Has the light so touched you that you seek to walk in it? Are you light? Examine yourself. Are you bearing fruit? If you are still living in a lifestyle of sin God's light has not changed you. You are still in the darkness. Now repent and put your trust in Christ.
17. Ephesians 5:8-9 "For you were once darkness, but now you are light in the Lord. Live as children of light. (for the fruit of the light consists in all goodness, righteousness and truth)"
Bible verses about light of the world
We are the light of the Lord in a world full of darkness. You will be a light to others. Your light shines so bright that is why people look at Christians so carefully. This does not mean to act like something you are not or try to appear righteous to others. Glorify God not yourself. It means to be who you are. You are a light. Even a little light makes a huge difference.
Light a small candle in a house with no electricity at night. You will see that though the candle is small it still allows you to see in the darkness. You might be the only light someone ever sees. Some people are going to be able to see Christ through your light. People appreciate the little things because most of the time people don't go the extra mile.
One time I helped a maintenance man clean a mess up at the supermarket. He was surprised and so thankful. He said no one ever helped him. No one showed that humility before. Without me telling him he said you are religious aren't you. I said I am a Christian. My light shined. I started to talk about Christ, but he was Hindu so he ran from the gospel message, but he was so appreciative and he noticed a light.
Let your light shine in everything because you are the light. Being a light is the work of God conforming you into the image of Christ. You can't try to be the light. It's either you are light or you are not light. You can't try to be Christian. It's either you are Christian or you are not Christian.
18. Matthew 5:14-16 "You are the light of the world. A town built on a hill cannot be hidden. Neither do people light a lamp and put it under a bowl. Instead they put it on its stand, and it gives light to everyone in the house. In the same way, let your light shine before others, that they may see your good deeds and glorify your Father in heaven."
19. 1 Peter 2:9 "But you are a chosen race, a royal priesthood, a holy nation, a people for God's own possession, so that you may proclaim the excellencies of Him who has called you out of darkness into His marvelous light."
20. Philippians 2:14-16 "Do everything without complaining and arguing, 15 that no one can criticize you. Live clean, innocent lives as children of God, shining like bright lights in a world full of crooked and perverse people. Hold firmly to the word of life; then, on the day of Christ's return, I will be proud that I did not run the race in vain and that my work was not useless."
21. Matthew 5:3-10 "Blessed are the poor in spirit, for theirs is the kingdom of heaven. Blessed are those who mourn, for they will be comforted. Blessed are the meek, for they will inherit the earth. Blessed are those who hunger and thirst for righteousness, for they will be filled. Blessed are the merciful, for they will be shown mercy. Blessed are the pure in heart, for they will see God. Blessed are the peacemakers, for they will be called children of God. Blessed are those who are persecuted because of righteousness, for theirs is the kingdom of heaven."
What fellowship has light with darkness
We can't run with people who are in the darkness. We are no longer in the darkness.
22. 2 Corinthians 6:14-15 "Do not be yoked together with unbelievers. For what do righteousness and wickedness have in common? Or what fellowship can light have with darkness? What harmony is there between Christ and Belial? Or what does a believer have in common with an unbeliever?"
The world hates the light
People don't like the light. Why do you think that Jesus was hated? Shine your light on their sins and they are going to say hey stop judging and they are going to avoid you. You are the light why do you think that you will be hated by the world? The world hates the light. In the darkness and without the Lord their deeds are hidden. That is why they suppress the truth about God.
23. John 3:19-21 "This is the verdict: Light has come into the world, but people loved darkness instead of light because their deeds were evil. Everyone who does evil hates the light, and will not come into the light for fear that their deeds will be exposed. But whoever lives by the truth comes into the light, so that it may be seen plainly that what they have done has been done in the sight of God."
24. Job 24:16 "In the dark, thieves break into houses, but by day they shut themselves in; they want nothing to do with the light."
25. Ephesians 5:13-14 "But everything exposed by the light becomes visible–and everything that is illuminated becomes a light. This is why it is said: "Wake up, sleeper, rise from the dead, and Christ will shine on you."
Bonus
Psalm 27:1 "The Lord is my light and my salvation whom shall I fear? The Lord is the stronghold of my life of whom shall I be afraid?"