Bible verses about diligence
Usually when we think about diligence we think about a good work ethic. Diligence should not only be used at the workplace. It should be used in all areas of our life. Diligence in your walk of faith leads to spiritual growth, a greater love for others, greater love for Christ, and a greater understanding of the gospel and God's love for you. Where diligence is procrastination and laziness is not. We must never slack while doing God's will.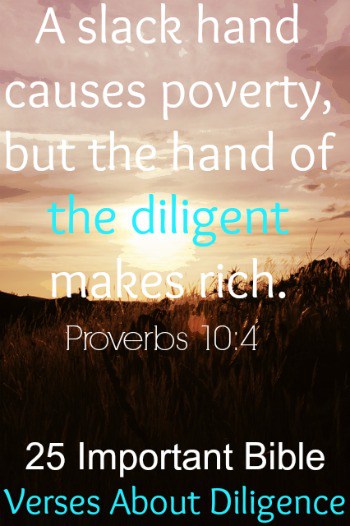 The diligent man will always accomplish his goals. In the workplace, the diligent worker will be rewarded, while the slothful will not.
Those who diligently seek the Lord will be rewarded with many things such as a greater presence of God in their life.
The spiritually lazy man can never move forward. Christians are saved by faith in Christ alone. True faith in Christ will change you.
It's not just you anymore. It's God living inside you and working in you. God will help you.
Be diligent in your prayer life, when preaching, when studying, in obeying the Lord, when evangelizing, and when doing any task that God has called you to do.
Let your dedication to Christ be your motivation and add diligence to your life today.
Quotes
"Let's be diligent in giving, careful in our living, and faithful in our praying."  Jack Hyles

"I am afraid that the schools will prove the very gates of hell, unless they diligently labor in explaining the Holy Scriptures and engraving them in the heart of the youth."  Martin Luther

"Are you still diligently living for God and serving Him, even in these last days? Now is not the time to ease up, but to charge forward and continue living for the Lord."  Paul Chappell
What does the Bible say?
1. 2 Peter 1:5 And beside this, giving all diligence, add to your faith virtue; and to virtue knowledge.
2. Proverbs 4:23 Watch over your heart with all diligence, For from it flow the springs of life.
3. Romans 12:11 not lagging behind in diligence, fervent in spirit, serving the Lord.
4. 2 Timothy 2:15 Be diligent to present yourself approved to God as a workman who does not need to be ashamed, accurately handling the word of truth.
5. Hebrews 6:11 We want each of you to show this same diligence to the very end, so that what you hope for may be fully realized.
Diligence while working.
6. Ecclesiastes 9:10 Whatever you find to do with your hands, do it with all your might, because there is neither work nor planning nor knowledge nor wisdom in the grave, the place where you will eventually go.
7. Proverbs 12:24 The diligent person will rule, but the slothful will become a slave.
8. Proverbs 13:4 The lazy person craves, yet receives nothing, but the desires of the diligent are satisfied.
9. Proverbs 10:4 Lazy hands will make you poor; hard-working hands will make you rich.
10. Proverbs 12:27 The lazy do not roast any game, but the diligent feed on the riches of the hunt.
11. Proverbs 21:5 The plans of hard-working people earn a profit, but those who act too quickly become poor.
Diligently seeking God in prayer.
12. Proverbs 8:17 I love those who love me, and those who seek me diligently find me.
13. Hebrews 11:6 Now without faith it is impossible to please God, for whoever comes to him must believe that he exists and that he rewards those who diligently search for him.
14. Deuteronomy 4:29 But if from there you seek the LORD your God, you will find him if you seek him with all your heart and with all your soul.
15. 1 Thessalonians 5:16-18 Always be joyful. Pray continually, and give thanks whatever happens. That is what God wants for you in Christ Jesus.
16. Luke 18:1 Jesus told his disciples a parable about their need to pray all the time and never give up.
Studying and following God's Word.
17. Joshua 1:8 This law scroll must not leave your lips! You must memorize it day and night so you can carefully obey all that is written in it. Then you will prosper and be successful.
18. Deuteronomy 6:17 You must diligently obey the commands of the LORD your God–all the laws and decrees he has given you.
19. Psalm 119:4-7 You have ordained Your precepts, That we should keep them diligently. Oh that my ways may be established To keep Your statutes! Then I shall not be ashamed When I look upon all Your commandments. I shall give thanks to You with uprightness of heart, When I learn Your righteous judgments.
Work for the Lord
20. 1 Corinthians 15:58 So, my dear brothers and sisters, be strong and immovable. Always work enthusiastically for the Lord, for you know that nothing you do for the Lord is ever useless.
21. Colossians 3:23 Work willingly at whatever you do, as though you were working for the Lord rather than for people.
22. Proverbs 16:3 Commit thy works unto the LORD, and thy thoughts shall be established.
Reminders
23. Luke 13:24 Strive to enter in at the strait gate: for many, I say unto you, will seek to enter in, and shall not be able.
24. Galatians 6:9 We must not get tired of doing good. We will receive our harvest of eternal life at the right time. We must not give up.
25. 2 Peter 3:14 So then, dear friends, since you are looking forward to this, make every effort to be found spotless, blameless and at peace with him.
Bonus
Proverbs 11:27 The one who diligently seeks good seeks favor, but the one who searches for evil–it will come to him.