Bible verses about twins
How awesome is God that He gives some people one blessing after another blessing. Below we will find out about twins in the Bible. There are some people in Scripture who might be twins even though Scripture doesn't directly say it.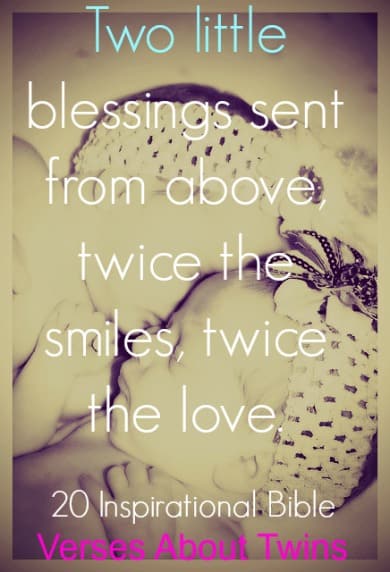 It is possible that the first kids of the Bible Cain and Abel were twins. Genesis 4:1–2 Adam was intimate with his wife Eve, and she conceived and gave birth to Cain.
She said, "I have had a male child with the Lord's help. Then she also gave birth to his brother Abel. Now Abel became a shepherd of flocks, but Cain worked the ground.
Quotes
"Two little blessings sent from above, twice the smiles, twice the love." – (God's unconditional love for us Scriptures)

"God touched our hearts so deep inside, our special blessing multiplied."

"Sometimes miracles come in pairs."

"Being a twin is like being born with a best friend."

"Twins, God's way of saying buy one get one free."
What does the Bible say?
1. Ecclesiastes 4:9-12 "Two are better than one, because they have a good return for their labor. If they stumble, the first will lift up his friend—but woe to anyone who is alone when he falls and there is no one to help him get up. Again, if two lie close together, they will keep warm, but how can only one stay warm? If someone attacks one of them, the two of them together will resist. Furthermore, the tri-braided cord is not soon broken."
2. John 1:16 "For we have all received from his fullness one gracious gift after another."
3. Romans 9:11 "Yet, before the twins were born or had done anything good or bad–in order that God's purpose in election might stand."
4. James 1:17 "All generous giving and every perfect gift is from above, coming down from the Father of lights, with whom there is no variation or the slightest hint of change."
5. Matthew 18:20 "For where two or three are assembled in my name, I am there among them."
6. Proverbs 27:17 "Iron sharpens iron, and one man sharpens another."
7. Proverbs 18:24 "A man that hath friends must shew himself friendly: and there is a friend that sticketh closer than a brother."
Esau and Jacob
8. Genesis 25:22-23 "But the two children struggled with each other in her womb. So she went to ask the LORD about it. "Why is this happening to me?" she asked. And the LORD told her, "The sons in your womb will become two nations. From the very beginning, the two nations will be rivals. One nation will be stronger than the other; and your older son will serve your younger son."
9. Genesis 25:24 "And when the time came to give birth, Rebekah discovered that she did indeed have twins!"
10. Genesis 25:25 "The first one was very red at birth and covered with thick hair like a fur coat. So they named him Esau."
11. Genesis 25:26 "Then the other twin was born with his hand grasping Esau's heel. So they named him Jacob. Isaac was sixty years old when the twins were born."
Twin Love
12. Genesis 33:4 "Then Esau ran to meet him and embraced him, threw his arms around his neck, and kissed him. And they both wept."
Perez and Zerah
13. Genesis 38:27 "When the time came for Tamar to give birth, it was discovered that she was carrying twins."
14. Genesis 38:28-30 "While she was in labor, one of the babies reached out his hand. The midwife grabbed it and tied a scarlet string around the child's wrist, announcing, "This one came out first." But then he pulled back his hand, and out came his brother! "What!" the midwife exclaimed. "How did you break out first?" So he was named Perez. Then the baby with the scarlet string on his wrist was born, and he was named Zerah."
David would later on come from Perez. 
15. Ruth 4:18-22 "This is the genealogical record of their ancestor Perez: Perez was the father of Hezron. Hezron was the father of Ram. Ram was the father of Amminadab. Amminadab was the father of Nahshon. Nahshon was the father of Salmon. Salmon was the father of Boaz. Boaz was the father of Obed. Obed was the father of Jesse. Jesse was the father of David."
Thomas Didymus
16. John 11:16 "Thomas, nicknamed the Twin, said to his fellow disciples, "Let's go, too—and die with Jesus."
17. John 20:24 "One of the twelve disciples, Thomas (nicknamed the Twin), was not with the others when Jesus came."
18. John 21:2 "Several of the disciples were there—Simon Peter, Thomas (nicknamed the Twin), Nathanael from Cana in Galilee, the sons of Zebedee, and two other disciples."
Reminders
19. Ephesians 1:11 "In him we were also chosen, having been predestined according to the plan of him who works out everything in conformity with the purpose of his will."
20. Psalm 113:9 "He maketh the barren woman to keep house, and to be a joyful mother of children. Praise ye the LORD."

Bonus
Acts 28:11 "After three months we put out to sea in a ship that had wintered in the island–it was an Alexandrian ship with the figurehead of the twin gods Castor and Pollux." (Inspirational ocean Bible verses)