What does the Bible say about seasons?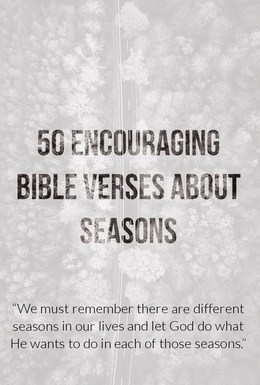 It is easy to get discouraged when facing a difficult season in life. How quickly we begin to think that the season will last for the rest of eternity or that we are "stuck" in a hard place by accident. When facing any season of life, its vital that we think biblically.
Christian quotes about seasons
"When you accept the fact that sometimes seasons are dry and times are hard and that God is in control of both, you will discover a sense of divine refuge, because the hope then is in God and not in yourself." – Charles R. Swindoll
"A season of silence is the best preparation for speech with God." – Samuel Chadwick
"Sometimes God doesn't change your situation because he's trying to change your heart."
"We must remember there are different seasons in our lives and let God do what He wants to do in each of those seasons."
"Christ comes as a thief in the night, & it is not for us to know the times & seasons which God hath put into his own breast." Isaac Newton
"The seasons change and you change, but the Lord abides evermore the same, and the streams of His love are as deep, as broad and as full as ever." — Charles H. Spurgeon
"There are many seasons in a man's life – and the more exalted and responsible his position, the more frequently do these season's recur – when the voice of duty and the dictates of feeling are opposed to each other; and it is only the weak and the wicked who yield that obedience to the selfish impulses of the heart which is due to reason and honor." James H. Aughey
God is sovereign over our steps
The Lord God does as He pleases. He alone is completely sovereign. There isn't anything that happens to us in life that catches God by surprise. This should give us so much comfort especially in times of difficulty. He not only is fully aware of whatever difficult season of life we find ourselves in, but He has allowed it for His glory and for our sanctification.
1. Psalm 135:6 "He does whatever pleases him throughout all of heaven and earth and in the deepest seas."
2. Isaiah 46:10 "Declaring the end from the beginning, And from ancient times things which have not been done, Saying, 'My purpose will be established, And I will accomplish all My good pleasure."
3. Daniel 4:35 "All the inhabitants of the earth are accounted as nothing, But He does according to His will in the host of heaven And among the inhabitants of earth; And no one can ward off His hand Or say to Him, 'What have You done?"
4. Job 9:12 "Were He to snatch away, who could restrain Him? Who could say to Him, 'What are You doing?"
5. Psalm 29:10-11 "The Lord sits enthroned over the flood; the Lord is enthroned as King forever. 11 The Lord gives strength to his people; the Lord blesses his people with peace."
6. 1 Chronicles 29:12-13 "Wealth and honor come from you; you are the ruler of all things. In your hands are strength and power to exalt and give strength to all. 13 Now, our God, we give you thanks, and praise your glorious name."
7. Ephesians 1:11 "Furthermore, because we are united with Christ, we have received an inheritance from God, for he chose us in advance, and he makes everything work out according to his plan."
God is with us in every season of our life
God is so perfectly Holy that He is completely removed from what we are. But in His holiness, He is also perfect in His love. God loves us so completely. He will never leave us or abandon us to face difficult times alone. He will walk with us through the darkness. He will rejoice with us during the good times. God does not send us on a hard path to find our way to holiness without Him – He is there with us, helping us.
8. Isaiah 43:15-16 "I am the Lord, your Holy One, The Creator of Israel, your King." 16 Thus says the Lord, Who makes a way through the sea And a path through the mighty waters,
9. Joshua 1:9 "Have I not commanded you? Be strong and courageous! Do not tremble or be dismayed, for the Lord your God is with you wherever you go."
10. Isaiah 41:10 "Fear not, for I am with you; be not dismayed, for I am your God; I will strengthen you, I will help you, I will uphold you with my righteous right hand."
11. Psalm 48:14 "For such is God, Our God forever and ever; He will guide us until death."
12. Psalm 118:6-7 "The Lord is with me; I will not be afraid. What can mere mortals do to me? 7 The Lord is with me; he is my helper. I look in triumph on my enemies."
13. 1 John 4:13 "By this we know that we abide in Him and He in us, because He has given us of His Spirit."
14. Psalm 54:4 "Behold, God is my helper; The Lord is the sustainer of my soul."
Time is in God's hands
Far too often we get frustrated with God because things are not happening in our timeline. We think that we know better than He and get impatient. This leads to depression and anxiety. But God is perfectly in control of what is happening – including the timing of our seasons in life.
15. Ecclesiastes 3:11 "He has made everything beautiful in its time. He has also set eternity in the human heart; yet no one can fathom what God has done from beginning to end."
16. Psalm 31:15-16 "My times are in your hands; deliver me from the hands of my enemies, from those who pursue me. 16 Let your face shine on your servant; save me in your unfailing love."

17. Habakkuk 2:3 "For the vision is yet for the appointed time; It hastens toward the goal and it will not fail. Though it tarries, wait for it; For it will certainly come, it will not delay."

18. Ecclesiastes 8:6-7 "For there is a proper time and procedure for every delight, though a man's trouble is heavy upon him. 7 If no one knows what will happen, who can tell him when it will happen?"
19. Ecclesiastes 3:1 "There is a time for everything, and a season for every activity under the heavens."
20. Galatians 6:9 "Let us not become weary in doing good, for at the proper time we will reap a harvest if we do not give up."

21. 2 Peter 3:8-9 "But do not forget this one thing, dear friends: With the Lord a day is like a thousand years, and a thousand years are like a day. 9 The Lord is not slow in keeping his promise, as some understand slowness. Instead he is patient with you, not wanting anyone to perish, but everyone to come to repentance."
Season of waiting
Many times we find ourselves in a season of waiting. We are waiting on the Lord to redeem us from a hard situation, or from a difficult employer, or waiting on financial aid. We often are waiting on God for many things. In those seasons of waiting, God is there. He is using those times just as effectively as He uses the good times and the hard times. He is transforming us into the likeness of Christ. The times of waiting are not wasted. They are a part of His process.
22. Isaiah 58:11 "The Lord will guide you continually, giving you water when you are dry and restoring your strength. You will be like a well-watered garden, like an ever-flowing spring."
23. Psalm 27:14 "Wait for the Lord. Be strong. Let your heart be strong. Yes, wait for the Lord."
24. 1 Samuel 12:16 "Now stand here and see the great thing the Lord is about to do."
25. Psalm 37:7 "Be still in the presence of the Lord, and wait patiently for him to act. Don't worry about evil people who prosper or fret about their wicked schemes."
26. Philippians 1:6 "For I am sure of this very thing, that the one who began a good work in[c] you will perfect it until the day of Christ Jesus."
27. John 13:7 "Jesus answered and said unto him, What I do thou knowest not now; but thou shalt know hereafter."
28. Psalm 62:5-6 "God, the one and only— I'll wait as long as he says. Everything I hope for comes from him, so why not? He's solid rock under my feet, breathing room for my soul, An impregnable castle: I'm set for life."
29. Luke 1:45 "And blessed is she that believed: for there shall be a performance of those things which were told her from the Lord."
30. Exodus 14:14 "The Lord will fight for you. All you have to do is keep still."
What to remember when seasons change
As the seasons of life change, and chaos surrounds us we must stand firm on the Word of God. God has revealed a part of Himself to us so that we can know Him. God is faithful. He keeps all of His promises. He is always with us and will never abandon us. He is our anchor, our strength. He never changes. He is changing us into something better.
31. Psalm 95:4 "In one hand he holds deep caves and caverns, in the other hand grasps the high mountains."
32. Deuteronomy 31:6 "Be strong and courageous. Do not be afraid or terrified because of them, for the Lord your God goes with you, he will never leave you nor forsake you."
33. Hebrews 6:19 "We have this hope as an anchor for the soul, firm and secure. It enters the inner sanctuary behind the curtain."
34. Hebrews 13:8 "Jesus Christ is the same yesterday and today and forever."
35. Isaiah 43:19 "Behold, I will do a new thing; now it shall spring forth; shall ye not know it? I will even make a way in the wilderness, and rivers in the desert."
36. Psalm 90:2 "Before the mountains were brought forth, or ever you had formed the earth and the world, from everlasting to everlasting you are God."
37. 1 John 5:14 "This is the confidence we have in approaching God: that if we ask anything according to his will, he hears us."
38. Psalm 91:4-5 "He will cover you with His pinions, And under His wings you may seek refuge; His faithfulness is a shield and bulwark. 5 You will not be afraid of the terror by night, Or of the arrow that flies by day." (Encouraging Scriptures on fear)
39. Philippians 4:19 "And with all his abundant wealth through Christ Jesus, my God will supply all your needs."
Though the seasons change, His love remains
God's love is an aspect of His character – therefore, it is perfect in its entirety. God's love will never dwindle, nor is it based on our performance. God's love doesn't show partiality. It doesn't falter. God's love is as eternal as He is. He loves us purely, completely, and perfectly.
40. Lamentations 3:22-23 "The Lord's unfailing love and mercy still continue, 23 Fresh as the morning, as sure as the sunrise."
41. Psalm 36:5-7 "Your love, Lord, reaches to the heavens, your faithfulness to the skies. 6 Your righteousness is like the highest mountains, your justice like the great deep. You, Lord, preserve both people and animals. 7 How priceless is your unfailing love, O God! People take refuge in the shadow of your wings."
42. 1 John 3:1 "See what great love the Father has lavished on us, that we should be called the children of God! And that is what we are! The reason the world does not know us is that it did not know him."
43. 1 John 4:7 "Dear friends, let us love one another, for love comes from God. Everyone who loves has been born of God and knows God."
44. 1 John 4:16 "And we ourselves know and believe the love which God has for us. God is love, and those who live in love live in union with God and God lives in union with them."
45. 1 John 4:18 "There is no fear in love. But perfect love drives out fear, because fear has to do with punishment. The one who fears is not made perfect in love."
46. Galatians 2:20 "I have been crucified with Christ and I no longer live, but Christ lives in me. The life I now live in the body, I live by faith in the Son of God, who loved me and gave himself for me."
47. Jeremiah 31:3 "The Lord hath appeared of old unto me, saying, Yea, I have loved thee with an everlasting love: therefore with lovingkindness have I drawn thee."
48. John 15:13 "No one shows greater love than when he lays down his life for his friends."
Conclusion
God is GOOD. He cares for you. Even if this season of life is hard – He has carefully chosen exactly what sort of a season it is. Not because He is punishing you, but because He loves you and wants you to grow. God is safe to trust.
49. Philippians 2:13 "For it is God who is at work in you, both to will and to work for His good pleasure."
50. 1 John 4:9 "By this the love of God was manifested in us, that God has sent His only begotten Son into the world so that we might live through Him."