Bible verses about caring for others
God is a caring father. He came down from His heavenly throne in the form of man and He paid the price for our sins. He was rich, but for us He became poor. Scripture tells us that the reason we are able to love is because God loved us first.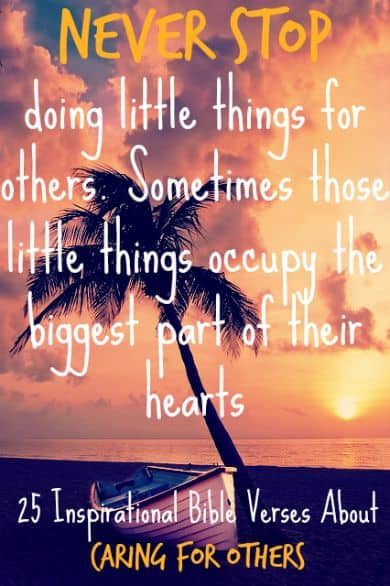 His love for us should compel us to love others more and make sacrifices for people just like Jesus sacrificed His life for our iniquities.
God hears the cries of His children and He deeply cares for them.
As Christians we are to be a reflection of God on earth and we are to care for others as well. We must stop being selfish and lose the what's in it for me attitude and seek different ways to serve others.
Quotes
"Never stop doing little things for others. Sometimes those little things occupy the biggest part of their hearts."

"Never look down on anybody unless you're helping them up."

"We rise by lifting others."

"When you love someone, you automatically care for them, you cannot love without caring."
Caring for other believers.
1. Hebrews 6:10-12 For God is not unjust. He will not forget how hard you have worked for him and how you have shown your love to him by caring for other believers, as you still do. Our great desire is that you will keep on loving others as long as life lasts, in order to make certain that what you hope for will come true. Then you will not become spiritually dull and indifferent. Instead, you will follow the example of those who are going to inherit God's promises because of their faith and endurance.
2. 1 Thessalonians 2:7-8 Instead, we were like young children among you. Just as a nursing mother cares for her children, so we cared for you. Because we loved you so much, we were delighted to share with you not only the gospel of God but our lives as well.
3. 1 Corinthians 12:25-27 so that there may be no division in the body, but that the members may have the same care for one another. And if one member suffers, all the members suffer with it; if one member is honored, all the members rejoice with it. Now you are Christ's body, and individually members of it.
Caring for your family.
4. 1 Timothy 5:4 But if a widow has children or grandchildren, these should learn first of all to put their religion into practice by caring for their own family and so repaying their parents and grandparents, for this is pleasing to God.

5. 1 Timothy 5:8 But if someone does not provide for his own, especially his own family, he has denied the faith and is worse than an unbeliever.
6. Proverbs 22:6 Teach a youth about the way he should go; even when he is old he will not depart from it.
Bear each other others weaknesses.
7. Exodus 17:12 Moses' arms soon became so tired he could no longer hold them up. So Aaron and Hur found a stone for him to sit on. Then they stood on each side of Moses, holding up his hands. So his hands held steady until sunset.
8. Romans 15:1- 2 Now we who are strong have an obligation to bear the weaknesses of those without strength, and not to please ourselves. Each one of us must please his neighbor for his good, to build him up.
Care for the poor, oppressed, orphans, and widows. 
9. Psalm 82:3-4 Defend the cause of the poor and the fatherless! Vindicate the oppressed and suffering! Rescue the poor and needy! Deliver them from the power of the wicked!
10. James 1:27 Pure and undefiled religion before our God and Father is this: to look after orphans and widows in their distress and to keep oneself unstained by the world.
11. Proverbs 19:17 Giving help to the poor is like loaning money to the Lord. He will pay you back for your kindness.
12. Isaiah 58:10 and if you spend yourselves in behalf of the hungry and satisfy the needs of the oppressed, then your light will rise in the darkness, and your night will become like the noonday.
13. Luke 3:11 He answered, "If you have two shirts, share with someone who does not have one. If you have food, share that too."
When you care for others you are caring for Christ. 
14. Matthew 25:40 The King will answer and say to them, 'Truly I say to you, to the extent that you did it to one of these brothers of Mine, even the least of them, you did it to Me.'
We are to show kindness to others. 
15. Ephesians 4:32 And be kind to one another, compassionate, forgiving one another just as God has forgiven you in the Messiah.
16. Colossians 3:12 Therefore, God's chosen ones, holy and loved, put on heartfelt compassion, kindness, humility, gentleness, and patience,
Love for others should result in making sacrifices for others. 
17. Ephesians 5:2 and walk in love, just as Christ also loved you and gave Himself up for us, an offering and a sacrifice to God as a fragrant aroma.
18. Romans 12:10 Be kindly affectioned one to another with brotherly love; in honour preferring one another;
Our lives should not be revolved around self.  
19. Philippians 2:4 do not merely look out for your own personal interests, but also for the interests of others.
20. 1 Corinthians 10:24 No one should seek his own welfare, but rather his neighbor's.
Reminders
21. 2 Thessalonians 3:13 But you, brothers and sisters, do not grow weary in doing what is right.
22. Proverbs 18:1 Unfriendly people care only about themselves; they lash out at common sense.
23. Proverbs 29:7 The righteous care about justice for the poor, but the wicked have no such concern.
Doing nothing
24. 1 John 3:17-18 But whoever has the world's goods, and sees his brother in need and closes his heart against him, how does the love of God abide in him? Little children, let us not love with word or with tongue, but in deed and truth.
25. James 2:15-17 If a brother or sister is poorly clothed and lacks daily food, and one of you says to them, "Go in peace, keep warm and eat well," but you do not give them what the body needs, what good is it? So also faith, if it does not have works, is dead being by itself.
Bonus: The Good Samaritan 
Luke 10:30-37 Jesus replied, "A man went from Jerusalem to Jericho. On the way robbers stripped him, beat him, and left him for dead. "By chance, a priest was traveling along that road. When he saw the man, he went around him and continued on his way. Then a Levite came to that place. When he saw the man, he, too, went around him and continued on his way. "But a Samaritan, as he was traveling along, came across the man. When the Samaritan saw him, he felt sorry for the man, went to him, and cleaned and bandaged his wounds. Then he put him on his own animal, brought him to an inn, and took care of him. The next day the Samaritan took out two silver coins and gave them to the innkeeper. He told the innkeeper, 'Take care of him. If you spend more than that, I'll pay you on my return trip. "Of these three men, who do you think was a neighbor to the man who was attacked by robbers?" The expert said, "The one who was kind enough to help him." Jesus told him, "Go and imitate his example!"