What does the Bible say about being blessed?
When people think about being blessed usually people think about material blessings. Contrary to what others think a blessing from God isn't prosperity. God could indeed give you a financial blessing, but it's to further help others in need and not to turn materialistic.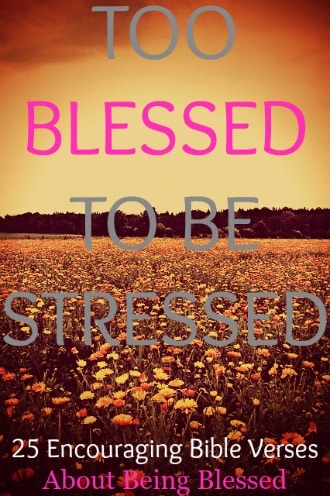 God knows your needs and He promises to always provide for you. Usually you hear people say, "I got a new car, new house, or promotion. I'm so blessed. God has been amazing to me."
While we can't take things for granted and we should be thankful for these things, we should be more thankful for our spiritual blessings. Christ has saved us from death and the wrath of God.
Because of Him we are in God's family. This is a blessing we should all cherish more. Because of this one blessing we get many more such as we get to enjoy God.
We get to be intimate with God and understand Him better. We get to witness about what Christ has done for us. We are no longer slaves to sin.
You might be a poor Christian, but you're blessed because of Christ. You are rich in Christ. We can't always call the good things blessings and not the bad things. Every trial is a blessing.
How, you ask? Trials bring out fruit, they help you grow, they give an opportunity for a testimony, etc. God blesses us and we don't even realize it. We must ask God to help us find a blessing in everything, whether good or bad. Are you thanking God for the numerous blessings in your life?
Christian quotes about being blessed
"Concentrate on counting your blessings and you'll have little time to count anything else." Woodrow Kroll
"Prayer is the way and means God has appointed for the communication of the blessings of His goodness to His people." A.W. Pink
"The private and personal blessings we enjoy – the blessings of immunity, safeguard, liberty and integrity – deserve the thanksgiving of a whole life." Jeremy Taylor
Being blessed by God
1. James 1:25 But if you look carefully into the perfect law that sets you free, and if you do what it says and don't forget what you heard, then God will bless you for doing it.
2. John 13:17 Now that you know these things, God will bless you for doing them.
3. Luke 11:28 Jesus replied, "But even more blessed are all who hear the word of God and put it into practice."
4. Revelation 1:3 Blessed is the one who reads aloud the words of this prophecy, and blessed are those who hear it and take to heart what is written in it, because the time is near.
Spiritual blessings for those in Christ
5. John 1:16 From his abundance we have all received one gracious blessing after another.
6. Ephesians 1:3-5 All praise to God, the Father of our Lord Jesus Christ, who has blessed us with every spiritual blessing in the heavenly realms because we are united with Christ. Even before he made the world, God loved us and chose us in Christ to be holy and without fault in his eyes. God decided in advance to adopt us into his own family by bringing us to himself through Jesus Christ. This is what he wanted to do, and it gave him great pleasure.
7. Ephesians 1:13-14 In him you also, when you heard the word of truth, the gospel of your salvation, and believed in him, were sealed with the promised Holy Spirit, who is the guarantee of our inheritance until we acquire possession of it, to the praise of his glory.
8. Genesis 12:2 And I will make of you a great nation, and I will bless you and make your name great, so that you will be a blessing.
9. 2 Corinthians 9:8 And God is able to bless you abundantly, so that in all things at all times, having all that you need, you will abound in every good work.
10. Luke 6:38 give, and it will be given to you. Good measure, pressed down, shaken together, running over, will be put into your lap. For with the measure you use it will be measured back to you.
Who are blessed?
11. James 1:12 Blessed is the man that endureth temptation: for when he is tried, he shall receive the crown of life, which the Lord hath promised to them that love him.
12. Matthew 5:2-12 And he opened his mouth and taught them, saying: "Blessed are the poor in spirit, for theirs is the kingdom of heaven. "Blessed are those who mourn, for they shall be comforted. "Blessed are the meek, for they shall inherit the earth. "Blessed are those who hunger and thirst for righteousness, for they shall be satisfied. "Blessed are the merciful, for they shall receive mercy. "Blessed are the pure in heart, for they shall see God. "Blessed are the peacemakers, for they shall be called sons of God. "Blessed are those who are persecuted for righteousness' sake, for theirs is the kingdom of heaven. "Blessed are you when others revile you and persecute you and utter all kinds of evil against you falsely on my account. Rejoice and be glad, for your reward is great in heaven, for so they persecuted the prophets who were before you."
13. Psalm 32:1-2 How blessed is the one whose transgression is forgiven, whose sin is covered. How blessed is the person against whom the Lord does not charge iniquity, and in whose spirit there is no deceit.
14. Psalm 1:1 Blessed is the man who walks not in the counsel of the wicked, nor stands in the way of sinners, nor sits in the seat of scoffers; "Blessed are you who are hungry now, for you shall be satisfied. "Blessed are you who weep now, for you shall laugh."
15. Psalm 146:5 How blessed is he whose help is the God of Jacob, Whose hope is in the LORD his God.
The blessings of life
16. Psalm 3:5 I lie down and sleep; I wake again, because the LORD sustains me.
Blessings in disguise
17. Genesis 50:18-20 Then his brothers came and threw themselves down before Joseph. "Look, we are your slaves!" they said. But Joseph replied, "Don't be afraid of me. Am I God, that I can punish you? You intended to harm me, but God intended it all for good. He brought me to this position so I could save the lives of many people."
18. Job 5:17 "Blessed is the one whom God corrects; so do not despise the discipline of the Almighty."
19. Psalms 119:67-68 Before I was afflicted I went astray, but now I obey your word. You are good, and what you do is good; teach me your decrees.
Children are a blessing from God
20. Psalm 127:3-5 Children are a heritage from the Lord, offspring a reward from him. Like arrows in the hands of a warrior are children born in one's youth. Blessed is the man whose quiver is full of them. They will not be put to shame when they contend with their opponents in court.
Be thankful for the blessings of the Lord.
21. Psalm 37:4 Delight yourself in the LORD, and he will give you the desires of your heart.
22. Philippians 4:19 And my God will supply every need of yours according to his riches in glory in Christ Jesus.
Examples of being blessed in the Bible
23. Genesis 22:16-18 This is what the Lord says: Because you have obeyed me and have not withheld even your son, your only son, I swear by my own name that I will certainly bless you. I will multiply your descendants beyond number, like the stars in the sky and the sand on the seashore. Your descendants will conquer the cities of their enemies. And through your descendants all the nations of the earth will be blessed—all because you have obeyed me.
24. Genesis 12:1-3 The Lord had said to Abram, "Leave your native country, your relatives, and your father's family, and go to the land that I will show you. I will make you into a great nation. I will bless you and make you famous, and you will be a blessing to others. I will bless those who bless you and curse those who treat you with contempt. All the families on earth will be blessed through you."
25. Deuteronomy 28:1-6 "And if you faithfully obey the voice of the Lord your God, being careful to do all his commandments that I command you today, the Lord your God will set you high above all the nations of the earth. And all these blessings shall come upon you and overtake you, if you obey the voice of the Lord your God. Blessed shall you be in the city, and blessed shall you be in the field. Blessed shall be the fruit of your womb and the fruit of your ground and the fruit of your cattle, the increase of your herds and the young of your flock. Blessed shall be your basket and your kneading bowl. Blessed shall you be when you come in, and blessed shall you be when you go out."
Bonus
1 Thessalonians 5:18 Whatever happens, give thanks, because it is God's will in Christ Jesus that you do this.