Bible verses about sin
We all sin. It's a fact and part of human nature. Our world is fallen and corrupt because of sin. It is impossible to never sin, if anyone says that they've never committed any iniquity, they are outright liars.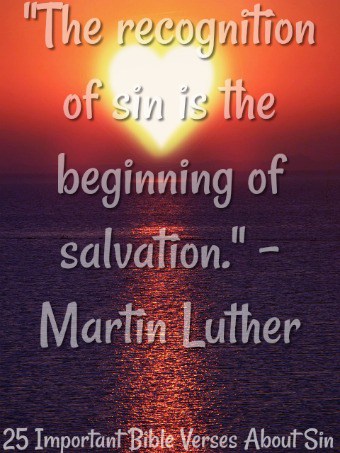 Only Jesus Christ, who was and is perfect in every way, never sinned. Ever since our first earthly father and mother- Adam and Eve- made the catastrophic mistake of taking from the forbidden fruit, we are born with the tendency to choose sin over obedience.
We cannot help ourselves but to keep on falling short of God's glory. If left to our own devices, we will never measure up to God's standards, because we are weak and prone to the lusts of the flesh. We enjoy sin too much because it gratifies the flesh. But there is hope in Christ! Read ahead to better understand what sin is, why we sin, where we can find freedom, and more.
Quotes 
"As the salt flavors every drop in the Atlantic, so does sin affect every atom of our nature. It is so sadly there, so abundantly there, that if you cannot detect it, you are deceived." – Charles H. Spurgeon

"Be killing sin or it will be killing you." – John Owen

"One great power of sin is that it blinds men so that they do not recognize its true character." – Andrew Murray

"The recognition of sin is the beginning of salvation." – Martin Luther
What is sin?
There are five words in Hebrew that refer to sin. I will only discuss two of these as they are the most common form of sin and the most mentioned in Scripture. The first one is unintentional sin or "chata" in Hebrew which translates into meaning "missing the mark, to stumble or fall."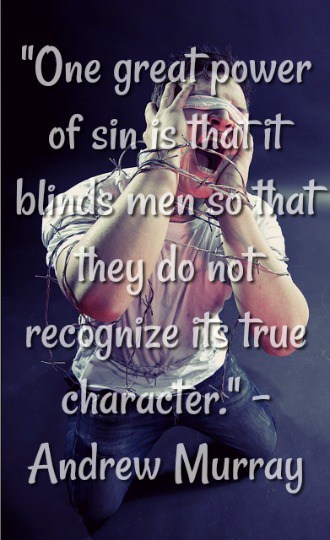 By unintentional, it does not mean that the person was completely unaware of their sinning, but they did not deliberately plan to sin but simply fell short of God's standards. We commit this type of sin on a daily basis, mostly in our minds. When we mentally murmur against someone and do it before we realize it, we have committed "chata." Although, this sin is very common it's still serious because it is complete disobedience against the Lord.
The second type of sin is "pesha" which means "transgression, rebellion." This sin is more serious because it is deliberate; planned and executed. When a person crafts a lie in their mind and then deliberately tells this lie, they have committed "pesha." With that said, the Lord hates all sin and all sin is worthy of condemnation. 
1. Galatians 5:19-21 "Now the works of the flesh are evident, which are: adultery, fornication, uncleanness, lewdness, idolatry, sorcery, hatred, contentions, jealousies, outbursts of wrath, selfish ambitions, dissensions, heresies, envy, murders, drunkenness, revelries, and the like; of which I tell you beforehand, just as I also told you in time past, that those who practice such things will not inherit the kingdom of God."
2. Galatians 6:9 "For he who sows to his flesh will of the flesh reap corruption, but he who sows to the Spirit will of the Spirit reap everlasting life."
3. James 4:17 "Therefore, to him who knows to do good and does not do it, to him it is sin."
Why do we sin?
The million-dollar question is, "so if we know what we're supposed to do and what we're not supposed to do, why do we still sin?" We are born with a sinful nature after our first parents. Yet, we still have free will, but like our first parents, we choose to sin. Because doing our own thing over obeying the Word, brings our human flesh more satisfaction.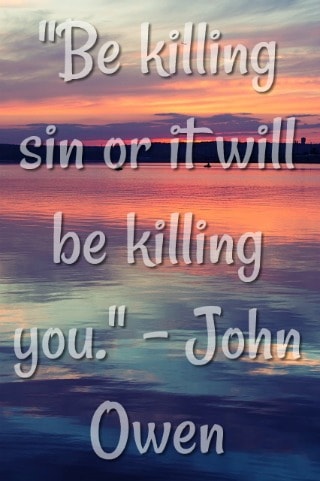 We sin because it's easier than walking in obedience. Even when we don't want to sin, there is a war inside of us. The Spirit wants to obey but the flesh wants to do its own thing. We don't want to think about the consequences (sometimes we simply don't) so we find it easier to dive right into the grime and mire that sin is. Sin is fun and enjoyable to the flesh although it comes at a high cost.
4. Romans 7:15-18 "For I do not understand my own actions. For I do not do what I want, but I do the very thing I hate. Now if I do what I do not want, I agree with the law, that it is good. So now it is no longer I who do it, but sin that dwells within me. For I know that nothing good dwells in me, that is, in my flesh. For I have the desire to do what is right, but not the ability to carry it out."
5. Matthew 26:41 "Watch and pray that you may not enter into temptation. The spirit indeed is willing, but the flesh is weak."
6. 1 John 2:15-16 "Do not love the world or the things in the world. If anyone loves the world, the love of the Father is not in him. For all that is in the world—the desires of the flesh and the desires of the eyes and pride of life—is not from the Father but is from the world."
What are the consequences of sin?
The short answer to this question is death. The Bible says that the wages of sin is death. However, sin does bring consequences to our lives while we are still alive. Perhaps the worst outcome of our sinning is a broken relationship with God. If you have ever felt like God is distant, you're not the only one, we all have at some point felt this way and it's because of sin.
Sin pushes us farther away from the One our souls long for and this is very painful. Sin separates us from the Father. Not only does it lead to death and not only does sin separate us from the Father, but sin is harmful to us and those around us. 
7. Romans 3:23 "for all have sinned and fall short of the glory of God"
8. Colossians 3:5-6 "So put to death the sinful, earthly things lurking within you. Have nothing to do with sexual immorality, impurity, lust, and evil desires. Don't be greedy, for a greedy person is an idolater, worshiping the things of this world. Because of these sins, the anger of God is coming."
9. 1 Corinthians 6:9-10 "Don't you know that the unrighteous will not inherit God's kingdom? Do not be deceived: No sexually immoral people, idolaters, adulterers, or anyone practicing homosexuality, no thieves, greedy people, drunkards, verbally abusive people, or swindlers will inherit God's kingdom."
10. Romans 6:23 " For the wages of sin is death, but the gift of God is eternal life in Christ Jesus our Lord."
John 8:34 "Jesus responded, "I assure you: Everyone who commits sin is a slave of sin."
12. Isaiah 59:2 "But your iniquities have separated between you and your God, and your sins have hid his face from you, that he will not hear."
The sins of David
You have probably heard or read the story of David in the Bible. King David is perhaps the most well-known king of Israel. He was called by God "a man after His own heart." But David was not innocent, in fact, he was the perpetrator of a terrible crime.
One day he was on the balcony of his palace and saw a married woman named Bathsheba bathing. He lusted after her and called for her to be brought to his palace where he had sexual relations with her. Later, he learned that she had become pregnant by him. David tried to cover his sin by giving her husband some time off from his soldier duties so he could be with his wife. But Uriah was devoted and loyal to the king so he did not leave his duties.
David knew that there was no way to pin Bathsheba's pregnancy on her husband so he sent Uriah to the front of the battleline where a sure death awaited him. The Lord sent the prophet, Nathan to confront him about his sin. God was not pleased by David's sins, so He punished him by taking his son's life.
13. 2 Samuel 12:13-14 "David responded to Nathan, "I have sinned against the Lord." Then Nathan replied to David, "The Lord has taken away your sin; you will not die. However, because you treated the Lord with such contempt in this matter, the son born to you will die."
Forgiveness of sins
Despite it all, there is hope! Over 2,000 years ago God sent His only Son, Jesus Christ to pay the price for our sins. Remember I said earlier that the wages of sin is death? Well, Jesus died so we didn't have to. In Christ there is forgiveness for past, present, and future sins.
Those who repent (change of mind that leads to a change of lifestyle) and put their trust in Christ are forgiven and given a clean slate before the Lord. That's good news! This is called redemption by the grace of God. Just as there are many chapters and verses in the Bible that call out sin and judgment, there are many on forgiveness. The Lord wants you to know that you can start again, your sins are tossed into the ocean of oblivion. We need only to repent and put our trust in the blood of Christ.
14. Ephesians 2:8-9 "For by grace you have been saved through faith, and that not of yourselves; it is the gift of God, not of works, lest anyone should boast."
15. 1 John 1:7-9 "But if we walk in the light as He is in the light, we have fellowship with one another, and the blood of Jesus Christ His Son cleanses us from all sin. If we say that we have no sin, we deceive ourselves, and the truth is not in us. If we confess our sins, He is faithful and just to forgive us our sins and to cleanse us from all unrighteousness."
16. Psalms 51:1-2 "Have mercy upon me, O God, according to Your lovingkindness; according to the multitude of Your tender mercies, blot out my transgressions. Wash me thoroughly from my iniquity, and cleanse me from my sin."
17. Isaiah 1:18 "Come now, and let us reason together," says the Lord, "Though your sins are like scarlet, they shall be as white as snow; though they are red like crimson, they shall be as wool."
18. Acts 3:19 "Repent therefore and be converted, that your sins may be blotted out, so that times of refreshing may come from the presence of the Lord."
Struggling with sin
What about our struggles with sin? What if there's a sin I can't seem to overcome? What about addictions? How do we deal with these? We all have our struggles and battles with sin. It's like Paul said, "I do what I don't want to do." There is a difference between struggling, which we all do and living in sin. 
I struggle with my thoughts, desires, and habits. I desire obedience, but I struggle with these things. Sin breaks my heart, but in my struggle I am driven to Christ. My struggle allows me to see my great need for a Savior. Our struggles should cause us to cling to Christ and grow in our appreciation for His blood. Once again, there is a difference between struggling and practicing sin.
A struggling believer desires to be more than he or she is. With that said, believers will have victory over sin. Some are slower in their progression than others, but there will be progression and growth. If you struggle with sin, I encourage you to cling to Christ knowing His blood alone is enough. I also encourage you to discipline yourself by getting into the Word, intimately seeking Christ in prayer, and having fellowship with other believers regularly. 
19. Romans 7:19-21 "For the good that I will to do, I do not do; but the evil I will not to do, that I practice. Now if I do what I will not to do, it is no longer I who do it, but sin that dwells in me. I find then a law, that evil is present with me, the one who wills to do good."
20. Romans 7:22-25 "For I delight in the law of God according to the inward man. But I see another law in my members, warring against the law of my mind, and bringing me into captivity to the law of sin which is in my members. O wretched man that I am! Who will deliver me from this body of death? I thank God—through Jesus Christ our Lord! So then, with the mind I myself serve the law of God, but with the flesh the law of sin."
21. Hebrews 2:17-18 "Therefore, in all things He had to be made like His brethren, that He might be a merciful and faithful High Priest in things pertaining to God, to make propitiation for the sins of the people. For in that He Himself has suffered, being tempted, He is able to aid those who are tempted."
Freedom from the power of sin
When Jesus resurrected, He beat death and the enemy. He has power over death! And His victory, becomes OUR victory. Isn't this the best news you've heard? The Lord promises to give us power over sin if we allow Him to fight the battles for us. Truth is, we cannot do anything on our own, especially overcome the power of sin on our lives. But God has given us the power over the enemy when we claim the blood of Jesus. When the Lord forgives us and sets us free from sin, we are set above our weaknesses. We can overcome in the name of Jesus. Though, while we live on this earth, we will face many temptations, the Lord has given us a way of escape (1 Corinthians 10:13). God knows and understands our human struggles because He was tempted like we are when He was living as a man. But He also knows about freedom and promises us a life of victory.
22. Romans 6:6-7 "We know that our old self was crucified with him in order that the body of sin might be brought to nothing, so that we would no longer be enslaved to sin. For one who has died has been set free from sin."
23. 1 Peter 2:24 "He himself bore our sins in his body on the tree, that we might die to sin and live to righteousness. By his wounds you have been healed."
24. Hebrews 9:28 "So Christ, having been offered once to bear the sins of many, will appear a second time, not to deal with sin but to save those who are eagerly waiting for him."
25. John 8:36 "So if the Son sets you free, you will be free indeed." I pray that these verses have helped you in some way. I want you to know that though we are doomed to hell because of our sins the Lord has provided for us a way to escape our punishment. By believing in the death of Jesus and claiming His victory on the cross for our sins we can partake in His freedom. You can have a new beginning today if you wish. The Lord is good and just so that if we come before Him with humility, He will remove the sins in our lives and make us new. We have hope!"