Bible verses about greed
Greed is the reason for drug dealings, stealing, robbing, lying, fraud, and other sinful businesses such as the porn industry, and more. When you're greedy for money you will do anything to get the money you love. Scripture tells us that it's impossible to serve both God and money. Greed is the main reason why there are many false teachers in Christianity. They will rob people of the truth so they can have more money in the collection plate. The greedy are very selfish and rarely and barely do they make sacrifices for the poor.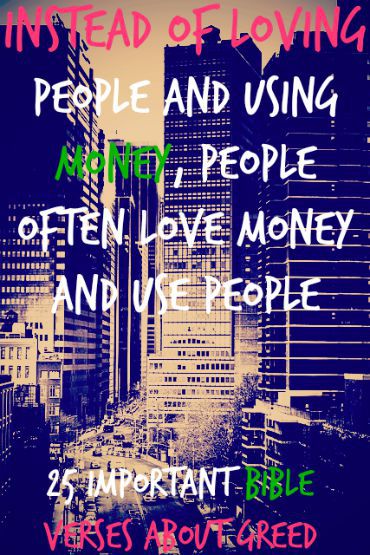 They will borrow money from you and they won't pay you back. They seek friendship with people only because it benefits them. The attitude for many people is what can this person do for me?
Greed is a sin and those who live in this wicked lifestyle will not inherit the kingdom of God. Scripture teaches us to stop worrying about things. Money in itself is not a sin, but don't love money.
God knows what you need. Be content in life. God will always provide for His children. Stop hoarding wealth. Glorify God in all your actions. Live for Him and not yourself. Examine yourself in all situations. Ask yourself am I being greedy right now?
Am I putting others before myself as the Bible tells me to do? Share your wealth with others. Trust the Lord with your wealth. Sadly many people think I don't need to pray or accept Christ I have a savings account.
These same people run to God when they get into a financial crises. Live with an eternal perspective. Store up treasures in Heaven instead of on earth. Christ took upon God's wrath for you. It's all about Him. Are you willing to sacrifice everything for Him?
Quotes
"Instead of loving people and using money, people often love money and use people." ― Wayne Gerard Trotman

"One gains by losing self for others and not by hoarding for oneself."  Watchman Nee

The pursuit of things robs me of investing more in the work of Christ."  Jack Hyles

Some people are so poor, all they have is money. Patrick Meagher
What does the Bible say?
1. 1 Timothy 6:9-10 But people who want to get rich keep toppling into temptation and are trapped by many stupid and harmful desires that plunge them into destruction and ruin.  For the love of money is a root of all kinds of evil, and by craving it, some have wandered away from the faith and pierced themselves with many pains.
2. Hebrews 13:5 Your conduct must be free from the love of money and you must be content with what you have, for he has said, "I will never leave you and I will never abandon you." So we can say with confidence, "The Lord is my helper, and I will not be afraid. What can man do to me?"
3. Ecclesiastes 5:10 Whoever loves money will never have enough money. Whoever loves luxury will not be content with abundance. This also is pointless.
4. Matthew 6:24 "No one can serve two masters, because either he will hate one and love the other, or be loyal to one and despise the other. You cannot serve God and riches!"
5. Luke 12:15 He told the people, "Be careful to guard yourselves from every kind of greed. Life is not about having a lot of material possessions."
6. Proverbs 28:25 A greedy person stirs up a fight, but whoever trusts the LORD prospers.
7. 1 John 2:16 For everything that is in the world—the desire for fleshly gratification, the desire for possessions, and worldly arrogance—is not from the Father but is from the world.
Having a greedy heart.
8. Mark 7:21-22 For from within, out of the human heart, come evil ideas, sexual immorality, theft, murder, adultery, greed, evil, deceit, debauchery, envy, slander, pride, and folly.
9. James 4:3 you ask and do not receive because you ask wrongly, so you can spend it on your passions.
10. Psalm 10:3 He boasts about the cravings of his heart; he blesses the greedy and reviles the LORD.
Jesus had everything, but He became poor for us. 
11. 2 Corinthians 8:7-9 Since you excel in so many ways–in your faith, your gifted speakers, your knowledge, your enthusiasm, and your love from us–I want you to excel also in this gracious act of giving. I am not commanding you to do this. But I am testing how genuine your love is by comparing it with the eagerness of the other churches. You know the generous grace of our Lord Jesus Christ. Though he was rich, yet for your sakes he became poor, so that by his poverty he could make you rich.
12. Luke 9:58  But Jesus replied, "Foxes have dens to live in, and birds have nests, but the Son of Man has no place even to lay his head."
Better to give than receive.
13. Acts 20:35 I have shewed you all things, how that so labouring ye ought to support the weak, and to remember the words of the Lord Jesus, how he said, It is more blessed to give than to receive.
14. Proverbs 11:24-15 Those who give freely gain even more; others hold back what they owe, becoming even poorer. A generous person will prosper, and anyone who gives water will receive a flood in return.
Dishonest gain.
15. Proverbs 21:6 Those who gather wealth by lying are wasting time. They are looking for death.
16. Proverbs 28:20 The faithful man will prosper with blessings, but whoever is in a hurry to get rich will not escape punishment.
17. Proverbs 15:27 Those who are greedy for unjust gain bring trouble into their homes, but the person who hates bribes will live.
Greed will keep many people out of Heaven.
18. 1 Corinthians 6:9-10 Don't you know that wicked people won't inherit God's kingdom? Stop deceiving yourselves! People who continue to commit sexual sins, who worship false gods, those who commit adultery, homosexuals, or thieves, those who are greedy or drunk, who use abusive language, or who rob people will not inherit God's kingdom.
19. Matthew 19:24 I can guarantee again that it is easier for a camel to go through the eye of a needle than for a rich person to enter the kingdom of God."
20. Mark 8:36 For what does it profit a man to gain the whole world and forfeit his soul?
Reminder
21. Colossians 3:5 Put to death therefore what is earthly in you: sexual immorality, impurity, passion, evil desire, and covetousness, which is idolatry.
False teachers are filled with greed such as Benny Hinn, T.D. Jakes, and Joel Osteen. 
22. 2 Peter 2:3 They will exploit you in their greed with deceptive words. Their condemnation, pronounced long ago, is not idle, and their destruction does not sleep.
23. Jeremiah 6:13 "From the least to the greatest, their lives are ruled by greed. From prophets to priests, they are all frauds.
Judas was very greedy. In fact, greed caused Judas to betray Christ.
24. John 12:4-6 But Judas Iscariot, one of his disciples, who was going to betray him, asked, "Why wasn't this perfume sold for 300 denarii and the money given to the destitute?" He said this, not because he cared about the destitute, but because he was a thief. He was in charge of the moneybag and would steal what was put into it.
25. Matthew 26:15-16 and inquired, "What are you willing to give me if I betray Jesus to you?" They offered him 30 pieces of silver, and from then on he began to look for an opportunity to betray Jesus.
Bonus: We must pray that we don't become greedy. 
Psalm 119:35-37 Help me live my life by your commands, because my joy is in them. Turn my heart to your decrees and away from unjust gain. Turn my eyes away from gazing at worthless things, and revive me by your ways.