Bible verses about protection from evil
When we're giving thanks to God we should give Him thanks for the behind the scenes work He is doing in our lives. You never really know how many times God has protected you from danger, but trust and believe He has. God is working in our lives every day and even if we're going through suffering right now God will use it for good.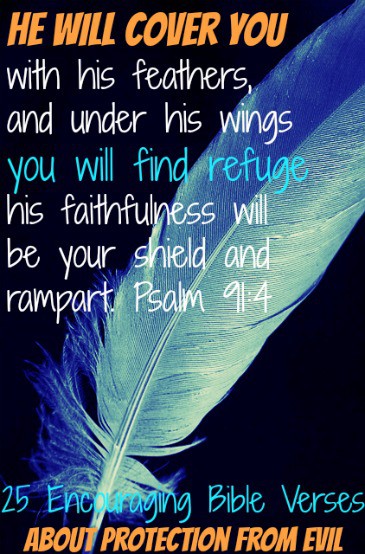 He is always with you, knows your needs, and will help you. Christians can rest assure that God will always protect His children.
The devil can never harm Christians because we are protected by the blood of Christ. Neither can voodoo spells, witchcraft, etc.
God is our impenetrable shield. In all situations pray and take refuge in the Lord because He loves and cares for you.
What does the Bible say?
1. 1 John 5:18 We know that God's children do not make a practice of sinning, for God's Son holds them securely, and the evil one cannot touch them.
2. 1 John 4:4 Dear children, you belong to God. So you have won the victory over these people, because the one who is in you is greater than the one who is in the world.
3. 2 Thessalonians 3:3 But the Lord is faithful; he will strengthen you and guard you from the evil one.
No harm
4. Psalm 121:7-8 The LORD keeps you from all harm and watches over your life. The LORD keeps watch over you as you come and go, both now and forever.
5. Proverbs 1:33-34 but whoever listens to me will live in safety and be at ease, without fear of harm." My son, if you receive my words and treasure up my commandments with you,
6. Proverbs 19:23 The fear of the LORD leads to life; one will sleep at night without danger.
7. Psalm 91:9-10 Because thou hast made the LORD, which is my refuge, even the most High, thy habitation; There shall no evil befall thee, neither shall any plague come nigh thy dwelling.
8. Proverbs 12:21 No harm comes to the godly, but the wicked have their fill of trouble.
9. Ecclesiastes 8:5 Whoever obeys his command will come to no harm, and the wise heart will know the proper time and procedure.
He is faithful
10. Psalm 91:14-16 The Lord says, "I will rescue those who love me. I will protect those who trust in my name. When they call on me, I will answer; I will be with them in trouble. I will rescue and honor them. I will reward them with a long life and give them my salvation."
11. Psalm 91:1-6 Those who live in the shelter of the Most High will find rest in the shadow of the Almighty. This I declare about the Lord: He alone is my refuge, my place of safety; he is my God, and I trust him. For he will rescue you from every trap and protect you from deadly disease. He will cover you with his feathers. He will shelter you with his wings. His faithful promises are your armor and protection. Do not be afraid of the terrors of the night, nor the arrow that flies in the day. Do not dread the disease that stalks in darkness, nor the disaster that strikes at midday.
Who can ever be against us?
12. Isaiah 54:17 But in that coming day no weapon turned against you will succeed. You will silence every voice raised up to accuse you. These benefits are enjoyed by the servants of the LORD; their vindication will come from me. I, the LORD, have spoken!
13. Romans 8:31 What shall we then say to these things? If God be for us, who can be against us?
14. Psalm 118:6-7 The LORD is for me, so I will have no fear. What can mere people do to me? Yes, the LORD is for me; he will help me. I will look in triumph at those who hate me.
15. Isaiah 8:10 Devise your strategy, but it will be thwarted; propose your plan, but it will not stand, for God is with us.
16. Psalm 27:1  A Psalm of David. The LORD is my light and my salvation; whom shall I fear? The LORD is the strength of my life; of whom shall I be afraid?
Tough times
17. Psalm 23:1-4 The Lord is my shepherd; I have all that I need. He lets me rest in green meadows; he leads me beside peaceful streams. He renews my strength. He guides me along right paths, bringing honor to his name. Even when I walk through the darkest valley, I will not be afraid, for you are close beside me. Your rod and your staff protect and comfort me.
18. Isaiah 41:13 For I hold you by your right hand–I, the LORD your God. And I say to you, 'Don't be afraid. I am here to help you.
19. Deuteronomy 4:31 For the LORD your God is a merciful God; he will not abandon you or destroy you or forget the solemn covenant he made with your ancestors.
20. Deuteronomy 31:8 The LORD himself goes before you and will be with you; he will never leave you nor forsake you. Do not be afraid; do not be discouraged."
Refuge
21. Psalm 46:1-2 God is our refuge and strength, a very present help in trouble. Therefore will not we fear, though the earth be removed, and though the mountains be carried into the midst of the sea;
22. Psalm 9:9-10 The LORD is a shelter for the oppressed, a refuge in times of trouble. Those who know your name trust in you, for you, O LORD, do not abandon those who search for you.
23. Proverbs 18:10 The name of the Lord is a strong tower; the righteous man runs into it and is safe.
Even though God will protect you never stand in front of danger and play with fire.
24. Proverbs 27:12 The prudent sees danger and hides himself, but the simple go on and suffer for it.
God can turn any bad situation into a good situation
25. Romans 8:28 And we know that for those who love God all things work together for good, for those who are called according to his purpose.