Bible verses about praying to saints
Praying to Mary and other dead saints is not biblical and praying to anyone other than God is idolatry. To bow down to a statue or painting and pray to it is evil and it is forbidden in Scripture. When confronted some Catholics say we don't pray to them, but we ask them to pray for us. I've talked to Catholics who actually told me they pray directly to Mary.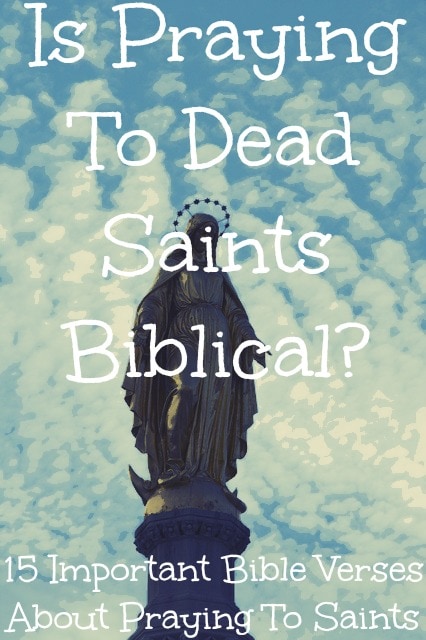 Nowhere in Scripture does it say pray to dead saints. Nowhere in Scripture does it say ask dead saints to pray for you.
Nowhere does it say that people in Heaven will pray for people on earth. Alive Christians on earth can pray for you, but dead people will not pray to God for you and you can't find any passage to justify this.
Why pray to the dead when you can pray to God? It's a terrible and evil thing to pray to Mary, but Catholics even worship Mary more than they do Jesus.
The Lord will not share His glory with anyone. They will do all they can to justify rebellion, but Catholicism continues to put many people on the road to hell.
The Salve Regina (hail Holy Queen) Blasphemy.
"(Hail Holy Queen, Mother of Mercy, our life our sweetness and our hope). To thee do we cry, poor banished children of Eve; To thee do we send up our sighs, mourning and weeping in this valley of tears. Turn then, most gracious advocate, thine eyes of mercy toward us and after this our exile show unto us the blessed fruit of thy womb, Jesus. O clement, O loving, O sweet Virgin Mary!"
One mediator and that is Jesus.
1. Timothy 2:5 There is one God. There is also one mediator between God and human beings—a human, the Messiah Jesus. – (Is Jesus God or the Son of God?)
2. Hebrews 7:25 Wherefore he is able also to save them to the uttermost that come unto God by him, seeing he ever liveth to make intercession for them.
3. John 14:13-14  And whatsoever ye shall ask in my name, that will I do, that the Father may be glorified in the Son. If ye shall ask any thing in my name, I will do it.
Prayer is worship. The angel said, "No! Worship God not me." Peter said, "get up."
4. Revelation 19:10 Then I bowed down at the angel's feet to worship him, but he said to me, "Do not worship me! I am a servant like you and your brothers and sisters who have the message of Jesus. Worship God, because the message about Jesus is the spirit that gives all prophecy.
5. Acts 10:25-26 When Peter entered, Cornelius met him, fell at his feet, and worshiped him. But Peter helped him up, saying, "Stand up. I too am only a human."
Mary idolatry in the Catholic Church.
6. 2 Chronicles 33:15 And he took away the strange gods, and the idol out of the house of the LORD, and all the altars that he had built in the mount of the house of the LORD, and in Jerusalem, and cast them out of the city.
7. Leviticus 26:1 Ye shall make you no idols nor graven image, neither rear you up a standing image, neither shall ye set up any image of stone in your land, to bow down unto it: for I am the Lord your God.
Scripture never ever says pray to dead people or ask dead people to prayer for you.
8. Matthew 6:9 Pray then like this: "Our Father in heaven, hallowed be your name."
9. Philippians 4:6 Be careful for nothing; but in every thing by prayer and supplication with thanksgiving let your requests be made known unto God.
10. Lamentations 3:40-41 Let us test and examine our ways, and return to the Lord! Let us lift up our hearts and hands to God in heaven.
Speaking with the dead in Scripture is always associated with sorcery.
11. Leviticus 20:27 "Men and women among you who act as mediums or who consult the spirits of the dead must be put to death by stoning. They are guilty of a capital offense."
12. Deuteronomy 18:9-12 When thou art come into the land which the Lord thy God giveth thee, thou shalt not learn to do after the abominations of those nations. There shall not be found among you any one that maketh his son or his daughter to pass through the fire, or that useth divination, or an observer of times, or an enchanter, or a witch. Or a charmer, or a consulter with familiar spirits, or a wizard, or a necromancer. For all that do these things are an abomination unto the Lord: and because of these abominations the Lord thy God doth drive them out from before thee.
Reminders
13. John 14:6 Jesus said to him, "I am the way, and the truth, and the life. No one comes to the Father except through me."
14. 1 John 4:1 Beloved, do not believe every spirit, but test the spirits to see whether they are from God, for many false prophets have gone out into the world.
15. Matthew 6:7 And when you pray, do not heap up empty phrases as the Gentiles do, for they think that they will be heard for their many words.
Bonus
2 Timothy 4:3-4 For the time will come when they will not endure sound doctrine; but after their own lusts shall they heap to themselves teachers, having itching ears; And they shall turn away their ears from the truth, and shall be turned unto fables.