Bible verses about missing someone
Are you missing a family member or a friend who moved away? Maybe it's someone who is away just for the moment, or someone who passed away? Whenever you're missing a loved one seek God's assistance for comfort.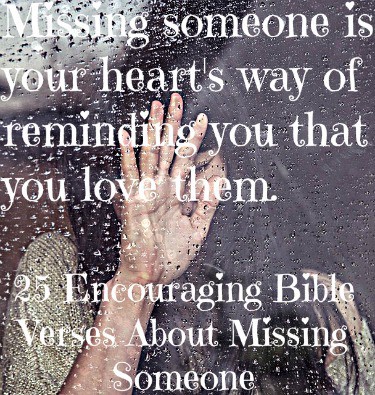 Ask God to encourage and heal your heart. In all situations remember, He is our almighty God.
He loves to hear the prayers of the righteous and He is there for us and He will provide you with strength.
Quote
"Missing someone is your heart's way of reminding you that you love them."
Pray to the Lord for help, comfort, and encouragement.
1. Philippians 4:6-7 Don't worry about anything, but in all your prayers ask God for what you need, always asking him with a thankful heart. And God's peace, which is far beyond human understanding, will keep your hearts and minds safe in union with Christ Jesus.
2. Psalm 62:8 Trust in him at all times, you people! Pour out your hearts before him! God is our shelter!
3. Psalm 102:17 He will respond to the prayer of the destitute; he will not despise their plea.
4. Psalm 10:17 You, LORD, hear the desire of the afflicted; you encourage them, and you listen to their cry.
Brokenhearted
5. Psalm 147:3 He heals the brokenhearted and binds up their wounds.
6. Psalm 34:18-19 The Lord is near to those who are discouraged; he saves those who have lost all hope. Good people suffer many troubles, but the Lord saves them from them all;
A glad heart
7. Proverbs 15:13 A glad heart makes a cheerful face, but by sorrow of heart the spirit is crushed.
8. Proverbs 17:22 A cheerful heart is good medicine, but a crushed spirit dries up the bones.
9. John 16:22 So also you have sorrow now, but I will see you again, and your hearts will rejoice, and no one will take your joy from you.
He is the God of comfort
10. Isaiah 66:13 "As a mother comforts her child, so will I comfort you; and you will be comforted over Jerusalem."
11. Isaiah 40:1 Comfort, comfort my people, says your God.
If someone is away from you at the moment pray for each other.
12. Genesis 31:49 "And Mizpah, for he said, "The Lord watch between you and me, when we are out of one another's sight."
13. 1 Timothy 2:1 First of all, then, I urge that supplications, prayers, intercessions, and thanksgivings be made for all people,
God will give us peace in our time of need.
14. Colossians 3:15 Let the peace of Christ rule in your hearts, since as members of one body you were called to peace. And be thankful.
15. Isaiah 26:3 You keep him in perfect peace whose mind is stayed on you, because he trusts in you.
Give the Lord thanks in all situations
16. 1 Thessalonians 5:16-18 Be joyful always, pray at all times, be thankful in all circumstances. This is what God wants from you in your life in union with Christ Jesus.
17. Ephesians 5:20 always giving thanks to God the Father for everything, in the name of our Lord Jesus Christ.
God is our strength
18. Psalm 46:1 God is our refuge and strength, a helper who is always found in times of trouble.
19. Philippians 4:13 I can do all things through him who strengthens me.
20. Psalm 59:16 But I will sing of your strength; I will sing aloud of your steadfast love in the morning. For you have been to me a fortress and a refuge in the day of my distress.
21. Psalm 59:9-10 I will keep watch for You, my strength, because God is my stronghold. My faithful God will come to meet me; God will let me look down on my adversaries.
Reminders
22. Psalm 48:14 That this is God, our God forever and ever. He will guide us forever.
23. Isaiah 40:11 He will feed his flock like a shepherd. He will carry the lambs in his arms, holding them close to his heart. He will gently lead the mother sheep with their young.
24. Psalm 23:1-5 The Lord is my shepherd; I shall not want. He makes me lie down in green pastures. He leads me beside still waters. He restores my soul. He leads me in paths of righteousness for his name's sake. Even though I walk through the valley of the shadow of death, I will fear no evil, for you are with me; your rod and your staff, they comfort me. You prepare a table before me in the presence of my enemies; you anoint my head with oil;
25. James 5:13 Is anyone among you suffering? Let him pray. Is anyone cheerful? Let him sing praise.