What does the Bible say about daily prayer?
Prayer is the very breath of the Christian life. It is how we reach out to talk to our Lord and Creator. But frequently, this is an often neglected activity. Be honest, are you praying daily?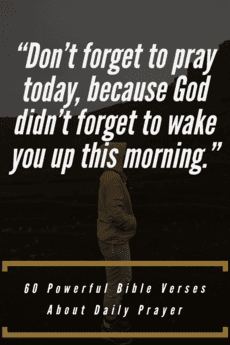 Do you see prayer as something that you need daily? Have you been neglecting the very thing that you need?
Have you been neglecting God in prayer? It's time for a change in our prayer lives!
Christian quotes about daily prayer
"If I fail to spend two hours in prayer each morning, the devil gets the victory through the day and I have so much business I cannot get on without spending three hours daily in prayer." Martin Luther
"Do not face the day until you have faced God in prayer."
"Our prayers may be awkward. Our attempts may be feeble. But since the power of prayer is in the one who hears it and not in the one who says it, our prayers do make a difference." – Max Lucado
"To be a Christian without prayer is no more possible than to be alive without breathing." – Martin Luther
"Prayer is simply talking to God like a friend and should be the easiest thing we do each day."
"Prayer should be the key of the day and the lock of the night."
"Don't forget to pray today, because God didn't forget to wake you up this morning."
"Nothing means so much to our daily prayer life as to pray in the name of Jesus. If we fail to do this, our prayer life will either die from discouragement and despair or become simply a duty which we feel we must perform." Ole Hallesby
"Without exception, the men and women I have known who make the most rapid, consistent, and evident growth in Christlikeness have been those who develop a daily time of being alone with God. This time of outward silence is the time of daily Bible intake and prayer. In this solitude is the occasion for private worship." Donald S. Whitney
"Those who know God the best are the richest and most powerful in prayer. Little acquaintance with God, and strangeness and coldness to Him, make prayer a rare and feeble thing." E.M. Bounds
Prayer sets the tone of your day
There is no better way to start off the day than in communion with the Lord. Thanking Him for being gracious to us through the night, and for mercifully bringing us to a new day.
Praying first thing in the morning helps us to set our mind on Christ and giving the day to Him. Make it your goal to get alone with the Lord in the morning. Before running to anything else, run to God.
1. Psalm 5:3 "In the morning, Lord, you hear my voice; in the morning I lay my requests before you and wait expectantly."
2. Psalm 42:8 "By day the Lord directs his love, at night his song is with me— a prayer to the God of my life."
3. Acts 2:42 "They devoted themselves to the apostles' teaching and to fellowship, to the breaking of bread and to prayer."
4. Colossians 4:2 "Continue earnestly in prayer, being vigilant in it with thanksgiving."
5. 1 Timothy 4:5 "For we know it is made acceptable by the word of God and prayer."
Daily prayer protects us
We often forget that God uses our prayers to protect us and guard us from danger. Prayer protects us from evil all around. God often works behind the scenes, so we may never realize how God has used our prayer life to protect us from a certain situation.
John Calvin said, "for He ordained it not so much for His own sake as for ours. Now He wills … that His due be rendered to Him.… But the profit of this sacrifice also, by which He is worshiped, returns to us."
6. Acts 16:25 "About midnight Paul and Silas were praying and singing hymns to God, and the other prisoners were listening to them."
7. Psalm 18:6 "In my distress I called to the Lord; I cried to my God for help. From his temple he heard my voice; my cry came before him, into his ears."
8. Psalm 54:2 "O God, hear my prayer; give ear to the words of my mouth."
9. Psalm 118:5-6 "From my distress I called upon the Lord; The Lord answered me and set me in a large place. 6 The Lord is for me; I will not fear; What can man do to me?"
10. Acts 12:5 "So Peter was kept in prison, but the church was earnestly praying to God for him"
11. Philippians 1:19 "For I know that through your prayers and God's provision of the Spirit of Jesus Christ what has happened to me will turn out for my deliverance."
12. 2 Thessalonians 3:3 "But the Lord is faithful, and he will strengthen you and protect you from the evil one."
Praying every day changes us
Prayer makes us holy. It directs our thoughts and our hearts to God. By directing our entire being towards Him, and learning about Him through Scripture, He changes us.
Through the process of sanctification, He causes us to become more like Him. This process helps to keep us free from falling into the temptations we will face.
13. 1 Thessalonians 5:16-18 "Rejoice always, pray continually, give thanks in all circumstances; for this is God's will for you in Christ Jesus."
14. 1 Peter 4:7 "The end of all things is near. Therefore be alert and of sober mind so that you may pray."
15. Philippians 1:6 "being confident of this, that he who began a good work in you will carry it on to completion until the day of Christ Jesus."
16. Luke 6:27-28 "But to you who are listening I say: Love your enemies, do good to those who hate you, bless those who curse you, pray for those who mistreat you."
17. Matthew 26:41 "Watch and pray so that you will not fall into temptation. The spirit is willing, but the flesh is weak."
18. Philippians 4:6-7 "Be anxious for nothing, but in everything by prayer and supplication, with thanksgiving, let your requests be made known to God; and the peace of God, which surpasses all understanding, will guard your hearts and minds through Christ Jesus."
Building your relationship with God through daily prayer
A.W. Pink said, "Prayer is not designed for the furnishing of God with the knowledge of what we need, but it is designed as a confession to Him of our sense of need."
God has chosen prayer, as a means to bring about His purposes. How marvelous that the Creator of the entire universe allows us to talk to Him in such an intimate way.
19. 1 John 5:14 "And this is the confidence that we have in him, that, if we ask any thing according to his will, he heareth us."
20. 1 Peter 3:12 "because the eyes of the Lord are on the righteous and his ears are open to their prayer. But the face of the Lord is against those who do what is evil."
21. Ezra 8:23 "So we fasted and earnestly prayed that our God would take care of us, and he heard our prayer."
22. Romans 12:12 "Be joyful in hope, patient in affliction, faithful in prayer."
23. 1 John 5:15 "And if we know that he hears whatever we ask, we know that we have what we have asked of him."
24. Jeremiah 29:12 "Then you will call on me and come and pray to me, and I will listen to you."
25. Psalm 145:18 "The Lord is close to all who call on him, yes, to all who call on him in truth."
26. Exodus 14:14 "The Lord will fight for you, and you have only to be silent."
Experience the power of prayer
Have you experienced God? Most Christians minimize the power of prayer because we have a low view of the omnipotence of God. If we grow in our realization of who God is and what prayer is, then I believe we will see a change in our prayer lives.
God mercifully brings about His eternal decrees through the prayers of His people. Prayer changes people and events and stirs the hearts of believers. Don't give up in prayer! Don't fall in discouragement and think it doesn't work. Keep seeking God! Keep bringing your petitions to Him.
27. Matthew 18:19 "Again, truly I tell you that if two of you on earth agree about anything they ask for, it will be done for them by my Father in heaven.
28. James 1:17 "Every good and perfect gift is from above, coming down from the Father of the heavenly lights, who does not change like shifting shadows."
29. James 5:16 "Confess your faults to one another. And pray for one another, that you may be healed: The fervent prayer of a righteous man availeth much."
30. Hebrews 4:16 Let us then approach God's throne of grace with confidence, so that we may receive mercy and find grace to help us in our time of need.
31. Acts 4:31 After they prayed, the place where they were meeting was shaken. And they were all filled with the Holy Spirit and spoke the word of God boldly.
32. Hebrews 4:16 Let us then with confidence draw near to the throne of grace, that we may receive mercy and find grace to help in time of need.
33. Luke 1:37 "For nothing will be impossible with God."
34. John 16:23-24 "In that day you will no longer ask me anything. Very truly I tell you, my Father will give you whatever you ask in my name. 24 Until now you have not asked for anything in my name. Ask and you will receive, and your joy will be complete."
Giving thanks to the Lord in prayer
We are commanded to give thanks in all circumstances. God in His merciful Providence allows everything that happens. It is for our good and His glory. God's mercies endure forever and He is worthy of all our praises. Let us give thanks to Him for everything.
35. Psalm 9:1 "I will give thanks to the Lord with my whole heart; I will recount all of your wonderful deeds."
36. Psalm 107:8-9 "Let them thank the Lord for his steadfast love, for his wondrous works to the children of man! For he satisfies the longing soul, and the hungry soul he fills with good things."
37. 1 Corinthians 14:15 What am I to do? I will pray with my spirit, but I will pray with my mind also; I will sing praise with my spirit, but I will sing with my mind also.
38. Ezra 3:11 "And they sang responsively with praise and thanksgiving to the LORD: "For He is good; for His loving devotion upon Israel endures forever." Then all the people gave a great shout of praise to the LORD, because the foundation of the house of the LORD had been laid."
39. 2 Chronicles 7:3 "When all the Israelites saw the fire coming down and the glory of the LORD above the temple, they bowed down on the pavement with their faces to the ground, and they worshiped and gave thanks to the LORD: "For He is good; His loving devotion endures forever."
40. Psalm 118:24 "This is the day the LORD has made; I will rejoice and be glad in it."
Jesus' prayer Life
There are several things that we can learn from the prayer life of Jesus. Jesus knew the need for prayer in His ministry. Why do we feel like we can accomplish God's will without it? Christ always made time to be with His Father. Even when life seemed to be busy, He would always get away with God. Let's imitate Christ and seek the face of the Lord. Let's get alone and run to that familiar place. Let's separate from the things that seek to take our time and spend our time with the Lord.
37. Hebrews 5:7 "During the days of Jesus' life on earth, he offered up prayers and petitions with fervent cries and tears to the one who could save him from death, and he was heard because of his reverent submission."
38. Luke 9:18 "Once when Jesus was praying in private and his disciples were with him, he asked them, "Who do the crowds say I am?"John 15:16 But when you ask, you must believe and not doubt, because the one who doubts is like a wave of the sea, blown and tossed by the wind.
39. Matthew 6:12 "And forgive us our debts, as we also have forgiven our debtors."
40. Luke 6:12 "In these days he went out to the mountain to pray, and all night he continued in prayer to God."
41. Luke 9:28-29 "About eight days after Jesus said this, he took Peter, John and James with him and went up onto a mountain to pray. 29As he was praying, the appearance of his face changed, and his clothes became as bright as a flash of lightning."
Allow God to speak to you in prayer
"Pray, not until God hears you but until you listen to God." God is always speaking through His Word and through the Spirit, but are we being still to hear His voice. Allow God to speak to you and guide you through prayer.
42. Psalm 116:2 "Because he bends down to listen, I will pray as long as I have breath!
43. Psalm 63:1 "You, God, are my God, earnestly I seek you; I thirst for you, my whole being longs for you, in a dry and parched land where there is no water.
44. "Jeremiah 29:12 Then you will call on me and come and pray to me, and I will listen to you.
45. Jeremiah 33:3 Call to me and I will answer you and tell you great and unsearchable things you do not know
46. Romans 8:26 In the same way, the Spirit helps us in our weakness. We do not know what we ought to pray for, but the Spirit himself intercedes for us through wordless groans.
47. Psalm 34: 6 This poor man called, and the Lord heard him; he saved him out of all his troubles.
48. John 17:24 This poor man called, and the Lord heard him; he saved him out of all his troubles.
49. John 10:27-28 "My sheep hear my voice, and I know them, and they follow me. I give them eternal life, and they will never perish, and no one will snatch them out of my hand."
Prayer humbles us before the Lord
Prayer acknowledges that we are not God. Prayer helps us to focus on who He is and helps us to understand that He alone is God. Prayer helps us to understand our dependence upon God.
Prayer should be the most natural thing in the world – but because of the fall, it feels alien and often times difficult. How far we are from the holiness of God. How far we have to grow in our sanctification.
50. James 4:10 "Humble yourselves before the Lord, and he will lift you up."
51. 2 Chronicles 7:13–14 "When I shut up the heavens so that there is no rain, or command the locust to devour the land, or send pestilence among my people, 14 if my people who are called by my name humble themselves, and pray and seek my face and turn from their wicked ways, then I will hear from heaven and will forgive their sin and heal their land."
52. Mark 11:25 "And when you stand praying, if you hold anything against anyone, forgive them, so that your Father in heaven may forgive you your sins."
53. 2 Kings 20:5 "Go back and tell Hezekiah, the ruler of my people, 'This is what the Lord, the God of your father David, says: I have heard your prayer and seen your tears; I will heal you. On the third day from now you will go up to the temple of the Lord."
54. 1 Timothy 2:8 "I desire then that in every place the men should pray, lifting holy hands without anger or quarreling."
55. 1 Peter 5:6-7 "Humble yourselves, therefore, under God's mighty hand, that he may lift you up in due time. 7 Cast all your anxiety on him because he cares for you."
Confessing sin daily
Even though as believers we cannot lose our salvation, confessing our sins daily helps us to grow in holiness. We are commanded to confess our sins, for the Lord hates sin and it is enmity against Him.
56. Matthew 6:7 "And when you pray, do not keep on babbling like pagans, for they think they will be heard because of their many words."
57. Acts 2:21 "And everyone who calls on the name of the Lord will be saved."
58. Psalm 32:5 "Then I acknowledged my sin to you and did not cover up my iniquity. I said, "I will confess my transgressions to the Lord." And you forgave the guilt of my sin."
59. 1 John 1:9 "If we confess our sins, he is faithful and just and will forgive us our sins and purify us from all unrighteousness."
60. Nehemiah 1:6 "let your ear be attentive and your eyes open, to hear the prayer of your servant that I now pray before you day and night for the people of Israel your servants, confessing the sins of the people of Israel, which we have sinned against you. Even I and my father's house have sinned."
Conclusion
How marvelous that the Lord invites us to pray to Him: that He would desire for us to be close to Him!
Reflection
Q1 – What is your daily prayer life like?
Q2 – What does your prayer life say about your intimacy with the Lord?
Q3 – How can you improve your prayer life?
Q4 – What time of the day best allows you to give God all of your focus and attention?
Q4 – What excites you about prayer?
Q5 – Are you being quiet and allowing God to speak to you in prayer?
Q6 – What's stopping you from getting alone with God right now?