Bible verses about fools
A fool is someone who is unwise, lacks sense, and lacks judgement. Fools don't want to learn the truth. They laugh at the truth and turn their eyes away from the truth. Fools are wise in their own eyes failing to take in wisdom and advice, which will be their downfall. They suppress the truth by their unrighteousness.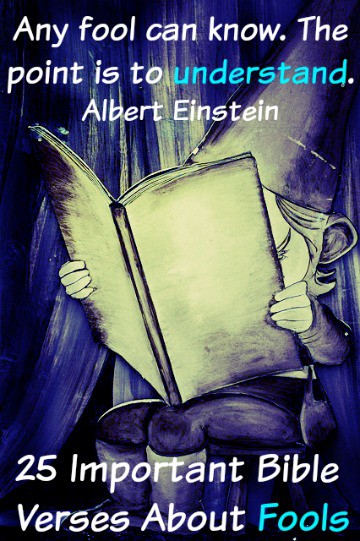 They have wickedness in their hearts, they are lazy, proud, they slander others, and live in repeat foolishness. Living in sin is fun for a fool.
It's not wise to desire their company because they will lead you down a dark path. Fools rush into danger without wise preparation and thinking about the consequences.
Scripture keeps people from being foolish, but sadly fools despise the Word of God.
Quotes about fools 
"A wise man may look ridiculous in the company of fools."  Thomas Fuller
"Many have been the wise speeches of fools, though not so many as the foolish speeches of wise men."  Thomas Fuller
"Wise men speak because they have something to say; Fools because they have to say something." Plato
"Wise men don't need advice. Fools won't take it." Benjamin Franklin
"A fool knows the price of everything and the value of nothing."
"The first principle is that you must not fool yourself and you are the easiest person to fool."
"A fool thinks himself to be wise, but a wise man knows himself to be a fool."
Teaching them
1. Proverbs 18:2-3 Fools have no interest in understanding; they only want to air their own opinions. Doing wrong leads to disgrace, and scandalous behavior brings contempt.
2. Proverbs 1:5-7 Let the wise listen to these proverbs and become even wiser. Let those with understanding receive guidance by exploring the meaning in these proverbs and parables, the words of the wise and their riddles. Fear of the LORD is the foundation of true knowledge, but fools despise wisdom and discipline.
3. Proverbs 12:15 The way of a fool is right in his own eyes: but he that hearkeneth unto counsel is wise.
The mouth of a fool.
4. Proverbs 10:18-19 He that hideth hatred with lying lips, and he that uttereth a slander, is a fool. In the multitude of words there wanteth not sin: but he that refraineth his lips is wise.
5. Proverbs 12:22-23 Lying lips are abomination to the LORD: but they that deal truly are his delight. A prudent man concealeth knowledge: but the heart of fools proclaimeth foolishness.
6. Proverbs 18:13 Spouting off before listening to the facts is both shameful and foolish.
7. Proverbs 29:20 There is more hope for a fool than for someone who speaks without thinking.
8. Isaiah 32:6 For the fool speaks folly, and his heart is busy with iniquity, to practice ungodliness, to utter error concerning the LORD, to leave the craving of the hungry unsatisfied, and to deprive the thirsty of drink.
9. Proverbs 18:6-7 Fools' words get them into constant quarrels; they are asking for a beating. The mouths of fools are their ruin; they trap themselves with their lips.
They continue in their foolishness.
10. Proverbs 26:11 As a dog returns to its vomit, so a fool repeats his foolishness.
Arguing with them
11. Proverbs 29:8-9 Mockers can get a whole town agitated, but the wise will calm anger. If a wise person takes a fool to court, there will be ranting and ridicule but no satisfaction.
12. Proverbs 26:4-5 Do not answer a fool according to his folly, or you yourself will be just like him. Answer a fool according to his folly, or he will be wise in his own eyes.
Trusting them
13. Proverbs 26:6-7 Trusting a fool to convey a message is like cutting off one's feet or drinking poison! A proverb in the mouth of a fool is as useless as a paralyzed leg.
14. Luke 6:39 Then Jesus gave the following illustration: "Can one blind person lead another? Won't they both fall into a ditch?
The difference between an intelligent man and a fool. 
15. Proverbs 10:23-25 Doing wrong is fun for a fool, but living wisely brings pleasure to the sensible.  Doing wrong is fun for a fool, but living wisely brings pleasure to the sensible. When the storms of life come, the wicked are whirled away, but the godly have a lasting foundation.
16. Proverbs 15:21 Folly is joy to him that is destitute of wisdom: but a man of understanding walketh uprightly.
17. Proverbs 14:8-10 The wisdom of the prudent is to give thought to their ways, but the folly of fools is deception. Fools mock at making amends for sin, but goodwill is found among the upright.
18. Ecclesiastes 10:1-3 As dead flies cause even a bottle of perfume to stink, so a little foolishness spoils great wisdom and honor. A wise person chooses the right road; a fool takes the wrong one. You can identify fools just by the way they walk down the street!
Fools say there is no God.
19. Psalm 14:1 For the choir director: A psalm of David. Only fools say in their hearts, "There is no God." They are corrupt, and their actions are evil; not one of them does good!
20. Psalm 53:1 1 The fool says in his heart, "There is no God." They are corrupt, doing abominable iniquity; there is none who does good.
21. Psalm 74:18 Remember this, O LORD, that the enemy has reviled, And a foolish people has spurned Your name.
Can a Christian call someone a fool? This verse is speaking of unrighteous anger, which is a sin, but righteous anger is not a sin.
22. Matthew 5:22 But I tell you that anyone who is angry with a brother or sister will be subject to judgment. Again, anyone who says to a brother or sister, 'Raca,' is answerable to the court. And anyone who says, 'You fool!' will be in danger of the fire of hell.
Reminder
23. Proverbs 28:26 Those who trust in themselves are fools, but those who walk in wisdom are kept safe.
24. Proverbs 29:11 Fools vent their anger, but the wise quietly hold it back.
Bible example
25. Matthew 23:16-19 "Blind guides! What sorrow awaits you! For you say that it means nothing to swear 'by God's Temple,' but that it is binding to swear 'by the gold in the Temple. Blind fools! Which is more important–the gold or the Temple that makes the gold sacred? And you say that to swear 'by the altar' is not binding, but to swear 'by the gifts on the altar' is binding. How blind! For which is more important–the gift on the altar or the altar that makes the gift sacred?