Bible verses about acne
Many people ask why did God create acne? Many people struggle with acne even celebrities, but usually it's only when going through puberty and then it will start to clear up.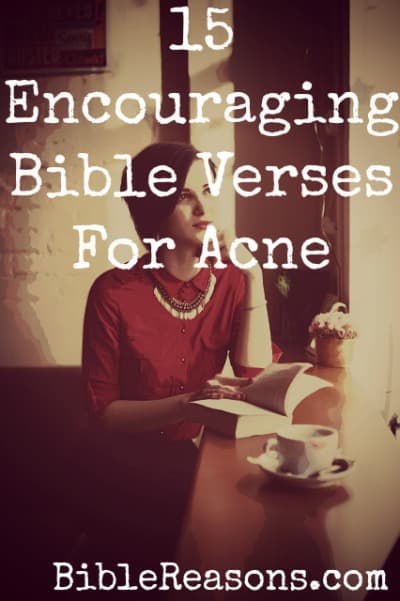 Most of the time it's truly not that bad at all just a pimple here and there, but never let your self-esteem come from your skin.
Be confident in the Lord. You were bought with a price. Acne can indeed be an idol in our lives when we allow it to take over.
I've struggled with acne before so I know how it feels. We want everything about us to be perfect so we stress ourselves about what people see and neglect our inside, which is what God cares about.
God can allow your acne for many reasons such as to teach you to stop worrying about it and always draw closer to Him. Stop stressing and be patient.
He can use acne to help grow your faith, character, and confidence. Commit to the Lord in prayer and get to know Him.
Know He cares for you and is always by your side. Stop picking your acne, stop stressing, put your full trust in the Lord, keep your mind on the Lord, and you will be at peace.
What does the Bible say?
1. Psalm 139:14 I praise you, for I am fearfully and wonderfully made. Wonderful are your works; my soul knows it very well.
2. Proverbs 15:13 A glad heart makes a happy face; a broken heart crushes the spirit.
3. Song of Solomon 4:7 You are altogether beautiful, my darling, And there is no blemish in you.
4. Isaiah 43:4 Since you are precious and honored in my sight, and because I love you, I will give people in exchange for you, nations in exchange for your life.
God cares about the heart. 
5. 1 Samuel 16:7 The LORD told Samuel, "Don't look at his appearance or his height, for I've rejected him. Truly, God does not see what man sees, for man looks at the outward appearance, but the LORD sees the heart."
6. 1 Peter 3:4 but let your adorning be the hidden person of the heart with the imperishable beauty of a gentle and quiet spirit, which in God's sight is very precious.
Keep your mind on the Lord.
7. Isaiah 26:3 You will keep in perfect peace those whose minds are steadfast, because they trust in you.
8. Colossians 3:2 Set your sight on things above, not on things on the earth.
Put your full trust in God. Worry about how God sees you.
9. Proverbs 3:5-6 Trust in the Lord with all your heart, and do not lean on your own understanding. In all your ways acknowledge him, and he will make straight your paths.
10. Romans 12:1-2 Therefore I exhort you, brothers and sisters, by the mercies of God, to present your bodies as a sacrifice—alive, holy, and pleasing to God—which is your reasonable service. Do not be conformed to this present world, but be transformed by the renewing of your mind, so that you may test and approve what is the will of God—what is good and well-pleasing and perfect.
You can do and get through all things in the strength of the Lord.
11. Ephesians 6:10 Therefore, my brethren, be strengthened in our Lord and in the force of his power.
12. Philippians 4:13 I can do all things through him who strengthens me.
Reminders
13. Romans 9:20 No, don't say that. Who are you, a mere human being, to argue with God? Should the thing that was created say to the one who created it, "Why have you made me like this?"
14. Ephesians 5:29 For no one ever hated his own flesh, but nourishes and cherishes it, just as Christ does the church.
Advice
15. Romans 12:12 Rejoice in hope, be patient in tribulation, be constant in prayer.
Bonus
Philippians 4:8-9 Finally, brothers, whatever is true, whatever is honorable, whatever is fair, whatever is pure, whatever is acceptable, whatever is commendable, if there is anything of excellence and if there is anything praiseworthy—keep thinking about these things. Likewise, keep practicing these things: what you have learned, received, heard, and seen in me. Then the God of peace will be with you.