Bible verses about yelling
Christians should avoid yelling because yelling is usually brought on by anger. Christians are to build others up, but yelling only starts arguments and more problems. We're to remain calm in situations and we're to speak the truth in love without shouting at others. Do you struggle with raising your voice? Here are some Scriptures to help.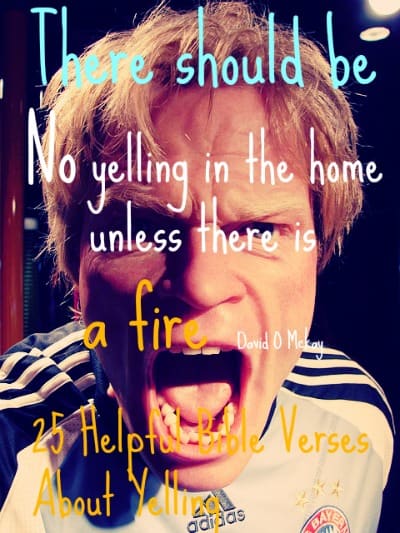 Watch how you use your mouth.
1. James 3:6 And the tongue is a flame of fire. It is a whole world of wickedness, corrupting your entire body. It can set your whole life on fire, for it is set on fire by hell itself.
2. Proverbs 15:1 A gentle answer deflects anger, but harsh words make tempers flare.
3. Proverbs 29:22 An angry person starts fights; a hot-tempered person commits all kinds of sin.
4. Proverbs 29:11 A fool gives full vent to his spirit, but a wise man quietly holds it back.
5. Proverbs 17:19 Whoever loves a quarrel loves sin; whoever builds a high gate invites destruction.
6. Ephesians 4:15 But speaking the truth in love, may grow up into him in all things, which is the head, even Christ.
Be kind and gentle
9. Colossians 3:12 Therefore, as God's chosen people, holy and dearly loved, clothe yourselves with compassion, kindness, humility, gentleness and patience.
11. Ephesians 4:2 Be completely humble and gentle; be patient, bearing with one another in love.
12. Galatians 5:22 But the fruit of the Spirit is love, joy, peace, forbearance, kindness, goodness, faithfulness.
Salt
13. Colossians 4:6 Let your conversation be always full of grace, seasoned with salt, so that you may know how to answer everyone.
14. Mark 9:50 "Salt is good, but if it loses its saltiness, how can you make it salty again? Have salt among yourselves, and be at peace with each other."
15. Galatians 5:16 So I say, walk by the Spirit, and you will not gratify the desires of the flesh.
16. Galatians 5:25 Since we live by the Spirit, let us keep in step with the Spirit.
Advice
17. Ephesians 4:26 Be angry and do not sin; do not let the sun go down on your anger.
18. James 1:19-20 My dear brothers and sisters, take note of this: Everyone should be quick to listen, slow to speak and slow to become angry, because human anger does not produce the righteousness that God desires.
19. Colossians 3:8 But now you must also rid yourselves of all such things as these: anger, rage, malice, slander, and filthy language from your lips.
20. Romans 14:19 Let us therefore make every effort to do what leads to peace and to mutual edification.
Reminders
22. Proverbs 22:24 Don't befriend angry people or associate with hot-tempered people.
23. Romans 12:18 If it is possible, as far as it depends on you, live at peace with everyone.
24. Proverbs 4:23 Above all else, guard your heart, for everything you do flows from it.
25. Ephesians 6:11 Put on the full armor of God, so that you can take your stand against the devil's schemes.
Examples
Acts 7:57-58 At this they covered their ears and, yelling at the top of their voices, they all rushed at him, dragged him out of the city and began to stone him. Meanwhile, the witnesses laid their coats at the feet of a young man named Saul.
Acts 22:22-24 The crowd listened until Paul said that word. Then they all began to shout, "Away with such a fellow! He isn't fit to live!" They yelled, threw off their coats, and tossed handfuls of dust into the air.  The commander brought Paul inside and ordered him lashed with whips to make him confess his crime. He wanted to find out why the crowd had become so furious.
Acts 21:28 yelling, "Men of Israel, help us! This is the man who preaches against our people everywhere and tells everybody to disobey the Jewish laws. He speaks against the Temple–and even defiles this holy place by bringing in Gentiles." (Jewish vs Christian Bible differences)
2 Samuel 16:13 So David and his men went on their way. But Shimei kept going along the side of the hill opposite him, yelling curses as he threw stones and dirt at them.