Bible verses about the rapture
Many ask is the rapture biblical and the answer is yes. You will not find the word, but you will find the teaching. The rapture describes the snatching away of the church (Christians).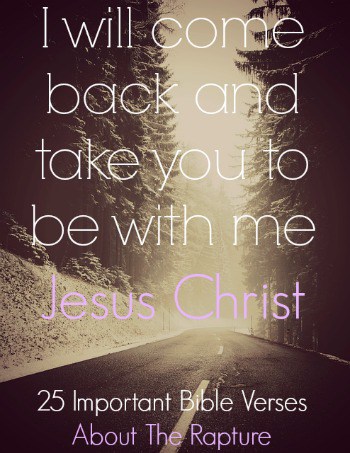 There is no judgment, no punishment, and it will be a glorious day for all believers. At the rapture the dead will rise with new bodies and new bodies will be given to living Christians as well.
In an instant believers will be caught up into the clouds to meet with our Lord and Savior Jesus Christ. Those who are raptured will be with the Lord forever.
Quote
"The Lord does not come to the world at the time of the Rapture, but only reveals himself to the members of His Body. At the time of his resurrection He was only seen by those who believed on Him. Pilate and the High Priest, and those who crucified Him, did not know that He was risen. So it will be at the time of the Rapture. The world will not know that He has been here, and will have no knowledge of Him until He comes with the members of His Body, at the close of the Tribulation." Billy Sunday
Jesus will meet His saints in the air and unbelievers will be left behind. 
1. 1 Thessalonians 4:13-18 Brothers and sisters, we do not want you to be uninformed about those who sleep in death, so that you do not grieve like the rest of mankind, who have no hope. For we believe that Jesus died and rose again, and so we believe that God will bring with Jesus those who have fallen asleep in him. According to the Lord's word, we tell you that we who are still alive, who are left until the coming of the Lord, will certainly not precede those who have fallen asleep. For the Lord himself will come down from heaven, with a loud command, with the voice of the archangel and with the trumpet call of God, and the dead in Christ will rise first. After that, we who are still alive and are left will be caught up together with them in the clouds to meet the Lord in the air. And so we will be with the Lord forever. Therefore encourage one another with these words.
The rapture will be in an instant.
2. 1 Corinthians 15:50-52 I declare to you, brothers and sisters, that flesh and blood cannot inherit the kingdom of God, nor does the perishable inherit the imperishable. Listen, I tell you a mystery: We will not all sleep, but we will all be changed in a flash, in the twinkling of an eye, at the last trumpet. For the trumpet will sound, the dead will be raised imperishable, and we will be changed.
Christ will come for His bride and take His saints to Heaven.
3. John 14:1-3 "Do not let your hearts be troubled. You believe in God; believe also in me. My Father's house has many rooms; if that were not so, would I have told you that I am going there to prepare a place for you? And if I go and prepare a place for you, I will come back and take you to be with me that you also may be where I am.
4. 1 Corinthians 15:20-23 But Christ has indeed been raised from the dead, the firstfruits of those who have fallen asleep. For since death came through a man, the resurrection of the dead comes also through a man. For as in Adam all die, so in Christ all will be made alive. But each in turn: Christ, the firstfruits; then, when he comes, those who belong to him.
Only believers will see Christ and we shall be transformed. We shall be like Him. 
5. 1 John 3:2 Dear friends, now we are children of God, and what we will be has not yet been made known. But we know that when Christ appears, we shall be like him, for we shall see him as he is.
6. Philippians 3:20-21 But our citizenship is in heaven. And we eagerly await a Savior from there, the Lord Jesus Christ, who, by the power that enables him to bring everything under his control, will transform our lowly bodies so that they will be like his glorious body.
The rapture can happen at any moment. 
7. Revelation 3:3 Remember, therefore, what you have received and heard; hold it fast, and repent. But if you do not wake up, I will come like a thief, and you will not know at what time I will come to you.
Does the rapture happen near the end of the tribulation or at the end of the tribulation? I believe the pretribulation rapture. Before the tribulation believers will be raptured.
There is no instruction to the church about the tribulation. If the church is to go through the tribulation there should be instructions and warnings of some sort, but there isn't. Scripture tells us we have hope in Christ.
The blessed hope. If this is a message of comfort as we wait for Christ then why would we go through the tribulation? Think about it. We are waiting for Christ not the anti-Christ and God's wrath.
8. Titus 2:13 while we wait for the blessed hope—the appearing of the glory of our great God and Savior, Jesus Christ,
9. 1 Thessalonians 2:19 "For what is our hope, or joy, or crown of rejoicing? Is it not even you in the presence of our Lord Jesus Christ at His coming?"
Paul says believers will not suffer wrath.
We know that during the tribulation God will pour out His wrath on the earth. If Scripture says believers will not suffer wrath and there will be a time where God pours out His wrath then that tells us that the rapture will occur before the tribulation.
10. 1 Thessalonians 5:9 For God did not appoint us to suffer wrath but to receive salvation through our Lord Jesus Christ.
Jesus says He will deliver Christians from the hour of trial. He is saying He will keep you from the tribulation.
11. Revelation 3:10 Since you have kept my command to endure patiently, I will also keep you from the hour of trial that is going to come on the whole world to test the inhabitants of the earth.
The second coming of Christ is after the rapture and at the end of the tribulation.
It wouldn't make sense if the rapture happened at the end of the tribulation because we would go up and then immediately come back down with Christ. Pretribulation makes more sense.
12. Revelation 19:11-16 I saw heaven standing open and there before me was a white horse, whose rider is called Faithful and True. With justice he judges and wages war. His eyes are like blazing fire, and on his head are many crowns. He has a name written on him that no one knows but he himself. He is dressed in a robe dipped in blood, and his name is the Word of God. The armies of heaven were following him, riding on white horses and dressed in fine linen, white and clean. Coming out of his mouth is a sharp sword with which to strike down the nations. "He will rule them with an iron scepter." He treads the winepress of the fury of the wrath of God Almighty. On his robe and on his thigh he has this name written: king of kings and lord of lords.
In Luke 17 and Matthew 24 when it talks about one person will be taken and the other left it is talking about the wicked being taken. These passages are not referring to the rapture like some may think. 
13. Luke 17:35-37 Two women will be grinding grain together; one will be taken and the other left."  "Where, Lord?" they asked. He replied, "Where there is a dead body, there the vultures will gather."
14. Matthew 24:40-42 Two men will be in the field; one will be taken and the other left. Two women will be grinding with a hand mill; one will be taken and the other left. "Therefore keep watch, because you do not know on what day your Lord will come.
The rapture is real, but even if you don't believe it that is not that important. The important question is where will you go when you die? If there is a rapture will you be raptured?  Please read how to become a Christian today.
15. Acts 16:31 And they said, "Believe in the Lord Jesus, and you will be saved, you and your household."