Bible verses about hospitality
Christians are to show loving-kindness to all not only to people we know, but to strangers as well. Hospitality is dying everywhere. We're all about ourselves these days and this should not be. We are to be there for the cares and needs of others and always put out a helping hand.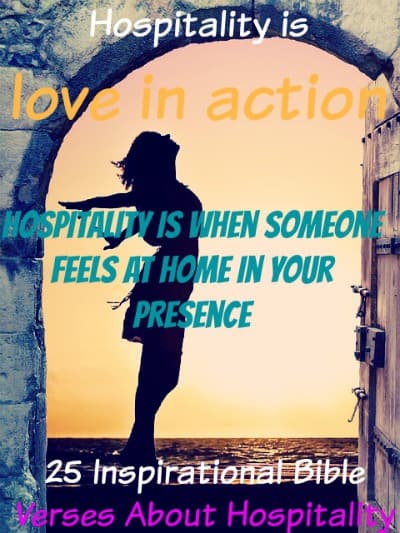 Just like many people welcomed Jesus in their homes with open arms, we should do the same. When we serve others we are serving Christ.
Matthew 25:40 "And the King will answer them, 'Truly, I say to you, as you did it to one of the least of these my brothers, you did it to me."
A great example of hospitality is the Good Samaritan, which you will read below. Let's all pray that these Scripture quotes become more of a reality in our lives and our love for one another increases. When love increases hospitality increases and thus the advancement of God's Kingdom increases.
Quotes
"Hospitality is when someone feels at home in your presence."
"Hospitality isn't about your house it's about your heart."
"People will forget what you said, forget what you did, but people will never forget how you made them feel."
"Hospitality is simply an opportunity to show love and care."
"Only a life lived to the service of others is worth living."
What does the Bible say about hospitality?
1. Titus 1:7-8 "Because an overseer is God's servant manager, he must be blameless. He must not be arrogant or irritable. He must not drink too much, be a violent person, or make money in shameful ways. 8 Instead, he must be hospitable to strangers, must appreciate what is good, and be sensible, honest, moral, and self-controlled."
2. Romans 12:13 "When God's people are in need, be ready to help them. Always be eager to practice hospitality."
3. Hebrews 13:1-2 "Keep on loving each other as brothers and sisters. 2 Don't forget to show hospitality to strangers, for some who have done this have entertained angels without realizing it!"
4. Hebrews 13:16 "And do not forget to do good and to share with others, for with such sacrifices God is pleased."
5. 1 Timothy 3:2 "Therefore an overseer must be above reproach, the husband of one wife, sober-minded, self-controlled, respectable, hospitable, able to teach."
6. Romans 15:5-7 "Now the God of patience and consolation grant you to be likeminded one toward another according to Christ Jesus: That ye may with one mind and one mouth glorify God, even the Father of our Lord Jesus Christ. Wherefore receive ye one another, as Christ also received us to the glory of God."
7. 1 Timothy 5:9-10 "A widow who is put on the list for support must be a woman who is at least sixty years old and was faithful to her husband. She must be well respected by everyone because of the good she has done. Has she brought up her children well? Has she been kind to strangers and served other believers humbly? Has she helped those who are in trouble? Has she always been ready to do good?"
Do things without complaining.
8. 1 Peter 4:8-10 "Above all, love each other deeply, because love covers over a multitude of sins. 9 Offer hospitality to one another without grumbling. Each of you should use whatever gift you have received to serve others, as faithful stewards of God's grace in its various forms."
9. Philippians 2:14-15 "Do all things without murmurings and disputings: so that no one can criticize you. Live clean, innocent lives as children of God, shining like bright lights in a world full of crooked and perverse people."
Work for the Lord
10. Colossians 3:23-24 "And whatsoever ye do, do it heartily, as to the Lord, and not unto men; Knowing that of the Lord ye shall receive the reward of the inheritance: for ye serve the Lord Christ."
11. Ephesians 2:10 "For we are his workmanship, created in Christ Jesus unto good works, which God hath before ordained that we should walk in them."
It starts with the love for others.
12. Galatians 5:22 "But the Holy Spirit produces this kind of fruit in our lives: love, joy, peace, patience, kindness, goodness, faithfulness."
13. Galatians 5:14 "For the whole law can be summed up in this one command: "Love your neighbor as yourself."
14. Romans 13:10 "Love does no harm to a neighbor. Therefore love is the fulfillment of the law."
Being kind
15. Ephesians 4:32 "Be kind to one another, tenderhearted, forgiving one another, as God in Christ forgave you."
16. Colossians 3:12 "Put on then, as God's chosen ones, holy and beloved, compassionate hearts, kindness, humility, meekness, and patience."
17. Proverbs 19:17 "Whoever is generous to the poor lends to the Lord, and he will repay him for his deed."
Reminders
18. Exodus 22:21 "You must not mistreat or oppress foreigners in any way. Remember, you yourselves were once foreigners in the land of Egypt."
19. Matthew 5:16 "In the same way, let your light shine before others, that they may see your good deeds and glorify your Father in heaven."
Examples
20. Luke 10:38-42 "As Jesus and his disciples were on their way, he came to a village where a woman named Martha opened her home to him. She had a sister called Mary, who sat at the Lord's feet listening to what he said. 40 But Martha was distracted by all the preparations that had to be made. She came to him and asked, "Lord, don't you care that my sister has left me to do the work by myself? Tell her to help me!" "Martha, Martha," the Lord answered, "you are worried and upset about many things, but few things are needed—or indeed only one. Mary has chosen what is better, and it will not be taken away from her."
21. Luke 19:1-10 "Jesus entered Jericho and made his way through the town. There was a man there named Zacchaeus. He was the chief tax collector in the region, and he had become very rich. He tried to get a look at Jesus, but he was too short to see over the crowd. So he ran ahead and climbed a sycamore-fig tree beside the road, for Jesus was going to pass that way. When Jesus came by, he looked up at Zacchaeus and called him by name. "Zacchaeus!" he said. "Quick, come down! I must be a guest in your home today." Zacchaeus quickly climbed down and took Jesus to his house in great excitement and joy. But the people were displeased. "He has gone to be the guest of a notorious sinner," they grumbled. Meanwhile, Zacchaeus stood before the Lord and said, "I will give half my wealth to the poor, Lord, and if I have cheated people on their taxes, I will give them back four times as much!" Jesus responded, "Salvation has come to this home today, for this man has shown himself to be a true son of Abraham. For the Son of Man came to seek and save those who are lost."
22. Genesis 12:14-16 "And sure enough, when Abram arrived in Egypt, everyone noticed Sarai's beauty. When the palace officials saw her, they sang her praises to Pharaoh, their king, and Sarai was taken into his palace. Then Pharaoh gave Abram many gifts because of her—sheep, goats, cattle, male and female donkeys, male and female servants, and camels."
23. Romans 16:21-24 "Timotheus my workfellow, and Lucius, and Jason, and Sosipater, my kinsmen, salute you. I Tertius, who wrote this epistle, salute you in the Lord. Gaius mine host, and of the whole church, saluteth you. Erastus the chamberlain of the city saluteth you, and Quartus a brother. The grace of our Lord Jesus Christ be with you all. Amen."
24. Acts 2:44-46 "And all the believers met together in one place and shared everything they had. They sold their property and possessions and shared the money with those in need. They worshiped together at the Temple each day, met in homes for the Lord's Supper, and shared their meals with great joy and generosity."
25. Acts 28:7-8 "Near the shore where we landed was an estate belonging to Publius, the chief official of the island. He welcomed us and treated us kindly for three days. As it happened, Publius's father was ill with fever and dysentery. Paul went in and prayed for him, and laying his hands on him, he healed him."
Bonus
Luke 10:30-37 "Jesus replied with a story: "A Jewish man was traveling from Jerusalem down to Jericho, and he was attacked by bandits. They stripped him of his clothes, beat him up, and left him half dead beside the road. "By chance a priest came along. But when he saw the man lying there, he crossed to the other side of the road and passed him by. A Temple assistant walked over and looked at him lying there, but he also passed by on the other side. "Then a despised Samaritan came along, and when he saw the man, he felt compassion for him. Going over to him, the Samaritan soothed his wounds with olive oil and wine and bandaged them. Then he put the man on his own donkey and took him to an inn, where he took care of him. The next day he handed the innkeeper two silver coins, telling him, 'Take care of this man. If his bill runs higher than this, I'll pay you the next time I'm here. "Now which of these three would you say was a neighbor to the man who was attacked by bandits?" Jesus asked. The man replied, "The one who showed him mercy." Then Jesus said, "Yes, now go and do the same."