What does the Bible say about home?
The Family is an institution created by God. This beautiful creation is a mirror of the relationship between Christ and the Church.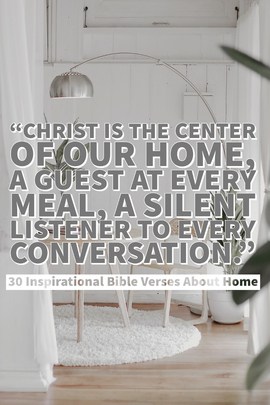 Many young couples eagerly anticipate their families gathering around together for lengthy family worship – only to see how hard it is, especially when babies and toddlers enter the picture. So what do we need to know about building a solid foundation for our home?
Christian quotes for the home
"Christ is the center of our home, a guest at every meal, a silent listener to every conversation."
"If you want to change the world, go home and love your family."
"May this home be firmly built upon faith held humbly together by hope and ever lit by the light of God's love."
"Having a place to go is home. Having someone to love is family. Having both is a blessing."
"My home is in Heaven. I'm just traveling through this world." – Billy Graham
"Let the wife make the husband glad to come home, and let him make her sorry to see him leave." – Martin Luther
Building a home on a solid foundation 
A home is only as solid as it's foundation. If a foundation is weak, it will split and the house will collapse. The same is true with a home spiritually. If a home, or a family, is to be solid and strong and unified then it must be built on the firm foundation of truth: the Word of God.
1) Ephesians 2:20 "Built on the foundation of the apostles and prophets, Jesus Christ Himself being the Chief Corner Stone."
2) Job 4:19 "How much more those who live in houses of clay, whose foundation is in the dust, who are crushed like a moth."
3) Zechariah 8:9 "This is what the Lord All-Powerful says: "Work hard, you who are hearing these words today. The prophets spoke these words when the foundation was laid for the house of the Lord All-Powerful, for the building of the Temple."
4) Isaiah 28:16 "Therefore thus says the Lord God, 'Behold, I am laying in Zion a stone, a tested stone a costly cornerstone for the foundation, firmly placed. He who believe in it will not be disturbed."
5) Matthew 7:24-27 "Therefore, everyone who hears these words of Mine and acts on them will be like a sensible man who built his house on the rock. The rain fell, the rivers rose, and the winds blew and pounded that house. Yet it didn't collapse, because its foundation was on the rock. But everyone who hears these words of Mine and doesn't act on them will be like a foolish man who built his house on the sand. The rain fell, the rivers rose, the winds blew and pounded that house, and it collapsed. And its collapse was great!"
6) Luke 6:46-49 "Why do you call me 'Lord, Lord,' and not do what I tell you? Everyone who comes to me and hears my words and does them, I will show you what he is like: he is like a man building a house, who dug deep and laid the foundation on the rock. And when a flood arose, the stream broke against that house and could not shake it, because it had been well built. But the one who hears and does not do them is like a man who built a house on the ground without a foundation. When the stream broke against it, immediately it fell, and the ruin of that house was great."
7) 1 Corinthians 3:12-15 "Now if anyone builds on the foundation with gold, silver, precious stones, wood, hay, straw— each one's work will become manifest, for the Day will disclose it, because it will be revealed by fire, and the fire will test what sort of work each one has done. If the work that anyone has built on the foundation survives, he will receive a reward. If anyone's work is burned up, he will suffer loss, though he himself will be saved, but only as through fire."
By wisdom a house is built
When the Bible talks about wisdom, it is talking about God's wisdom. This wisdom is a combination of knowing Scripture and knowing how to apply it. This is a spiritual gift from God Himself and imparted by the Holy Spirit. The Bible talks about how very carefully the builder lays the foundation and builds his home. He must do it in the correct order. Likewise, we must build our home carefully and gently.
8) 1 Corinthians 3:10 "According to the grace of God which was given to me, like a wise master builder I laid a foundation, and another is building on it. But each man must be careful how he builds on it."
9) 1 Timothy 3:14-15 "I am writing these things to you, hoping to come to you before long; but in case I am delayed, I write so that you will know how one ought to conduct himself in the household of God, which is the church of the living God, the pillar and support of the truth."
10) Hebrews 3:4 "For every house is built by someone, but God is the builder of everything."
11) Proverbs 24:27 "Put your outdoor work in order and get your fields ready; after that, build your house."
Blessing a home Bible verses
God loves family and He wants to bless His children. God's blessing comes as joy and peace in the home, as well as children. God Himself is the biggest blessing – that we get to experience Him and have Him with us.
12) 2 Samuel 7:29 "Therefore now let it please thee to bless the house of thy servant, that it may continue for ever before thee: for thou, O Lord God, hast spoken it: and with thy blessing let the house of thy servant be blessed for ever."
13) Psalm 91:1-2 "Whoever dwells in the shelter of the Most High will rest in the shadow of the Almighty. I will say of the Lord, "He is my refuge and my fortress, in whom I trust."
Managing your household Scriptures
God cares so much about the institution of the Family, that He has planned out how to manage a home so that it will flourish. Simply, we are to love God and love others. We love God by living obediently to His Word. And we love others in the same way that Christ loves the church.
14) Proverbs 31:14-17 "She is like the merchant ships, bringing her food from afar. 15 She gets up while it is still night; she provides food for her family and portions for her female servants. 16 She considers a field and buys it; out of her earnings she plants a vineyard. 17 She sets about her work vigorously; her arms are strong for her tasks."
15) 1 Timothy 6:18-19 "Instruct them to do good, to be rich in good works, to be generous and ready to share, storing up for themselves the treasure of a good foundation for the future, so that they may take hold of that which is life indeed."
16) Matthew 12:25 "Jesus knew their thoughts and said to them, "Every Kingdom divided against itself will be ruined, and every city or household divided against itself will not stand."
17) Psalm 127:1 "Unless the Lord builds the house, the builders labor in vain. Unless the Lord watches over the city, the guards stand watch in vain."
18) Ephesians 6:4 "Fathers, do not exasperate your children; instead, bring them up in the training and instruction of the Lord."
19) Exodus 20:12 "Honor your father and mother, so that you may live long in the land the Lord your God is giving you."
20) Ephesians 5:25 "Husbands, love your wives, just as Christ loved the church and gave himself up for her."
Bible verses for a new home
The Bible is full of wonderful verses but a few stick out as particularly poignant for a new home. These verses help us to focus on what is the most important aspect of building our home: Christ, Himself.
21) Joshua 24:15 "But if serving the Lord seems undesirable to you, then choose for yourselves this day whom you will serve, whether the gods your ancestors served beyond the Euphrates, or the gods of the Amorites, in whose land you are living. But as for me and my household, we will serve the Lord."
22) Proverbs 3:33 "The Lord's cures is on the house of the wicked, but he blesses the home of the righteous."
23) Proverbs 24:3-4 "By wisdom a house is built, and through understanding it is established; through knowledge its rooms are filled with rare and beautiful treasures."
Loving the family
Loving a family correctly doesn't come naturally or easily. We are all selfish creatures bent on our own self-centered purposes. But loving a family the way that God wants us to requires that we become completely selfless.
24) Proverbs 14:1 "The wise woman builds her house, but with her own hands the foolish one tears hers down."
25) Colossians 3:14 "And over all these virtues put on love, which binds them all together in perfect unity."
26) 1 Corinthians 13:4-7 "Love is patient, love is kind. It does not envy, it does not boast, it is not proud. It does not dishonor others, it is not self-seeking, it is not easily angered, it keeps no record of wrongs. It always protects, always trusts, always hopes, always perseveres."
What a godly family looks like?
Not only does the Bible tell us what we are to do in order to function, but it also specifically tells us what a Godly family looks like. The goal of a family is to bring up the next generation to love the Lord and to serve Him.
27) Psalm 127:3-5 "Children are a heritage from the Lord, offspring a reward from him. Like arrows in the hands of a warrior are children born in one's youth. Blessed is the man whose quiver is full of them. They will not be put to shame when they contend with their opponents in court."
28) Colossians 3:13 "Bear with one another and, if one has a complaint against another, forgive each other; as the Lord has forgiven you, so you also must forgive."
29) Psalm 133:1 "How good and pleasant it is when God's people live together in unity!"
30) Romans 12:9 "Let love be genuine. Abhor what is evil, hold fast to what is good."
Conclusion
The family is the greatest institution that God has created. It can be a living testimony to the world, for a family is a type of picture of the Gospel: that God loves His children, and gave Himself up for them even when they were sinners.