Bible verses about peer pressure
If you have a friend who is always pressuring you into a situation to do wrong and sin that person shouldn't be your friend at all. Christians are to choose our friends wisely because bad friends will lead us astray from Christ. We are not to try to fit in with the worldly cool crowd.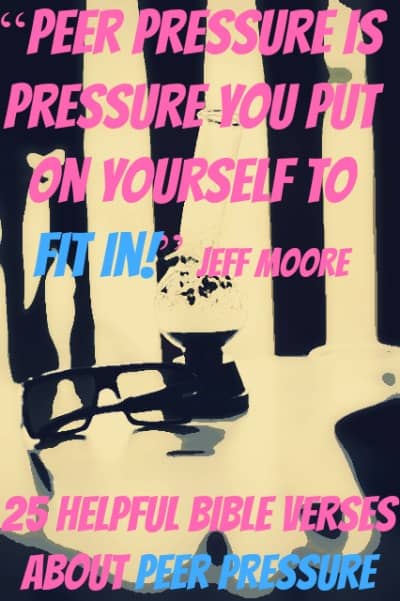 Scripture says to set yourself apart from the world and expose evil. If you're joining in evil how can you expose it?
Find wise friends who can appreciate you for who you are and walk in the path of righteousness. Pray to God for wisdom to better handle any situation that you are facing.
Don't follow the crowd.
1. Proverbs 1:10  My son, if sinners try to lead you into sin, do not go with them.
2. Exodus 23:2 "You must not follow the crowd in doing wrong. When you are called to testify in a dispute, do not be swayed by the crowd to twist justice.
3. Proverbs 4:14-15 Don't do as the wicked do, and don't follow the path of evildoers. Don't even think about it; don't go that way. Turn away and keep moving.
4. Proverbs 27:12 The prudent sees danger and hides himself, but the simple go on and suffer for it.
5. Psalm 1:1-2 Blessed is the man that walketh not in the counsel of the ungodly, nor standeth in the way of sinners, nor sitteth in the seat of the scornful. But his delight is in the law of the Lord; and in his law doth he meditate day and night.
Temptation
6. 1 Corinthians 10:13 The temptations in your life are no different from what others experience. And God is faithful. He will not allow the temptation to be more than you can stand. When you are tempted, he will show you a way out so that you can endure.
7. Proverbs 13:19-20 It is so good when wishes come true, but fools hate to stop doing evil. Spend time with the wise and you will become wise, but the friends of fools will suffer.
8. 1 Corinthians 15:33 Do not be deceived: "Bad company ruins good morals."
Don't be conformed to the world.
9. Romans 12:2 Don't copy the behavior and customs of this world, but let God transform you into a new person by changing the way you think. Then you will learn to know God's will for you, which is good and pleasing and perfect.
10. 1 John 2:15 Do not love the world or the things in the world. If anyone loves the world, the love of the Father is not in him.
Be God-pleasers and not people-pleasers.
11. 2 Corinthians 6:8 We serve God whether people honor us or despise us, whether they slander us or praise us. We are honest, but they call us impostors.
12. Thessalonians 2:4 But just as we have been approved by God to be entrusted with the gospel, so we speak, not to please man, but to please God who tests our hearts.
13. Galatians 1:10  For do I now persuade men, or God? or do I seek to please men? for if I yet pleased men, I should not be the servant of Christ.
14. Colossians 3:23 Whatever you do, work heartily, as for the Lord and not for men.
If it goes against God, God's Word, or your conscience tells you don't do it, say no.
15. Matthew 5:37 Let what you say be simply 'Yes' or 'No'; anything more than this comes from evil.
When you're persecuted for saying no.
16. 1 Peter 4:4 Of course, your former friends are surprised when you no longer plunge into the flood of wild and destructive things they do. So they slander you.
17. Romans 12:14 Bless those who persecute you. Don't curse them; pray that God will bless them.
Reminder
18. Philippians 4:13 I can do all things through him who strengthens me.
Advice
19. Ephesians 6:11 Put on the whole armor of God, that you may be able to stand against the schemes of the devil.
20. Galatians 5:16 But I say, walk by the Spirit, and you will not gratify the desires of the flesh.
21. Galatians 5:25 Since we live by the Spirit, let us keep in step with the Spirit.
22. Ephesians 5:11 Take no part in the unfruitful works of darkness, but instead expose them.
Examples
23. Exodus 32:1-5 When the people saw that Moses delayed to come down from the mountain, the people gathered themselves together to Aaron and said to him, "Up, make us gods who shall go before us. As for this Moses, the man who brought us up out of the land of Egypt, we do not know what has become of him." So Aaron said to them, "Take off the rings of gold that are in the ears of your wives, your sons, and your daughters, and bring them to me." So all the people took off the rings of gold that were in their ears and brought them to Aaron. And he received the gold from their hand and fashioned it with a graving tool and made a golden calf. And they said, "These are your gods, O Israel, who brought you up out of the land of Egypt!" When Aaron saw this, he built an altar before it. And Aaron made a proclamation and said, "Tomorrow shall be a feast to the Lord."
24. Matthew 27:23-26 And he said, "Why, what evil has he done?" But they shouted all the more, "Let him be crucified!" So when Pilate saw that he was gaining nothing, but rather that a riot was beginning, he took water and washed his hands before the crowd, saying, "I am innocent of this man's blood; see to it yourselves." And all the people answered, "His blood be on us and on our children!" Then he released for them Barabbas, and having scourged Jesus, delivered him to be crucified.
25. Galatians 2:10-14 Only they would that we should remember the poor; the same which I also was forward to do. But when Peter was come to Antioch, I withstood him to the face, because he was to be blamed. For before that certain came from James, he did eat with the Gentiles: but when they were come, he withdrew and separated himself, fearing them which were of the circumcision. And the other Jews dissembled likewise with him; insomuch that Barnabas also was carried away with their dissimulation. But when I saw that they walked not uprightly according to the truth of the gospel, I said unto Peter before them all, If thou, being a Jew, livest after the manner of Gentiles, and not as do the Jews, why compellest thou the Gentiles to live as do the Jews?