I hate to admit it, but I am a sucker for New Year's resolutions.
Sometimes I still find resolutions I wrote years ago; scrawled out on paper and surrounded with doodles of hearts and stars, as if the more decorated they were, the more likely I'd be to keep them.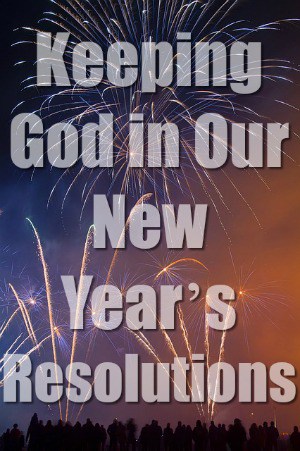 I find it fun to dream about what I hope the year ahead will hold—
To be a little healthier in this way, a little more artistic in that way, to be more organized in one area….it definitely gets my creative juices flowing!
But this year as I sat down to write my resolutions, I realized there was something else in the back of my mind besides excitement.
It took me a while to put my finger on it, but I finally named it:
Fear.
I realized I am a little scared this time to dream new dreams, because I remember where I was this time last year, scheming up big things for 2017.
Honestly, I didn't follow through on some of those resolutions. Also, life simply didn't go as planned, so some of my goals didn't happen due to circumstances outside of my control.
My heart is a little scared of being disappointed again. There's a voice in the back of my head saying, it would be easier to just not dream anything. Just keep grinding, with no high expectations for this year.
But I really do believe God wants us to hope and dream.
Maybe the key is that He also wants us to remember ultimately His plan may not always line up with ours.
"For My thoughts are not your thoughts,
Nor are your ways My ways," declares the LORD.
"For as the heavens are higher than the earth,
So are My ways higher than your ways
And My thoughts than your thoughts."
Isaiah 55:8-9
We may resolve to be extremely fit by this time next year, but God's more concerned with us spending time with our family than hitting the gym every spare minute. We may determine to finally write that book or finish that project, but God may call us to spend time with a hurting friend or time alone with Him in the Bible or at church.
Plans change. Goals change. We have to be realistic about that.
However, that doesn't mean we shouldn't make our resolutions.
That doesn't mean we shouldn't keep dreaming and hoping.
That does mean we should hold dreams and determinations in open hands, asking God to take them and do with them as He pleases.
This year, why don't we resolve to prayerfully ask God what resolutions He wants for us, and commit to dreaming His plan for our year, even if we aren't exactly sure what that's going to look like? He's promised to honor us when we do.
"Trust in the LORD with all your heart
And do not lean on your own understanding.
In all your ways acknowledge Him,
And He will make your paths straight."
Proverbs 3:5-6
There is, after all, no better way to start a new chapter of life than by consulting the Author of life Himself.
If we keep God at the center of everything we hope for this year, it can drastically change how we perceive setbacks as well as successes.
With God, every turn in the road can be used for good and nothing is ever wasted.
And with God we find new strength to carry out all the good things He has planned for us in 2023.